America's cocktail renaissance is 20 years old. This makes it easier than ever to buy a good drink. We also have unprecedented options. In 2019, new openings diversified the hushed speakeasies of the aughts, unveiling such unexpected spaces as a thoughtful tiki den thousands of miles from the tropics, and an Art Deco-inspired fantasia of post-industrial America. At last, the year's hottest new openings bypass Edison bulbs for high style and — dare we say it — unapologetic fun (read: neon).
To create this list, we polled VinePair editors and contributors, industry friends, and cocktail fans nationwide. We used the same geographic breakdown as last year.
Here are America's top 10 new cocktail bars in every region.
Don't Miss A Drop
Get the latest in beer, wine, and cocktail culture sent straight to your inbox.
GREAT LAKES (IL, IN, MI, OH)
Kumiko
Chicago, IL
Japanese-inflected drinks created by Julia Momose (formerly of Chicago's Aviary) headline this sophisticated West Loop destination. The seven-course tasting menu can be paired with alcoholic or spirit-free cocktails, or you can go à la carte with options like Queen's Ransom, made with green tea shochu, single malt vodka, and cashew orgeat, or one of 10 Highball variations.
(Editor's note: Kumiko technically first opened Dec. 28, 2018. Given the number of votes it received from our panelists, however, VinePair made a four-day exception to include it on this list.)
MIDWEST (IA, KS, MN, MO, NE, ND, SD, WI)
Bellhop
Des Moines, IA
The team behind downtown's Hello, Marjorie debuted this tiki-inspired spot in East Village Des Moines in May, serving classic Daiquiris and custom creations like the No. 2, a gin and mezcal cocktail served over pebble ice ("they're an odd duo that don't look like they'd work together, but they totally do," bartender Dale Rinderman told Imbibe). The team sources fresh pineapple juice from a farmers market vendor, and makes toasted coconut cream, orgeat syrup, and grenadine in-house.
Tropical ingredients are what it's all about at this Midtown cocktail bar, which opened alongside the second location of Under the Rose Brewing in February 2019. Named for the components of a Daiquiri, Rum Sugar Lime (or RSL for short) serves tiki classics and house cocktails like the Jungle Berg, made with Plantation rum, Cynar, Underberg, and pineapple, in an industrial space with an elegantly tiled bar.
NORTHWEST (AK, ID, MT, OR, WA, WY)
Roquette
Seattle, WA
Erik Hakkinen, formerly of Zig Zag, reportedly named this Gallic-leaning cocktail destination after Paris's Quartier de la Roquette, a lively neighborhood he likens to Seattle's Belltown. It brings elegant vibes to the area and serves French spirits, as in a Cognac-infused Mai Tai, plus ciders, Champagne, and snacks.
SOUTHWEST (AZ, CO, NM, OK, TX, UT)
Century Grand
Phoenix, AZ
From the team behind UnderTow comes this "Art Deco timewarp of a cocktail lounge" in a sweeping space that has a Pullman elevator-esque platform next to a video installation, and backlit cocktail bar with concrete walls and chandeliers. The expansive cocktail list includes a handy glossary of drinks terminology and historical context for the ingredients and recipes, and accompanies dishes by local chef Sacha Levine, formerly of FnB and Ocotillo.
SOUTH (AL, AR, PUERTO RICO, FL, LA, MS)
Saint Leo Lounge
Oxford, MS
In the former Oxford Eagle newspaper office lies the city's first dedicated cocktail bar, opened by Saint Leo restaurant owner Emily Blount in March. Cocktails by Joe Stinchcomb, whose beverage program at Saint Leo restaurant was nominated for a 2018 James Beard Award, include a bourbon and bitters drink, Stop the Presses, and a clever Martini riff, Mind Your P's and Q's, made with gin infused with olive marinade from the restaurant.
SOUTHEAST (GA, KY, NC, SC, TN, WV)
Kingfisher
Durham, NC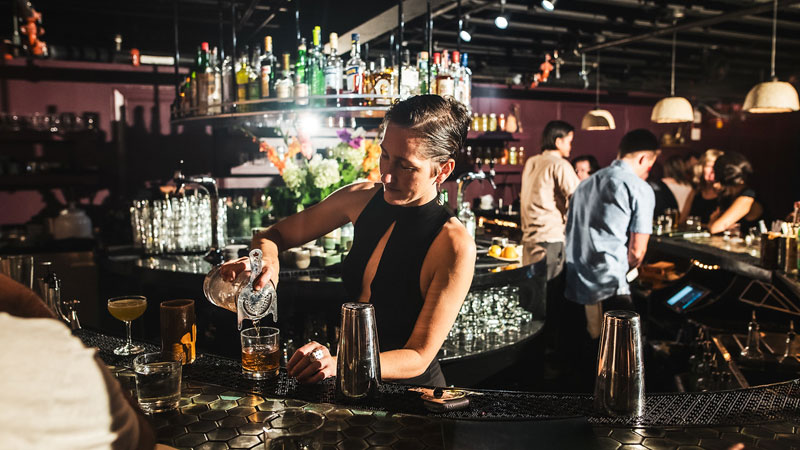 Taste the Triangle's bounty at this downtown Durham cocktail bar serving up local ingredients courtesy of "coolers and shelves stocked with jars of preserved and fermented ingredients, from peaches to boiled peanuts," writes Drew Jackson in the Raleigh News & Observer. Cocktails are seasonally and locally inspired, as in the Bee Durham, featuring Durham Distillery Conniption gin and both honey and beeswax from the city farmer's market.
MID-ATLANTIC (DC, DE, MD, NJ, PA, VA)
Serenata
Washington, D.C.
"It's not just tequila and mezcal," Andra Johnson says of her drinks program at Serenata, a new pan-Latin cocktail and juice bar from Colada Shop founders Daniella Senior and Juan Coronado. Situated in Northeast's sweeping La Consecha marketplace, Serenata celebrates the diversity of Latin spirits and ingredients, as in the Amazonia cocktail, made with Peruvian gin, orange blossom honey, and cucumber juice.
While Edible Manhattan calls this bar's Martini variation, Dr. Angel Face, "a true love-it-or-hate-it cocktail," the VinePair team is firmly in favor. It's one of many creative drinks at Will Wyatt's (formerly of The NoMad) East Village spot, which has mod decor, cozy leather booths, elegant picklebacks made with Cynar, and a crowd-pleasing, McDonald's-inspired cheeseburger as well as the best fried chicken we have ever had at any bar. Go early to eavesdrop on second dates, or stay late to hang with neighborhood and industry folks.
NORTHEAST (CT, MA, ME, NH, NY, RI, VT)
Longfellow Bar
Cambridge, MA
Drink in history at this chic new spot in Brattle Hall, an 1889 building in Harvard Square. The space includes cathedral ceiling, oak floors, and Carrera marble, and is situated directly above Alden & Harlow restaurant from Michael Sclefo, voted Boston Magazine's best chef in 2017. (Sclefo also created Longfellow's menu of finger foods, designed to be eaten without silverware.) Many cocktails have a savory, culinary bent, as in the vodka-carrot Other Side and Make My, a homemade apple juice amaro. There's also a selection of classic cocktails and low-proof options.