Spring is here and with it those warm breezes that just beg for outdoor sipping. It got me thinking about beers that really blossom in the summer. After the long winter months, nothing gets me as excited as trying some new beers, especially ones that feel like they were designed with summer drinking in mind, so I gathered 10 of my favorites for you. I tried to limit this list to beers one can scavenge for at a relatively local level. You never know what you'll find in the secret back room at the tap house downtown. But these beers are winners even if you don't already love beer.
Allagash Brewing Company's White
If Blue Moon is your summer go-to, try Allagash Brewing's take on a traditional Belgian wheat beer. With coriander and orange peel, it's a quintessential, spicy witbier.
Don't Miss A Drop
Get the latest in beer, wine, and cocktail culture sent straight to your inbox.
Breakside Brewery's Passionfruit Sour
Front porch, sunny day, tropical fruit beer: It's the embodiment of the Pacific Northwest experience, right? Joking aside, rain or shine, Portland provides all kinds of good beer. Breakside's award-winning passionfruit sour is no exception. With light body, a subtly effervescent mouthfeel, and a touch of tang, the refreshing, semi-sweet passionfruit flavor rounds out this beer, which makes it a clear choice for getting your "I don't really like beer" friend into beer (or sours).
Alchemist Heady Topper
The hazy IPA craze may be old news to East Coasters, but on the West, we're still getting used to seeing beers that looks like orange juice. Alchemist's Heady Topper is one beer responsible for pioneering this Northeast IPA trend; it has its own Wiki page! Unfiltered, unpasteurized, unlike most other beers, and unfortunately unavailable for almost all of the year and most of the country, this beer shines with citrusy, grassy, IBU-filled bittersweetness. It's basically a hop menagerie.
The Dudes' Brewing Peach Berliner Weisse
Moving to the country — well, San Diego — imagine stuffing the ripest, juiciest, sweetest peach into your mouth and washing it down with a classic berliner weisse. It's the spitting image of summer, basically. Remember James and the Giant Peach? It's like taking a bite out of that surreal fruit, only you can get drunk off of it because you're a lot older than James now.
Patagonia Provisions & Hopworks Urban Brewery Long Root Ale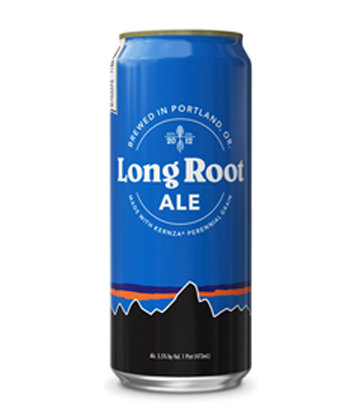 It's a plus when breweries make good beer and do good for the planet, too. Hopworks Urban Brewery partnered with Patagonia Provisions to brew the Long Root Ale. Citrusy grapefruit hop flavor hits you first with this American pale ale, which is then balanced by an easy-drinking, malty finish. But surprisingly enough, there's no malt in this beer. Long Root gets its name from a malt substitute called Kernza, which grows perennially and with a long root, thus requiring less water than traditional wheat crops. This sustainable spin on traditionally malted beer could change the world — and the unknowing, average beer drinker wouldn't be the wiser.
Mikkeller's Hallo Ich Bin Raspberry Berliner Weisse
Mikkeller Brewery is enough of an excuse to book a plane ticket to Denmark (thankfully they're on the West Coast, too). To get a sense of one of their many incredible fruit beers, think of mouth-puckering young raspberries married with a Champagney soiree of carbonation. Not much sweetness here, except for that mild, sub-4 percent lunchtime buzz and the rich, red velvet body with a pinkish head poured into a snifter (or mason jar — no judgment). Drinkability = high.
New Belgium Brewing's Tart Lychee
This one is sweet and sour, lychee and tart. Like fry sauce and French fries, some delicious things are meant to be balanced out by something equally delicious. In this lightly cloudy ale, cinnamon and lychee round out mouth-assaulting, wood-aged sourness for a solid addition to the Lips of Faith series. It's truly a gift from the New Belgium gods.
Grimm Artisinal Ales' Cherry Raspberry Pop!
This beer is a sour ale brewed with tart cherries, raspberries, vanilla, and lactose. You read that right — it's a fruity milk sour. You'll get jammy, tart, funky fruit on the nose with a milky-sweet dessert finish. Witness the bubblegum pink color form into a pink head and you'll understand why this beer is wild in more than one way.
10 Barrel's OG Wheat IPA
For the hopheads who aren't ready for anything but IPAs or pale ales this summer, try this full-bodied, wheat IPA. Take a hoppy and clean West Coast IPA and add subtle characteristics of a cloudy, golden, and bready wheat ale for the perfect aprés mountain bike ride or sunset beach cruise beer.
Your Local Berliner Weisse
If your favorite local brewery is anything like mine, it's the home of an award-winning berliner weisse. Cherry, raspberry, boysenberry, apricot — whatever flavor, your local creative brewery probably sells the best regional beers for the cheapest price. Even if the brewers aren't barrel-aged geniuses, you're likely to score at least a solid gose or berliner weisse (or maybe a funky saison?). Fill growlers weekly, cut down on recycling, support local small biz, repeat.