Outside, the leaves are falling, and so is the temperature. Though winter is still a few months away, it's definitely jacket weather for many of us. We're opting for warm pie over frozen treats and space heaters over air conditioners. And when it comes to booze, we're ready  to forgo the frozen margaritas and enjoy a drink that doesn't make our teeth chatter with every sip. Here are our favorite cocktails served straight up, i.e. shaken with ice, then served without it.
Manhattan
Ingredients:
Don't Miss A Drop
Get the latest in beer, wine, and cocktail culture sent straight to your inbox.
2 ounces rye whiskey
1 ounce sweet vermouth
2 dashes Angostura bitters
1 marasca cherry
Fill a cocktail shaker with ice. Add all of the ingredients and stir. Strain the drink into a martini glass or coupe glass and garnish with a marasca cherry.
Ingredients:
1 1/4 ounces reposado tequila
3/4 ounce Ancho Reyes
1/2 ounce Zucca
1/2 ounce grapefruit juice
1/2 ounce lime juice
1/4 ounce agave syrup
Shake all of the ingredients with ice, then double-strain into a coupe and serve.
Sidecar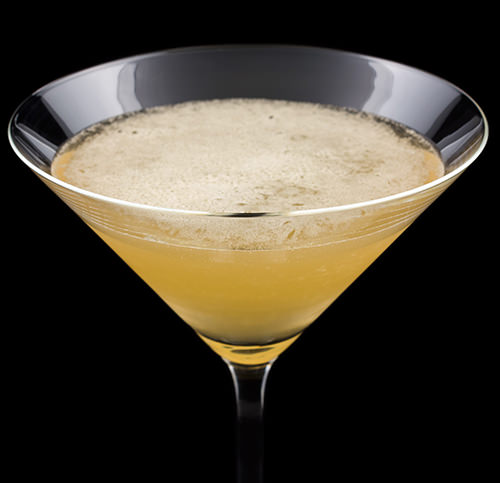 Ingredients:
½ ounce fresh lemon juice
1 ounce triple sec
1½ ounces brandy
Combine lemon juice, triple sec, and brandy in an ice-filled cocktail shaker. Shake well and strain into a cocktail glass.
Sazerac
Ingredients:
1 cube sugar
1 teaspoon cold water
2 ounces rye whiskey
Dash Pernod
Dash Peychaud's bitters
3 or 4 ice cubes
Twist lemon peel
Dissolve the sugar in cold water in a mixing glass. Add the whiskey, Pernod, bitters and ice cubes and stir well. Strain into a well-chilled glass, twist the lemon peel over the drink to release the oil, then drop it in.
Pisco Sour
 Ingredients:
1 egg white
2 1/2 ounces Pisco Capel (see note)
1/2 ounce simple syrup
3/4 ounce fresh lemon juice
Angostura Bitters (see note, below)
In a cocktail shaker filled with ice, combine egg white, Pisco, simple syrup, and lemon juice. Cover, shake vigorously for 15 seconds, and strain into six-ounce cocktail glass. Top with a few drops of bitters.
Gimlet
Ingredients:
4 ounces gin, my favorite gin is 209
1/2 ounce Rose's Lime Juice
1/2 ounce fresh lime juice
1 thin slice of lime as garnish
Fill a pint glass with ice. Add the gin, Rose's Lime Juice and fresh lime juice. Bury the pint glass or shaker in ice. Wait ten minutes. Wipe the rim of a martini glass with lime. Strain the cocktail into a martini glass and garnish with a slim slice of lime.
Grasshopper
Ingredients:
3/4 fluid ounce creme de menthe
3/4 fluid ounce white creme de cacao

1/4 fluid ounce heavy cream
Combine creme de menthe, creme de cacao, cream, and ice in a cocktail shaker. Cover and shake until chilled. Strain into chilled cocktail glass.
Ingredients:
1-1/2 ounce Citrus Vodka
1/2 ounce Galliano Liqueur
1-1/2 ounce Fresh Squeezed Orange Juice
1 to 2 Dashes Angostura Bitters
Flamed Orange Peel
Combine liquids in cocktail shaker with ice. Shake to blend and chill. Strain into chilled martini glass. Garnish with flamed orange peel or orange twist.