It's our contention that anything can be improved by adding wine or ice cream. As it were the two taste great together. With this in mind, we created four delicious wine ice cream floats that can be made quickly and simply. Enjoy the following magical wine and dessert porn show with us.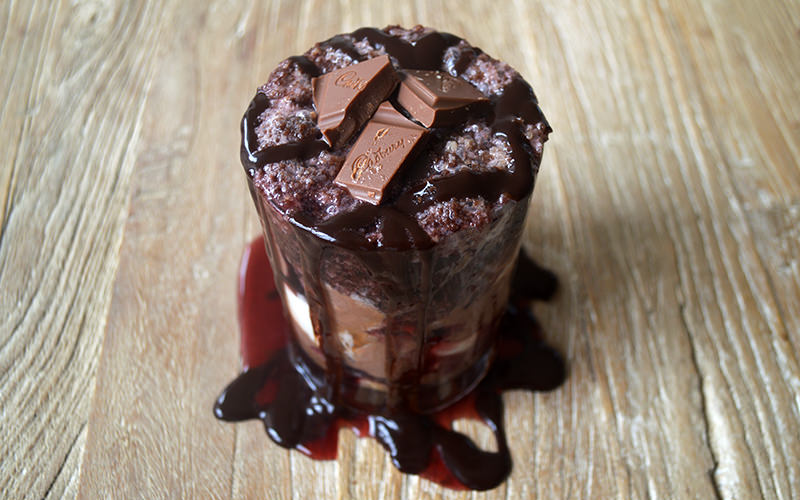 To make this delicious float, scoop Ben & Jerry's Phish Food into a lowball. Then fill with Malbec and top with seltzer. Finish by topping with cake crumbs, cadbury chocolate, and Hershey's syrup.
Don't Miss A Drop
Get the latest in beer, wine, and cocktail culture sent straight to your inbox.
Rioja Red Velvetini
In a martini glass, combine red velvet ice cream, Rioja, and as splash of seltzer. Top with strawberries and a red grape (or two). Warning: this wine cream float might replace all future birthday cakes.
Melon Sauvignon Sweetheart
Who said vanilla is boring? Bring out the best of Sauvignon's Blanc's melon notes with this deliciously boozy float. Fill half the wine glass with honeydew melon. Then, add vanilla ice cream, Sauvignon Blanc, and a little soda water. Garnish with a kiwi and a green grape.
After Dinner Cab & Cream
End your meal right: with Cabernet and coffee! In a small glass (about the size of a double shot glass), add coffee ice cream, cabernet, and a bit of whole milk. Top with seltzer, Hershey's syrup, and red grapes.
Pin This…