The Story Behind The The Rosé Blackberry Spritz
For a refreshing change to your usual spritz, try swapping in easy-drinking Rosé Aperitivo for Italian bitters like Aperol and Campari. I added a bit of gin and lemon juice, and topped it off with blackberry soda and fresh blackberries for garnish.
Ingredients
1 ½ ounces Rosé Aperitivo

½ ounce gin

½ ounce lemon juice

Top with blackberry soda

Fresh blackberries, for garnish (optional)
Directions
Shake all ingredients except the blackberry soda in a cocktail shaker.

Strain mixture into a wine glass over ice.

Top with blackberry soda.

Add blackberry garnish, if using.
Rate This Recipe:
Yield: 1
Updated: 2019-06-17
---
Related Reads & Recipes
More Apéritif Recipes To Explore
The Mezcal Negroni Recipe:
Using the composition of a certain trendy Italian cocktail, the Mezcal Negroni proves how adaptable earthy agave truly can be.
The Paper Plane Recipe:
With its sophisticated flavor profile, the Paper Plane cocktail can be found in high-end bars around the world. Keep reading for the recipe.
The Rosé Lillet Spritz Recipe:
Lillet Rosé is a French foritifed wine made with Bordeaux grapes. It stars in this light, low-proof cocktail. Get the recipe for this sessionable drink, that can be garnished with berries or other fruits.
The Punching Up Recipe:
Arguably the classiest drink you'll have from a pouch this summer, this cocktail mixes Lillet, the French aperitif, with ginger beer, bitters, and Strawberry Kiwi Capri Sun. Get the recipe here.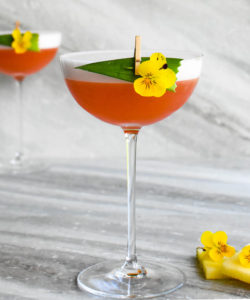 Le Toucan Recipe:
A playful spin on the Jungle Bird cocktail, this colorful drink replaces rum and Campari with Armagnac and Suze, an herbaceous French aperitif.
The White Negroni Recipe:
Perfect for hot days, the floral, bittersweet White Negroni is a simple, three-ingredient cocktail that is sure to please.