The Story Behind The Coco-Raspberry Colada
I recently learned Washington State is one of the top producers of raspberries, and so I wanted to make a cocktail that captures the beautiful Pacific Northwestern summer in a glass. This is a riff on one of my favorite drinks, the Miami Vice, and a cross between a Strawberry Daiquiri and Pina Colada.
Ingredients
2 ounces rum, divided

1 ounce lime juice

2 ounces cream of coconut

2 ounces pineapple juice

4 to 5 raspberries, plus more for garnish

Lime wheel, for garnish
Directions
Add raspberries, lime juice, and 1 ounce of rum to a cocktail shaker.

Shake to combine, and then strain over crushed ice into a Collins or beer glass.

In another (or clean) shaker, add cream of coconut, pineapple juice, and 1 ounce of rum.

Shake coconut mixture to combine, and then strain on top of the raspberry mixture into the glass.

Garnish with fresh raspberries and a lime wheel.
Rate This Recipe:
Yield: 1
Updated: 2019-08-26
---
Related Reads & Recipes
Learn About Rum
· Rum 101
· Our always updated list of the best Rum to buy right now!
More Rum Recipes To Explore
The Dashing Daiquiri Recipe:
The classic Daiquiri goes to the Caribbean in this bright, easy cocktail made with white rum and grapefruit juice. Learn how to make it with this recipe!
Marta's Burro Caldo:
Popular pizza joint Marta serves up a Burro Caldo that combines rum, Nocino liqueur, butter, orange, and baking spices.
The Dirty Banana Recipe:
This boozy frozen cocktail is a fan favorite across the Caribbean islands made with a hefty amount of rum, coffee liqueur, and bananas.
The Colada Sunrise Recipe:
Get ready for eternal summer with this colorful, low-proof twist on a traditional Piña Colada, made with white rum, coconut, pineapple, and mangoes.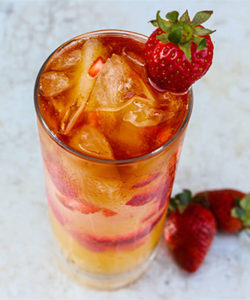 The Blackberry Mojito Recipe:
A twist on the classic mojito with fresh blackberries, this recipe can be easily adapted to suit whatever fresh fruit you have on hand.