The Story Behind The The Watermelon Margarita Recipe
There are few things more refreshing in the hot, summer sun than a slice of watermelon. Bubby's, an American restaurant and bar in Manhattan, adds the fruit to its classic Margarita, plus a dash of sea salt to bring out its sweetness.
Ingredients
½ ounce agave syrup (2:1)

½ ounce Cointreau

¾ ounce lime juice

1 ounce watermelon juice

1 ½ ounces tequila

Watermelon slice for garnish
Directions
Add all ingredients to a cocktail shaker.

Shake well and strain over ice in a rocks or Margarita glass with half-salted rim.

Add watermelon slice to garnish.
Rate This Recipe:
Yield: 1
Updated: 2019-08-02
---
Related Reads & Recipes
Learn About Tequila
· Our always updated list of the best Tequila to buy right now!
More Tequila Recipes To Explore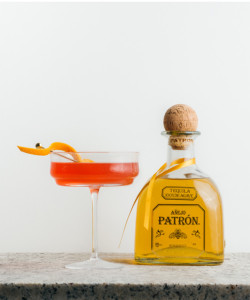 Al Aire:
Combining PATRÓN Añejo with yellow Chartreuse and a squeeze of fresh lime juice will create a drink that's sure to impress.
The Hibiscus Fizz Recipe:
This tasty tequila cocktail features bright, floral hibiscus — and it's easier to make than it looks. Get the recipe and learn how to make it here!
Don Julio Añejo Margarita:
Perhaps the easiest way to upgrade a Margarita is to make it with a spirit like Don Julio Añejo, which boasts softer notes than a blanco.
The El Durazno Recipe:
Citrus juice and peach liqueur come together in this tequila cocktail with tang and a touch of sweetness. Get the recipe and learn how to make it here!
The Strawberry Fields Recipe:
This recipe from Emily Vikre's "Camp Cocktails" is a riff on the Margarita: roasted strawberries, tequila, lime juice, and elderflower liqueur.
The After-Hours Bloody Maria Recipe:
There is no reason you shouldn't drink Bloody Marys in the evening. This easy recipe is spiked with tequila and chocolate-chili bitters. Learn how to make it!