The Story Behind The Cosmojito
As its name suggests, this cocktail combines the ingredients of a Cosmo with elements of a summery Mojito. Adding crushed ice, lots of mint, and sparkling water to the classic ingredients takes the Cosmo out of the city and onto the beach.
Ingredients
2 ounces vodka

0.5 ounce Combier triple sec

0.75 ounce cranberry syrup

0.75 ounce lime juice

1 ounce Dante cranberry

7-8 mint leaves

San Pellegrino

Garnish: orange wheels and mints sprigs
Directions
Build and churn.
Rate This Recipe:
Yield: 1
Updated: 2022-03-07
---
Related Reads & Recipes
More Triple Sec Recipes To Explore
The Down in Flames Recipe:
From Normandie restaurant in Portland, Ore. comes this boozy rye and mezcal cocktail akin to a smoky Old Fashioned. Learn how to make it with this recipe!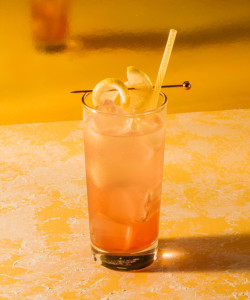 The Long Beach Iced Tea Recipe:
Sister to the notorious party starter the Long Island Iced Tea, the Long Beach Iced Tea evokes that refreshing West Coast sunshine.
The Blue Lagoon Recipe:
A riff on a Lemon Drop Martini, this easy vodka cocktail gets a bright pop of color from Blue Curaçao. Learn how to make it with the recipe!
The Long Dryland Iced Tea:
Congratulations, you made it through dry January! Treat yourself to the biggest, baddest cocktail of them all-- the Long Dryland Iced Tea.
The Long Island Iced Tea:
Known as one of the strongest cocktails, coming in at 22 percent ABV, the Long Island Iced Tea combines 5 spirits in a symphony of flavors.