There's an old adage in the bartending community that runs along the lines of "if you've sworn off gin, it might actually be tonic that you don't like." The thinking stands to reason given the mixer's challenging, bittersweet flavor profile and the ubiquity of the G&T as a cocktail. But this might not be the case for all gin skeptics.
Instead, the other roadblock to embracing the spirit arrives in the form of its defining ingredient: the piney, savory juniper berry. By definition, all spirits marketed and sold as gin must have "a main characteristic flavor derived from juniper berries," meaning there's no avoiding the botanical when sipping or mixing cocktails with gin.
In recent years, however, amid the popularization of New Western gins, scores of bottles have arrived on the market with less of a spotlight on juniper and more attention paid to supporting fruit, floral, and spice ingredients.
The following nine bottles stand out as shining examples within that field. Some — but not all — could rightly be considered "New Western" in style and production, while others represent variations produced by classic London Dry distillers. Learn more below and raise a glass in our general direction as you embrace the fabulous world of gin and gin cocktails.
Abrojo Gin Dry Gin Ancestral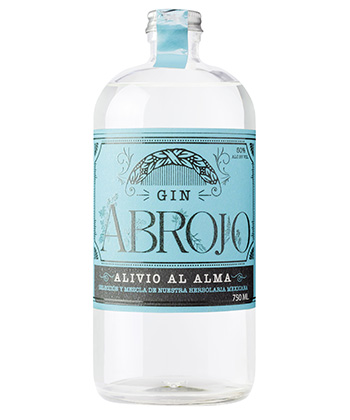 This gin admittedly arrives with a different set of challenges, the first of which is the price tag and the second is its flavor profile, which is a dead ringer for mezcal. That's no accident: Abrojo is distilled from the refermented fibers of agave plants that have already been used to produce the smoky spirit. This, then, is a gin for mezcal lovers, and a spirit that delivers whispers of juniper along with other fresh botanicals including hoja santa, lemongrass, and lemon verbena. And smoke. Lots of smoke.
Average price: $84
Rating: 94
Aviation American Gin
While now widely known for its celebrity connections, Aviation arrived in 2006 with serious industry credentials, having been co-founded by bartender Ryan Magarian and distiller Christian Krogstad. Magarian even coined the term "New Western Dry," which he felt accurately described the democracy of the recipe, which afforded equal billing to botanicals such as sarsaparilla and citrus alongside juniper. This bottle holds its own in classic gin cocktails, not straying too far from the beaten path but not intimidating with heavy doses of pine and pepper.
Average price: $25
Rating: 91
Barr Hill Gin
It's no secret that bees do sterling work for the environment but, as it happens, they're a pretty useful resource for crafting quality gin, too. Produced in Vermont, Barr Hill contains just two flavor-giving ingredients: juniper and raw honey. The latter imparts stunning floral complexity to this gin and leaves an ever-so-slightly saccharine kiss on the palate. Sip in a simple gin and soda highball or mix as nature intended in the Bee's Knees cocktail.
Average price: $39
Rating: 92
Bombay Sapphire Premier Cru Murcian Lemon
Classic Bombay Sapphire stands as another pioneer of the dialed-down juniper approach, but this newly released addition takes that philosophy to new heights. The distillery does so via lemon, mandarin, and sweet orange sourced from Murcia, Spain, and the resulting profile is citrus-forward from start to finish, landing on the palate with bright, subtle sweetness.
Average price: $35
Rating: 92
Hendrick's
This Scottish-produced gin launched in 1999 with the ironic aim of capturing the essence of a quintessential English garden. It did so primarily via the inclusion and importance of cucumbers and roses in its botanical bill, and also shook up the category via an unusually low bottling strength of 41.4 percent ABV. Those left-field ingredients work wonders in a G&T — if you can stomach the quinine — and also make this gin a solid option for early explorations of the spirit. For options that take an even further departure from the classic London Dry style, seek out the brand's "Cabinet of Curiosities" annual releases, the most recent of which, Flora Adora, is candy-scented and intensely aromatic.
Average price: $35
Rating: 93
Roku
Roku occupies a different place in the modern gin landscape, mimicking New Western releases with less importance placed on juniper but doing so with the aim of showcasing a sense of place by including Japanese botanicals. In this case, those ingredients are sakura flower, sakura leaf, yuzu peel, sencha tea, gyokuro tea, and sanshō pepper, and the effect is a gin that brims with vibrant, clean citrus notes and subtle complexity. Despite its delicate profile, Roku mixes a stellar Martini.
Average price: $30
Rating: 93
Nolet's Silver Dry Gin
Infused with peach, rose petal, and raspberries, Nolet's detonates a flower bomb on nose and palate. Produced by the same makers of Ketel One vodka, it tastes akin to liquid Turkish delight but is surprisingly well-balanced, and definitely ranks as an outlier in the category. Sample in a simple highball or double down on the raspberry goodness by taking it for a spin in the classic Clover Club.
Average price: $42
Rating: 88
Tanqueray No. Ten
Truth be told, Tanqueray No. Ten is probably least deserving of inclusion on this list — not for lack of quality but because so many bartenders opt for it as their cocktail gin of choice, even including it in drinks that require the classic London Dry style. Still, if you're looking for a bottle that delivers on that front but is also exquisite, approachable, and delicate (while also serving understated depth), this should be a staple on your bar cart. Chances are, it will also far outshine anything else out there from an aesthetic standpoint.
Average price: $35
Rating: 95
Yuzu Gin
It is by pure coincidence that this list is bookended with admittedly pricy options — especially for the gin category — but don't let that factor put you off. Produced in Japan using a sweet potato shochu base, the zesty, citrus hero ingredient highlighted in its name leads the profile, while each sip finishes with peppery complexity. Highballs, either made with soda or tonic, are a no-brainer for this gin. But don't overlook it when mixing White Ladies, Last Words, or even Martinis — garnished with a twist.
Average price: $72
Rating: 93