Bartender and author Dale DeGroff says the key to perfecting the Irish coffee is balance: "Not too much coffee, whiskey, sugar, or cream."
It's simple yet sage advice from the man dubbed "King Cocktail" and the person responsible for reinventing the drink at New York's critically acclaimed Dead Rabbit. The lauded bar already had its own, widely admired Irish Coffee when it enlisted DeGroff's help to create a revamped version in January 2016.
That recipe calls for 4 parts hot coffee, 1.5 parts Irish whiskey, 0.5 parts rich demerara sugar syrup (a 2:1 mix of demerara sugar to water), and a lightly whipped cream float. The cream should never be sweetened, and the drink should look like a perfectly poured Guinness when served. "It's a marvelous drink," DeGroff says.
With Irish whiskey sales surging worldwide, a range of new brands launching (and relaunching), and the colder months fast approaching, VinePair also decided it was time to give the Irish coffee a revisit.
Rather than mess with this tried and tested recipe, we wanted to explore which of Ireland's whiskeys works best in this mix. For the purposes of the ranking, we brewed a pot of Ethiopian coffee (Counter Culture's "idado") and tasted over a dozen Irish coffees on a bright and fresh September morning. Here are our seven favorites.
This small-batch whiskey is aged in ex-bourbon casks and then former rum barrels. A Teeling Irish coffee has floral aromas with notes of baking spices and orange pith. The 92-proof whiskey dominates the palate, which is good if you're looking for reassurance your booze is in there, but not ideal if you're looking for the balance DeGroff describes. Average price: $38
The world's top-selling Irish whiskey serves a rich and toasty Irish coffee, with milk chocolate and oatmeal cookie aromas. It starts citrus-forward on the palate and then becomes sweeter and richer with a marmalade finish. This whiskey provides balance and a luxurious texture but lacks some of the nuance of other whiskeys on this list. Average price: $28
Owned by MMA fighter Conor McGregor, Proper Twelve makes a full-bodied Irish coffee that's rich without being too sweet. It has bitter chocolate, toasted grain, and sourdough crust aromas, and creamy, chocolatey flavors. The spirit, a blend of bourbon-cask-aged grain and single malt whiskey, is also notable on the palate but doesn't overpower. Average price: $26
The Sexton Single Malt creates a lighter-drinking Irish coffee. It smells like freshly baked cookies and tastes like dried fruits, orange peel, and baking spices. Because of its lighter body, this would be the perfect way to end a heavy meal. Average price: $28
The drink tastes whiskey-forward, but the spirit integrates well with the coffee and cream. This Irish coffee has a long, contemplative finish, thanks to the intensity of flavors provided by the spirit's 12 years of aging in bourbon casks. Average price: $46
Roe & Co's blended whiskey mixes an Irish coffee reminiscent of boozy chocolate-orange cordials. It has a rich, full-bodied texture but is bright on the palate, with notes of candied citrus peel, milk chocolate, and spicy, toasted oak. Average price: $40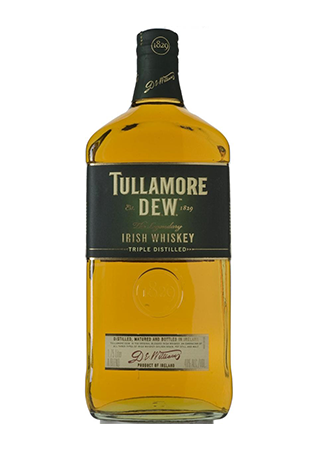 Triple-distilled and aged in a combination of ex-bourbon and sherry casks, Tullamore D.E.W.'s Irish coffee strikes the perfect harmony of richness, complexity, and balance. It has the luxurious texture of classic Irish coffee, plus nuanced flavors. Best of all? Tullamore D.E.W. also happens to be the cheapest bottle on this list. Average price: $25