Much has changed in the realm of hard seltzer since Truly launched in 2016, and likewise with the brand.
Debuting as Truly Spiked & Sparkling, the hard seltzer launched in glass bottles and with three flavors: Colima Lime, Grapefruit & Pomelo, and Pomegranate. In the five years since, the Boston Beer–owned boozy water has ditched the S&S moniker, switched from glass to cans, and introduced the most extensive range of flavors currently available in the space.
Truly has proven eager to innovate at every opportunity. The brand was very public in announcing a flavor reformulation in 2019, and inspired a whole new seltzer subcategory via the Truly Hard Seltzer Lemonade line, which hit shelves in 2020. Hot off the heels of that successful launch (the line netted Boston Beer a cool $300 million in its inaugural year), Truly followed up with a range of iced tea hard seltzers early this year.
With so many Truly flavors and styles, the time has finally come to put one question to bed: Which among them is best? Here's our take, and every flavor of Truly Hard Seltzer tasted and ranked.
22. Strawberry Tea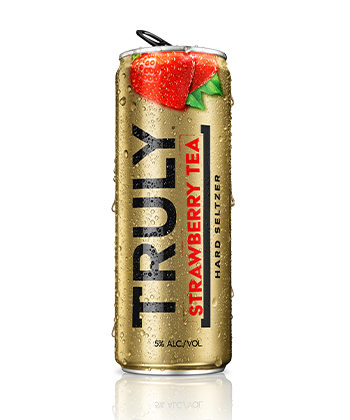 Sweet wafts of strawberry and iced tea emanate from this seltzer. The tea aromas are the more noticeable of the two, but the strawberry provides a subtle fruitiness. Then, intense sweet flavors overtake everything, causing each sip to feel a little out of balance.
21. Peach Tea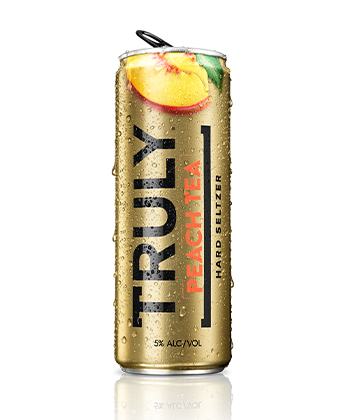 In contrast to the Strawberry Tea, it is the fruit notes that lead the aromas in this expression, with the tea playing second fiddle. Once again, the flavor profile skews noticeably sweet and may have you craving more acidity to balance things out.
20. Extra Peach Mango
One of Truly's two higher-ABV "Extra" hard seltzers, peach and mango aromas arrive headier here than in the brand's standard offerings. Luscious sweetness defines the palate, but does a great job of masking its boozier credentials.
19. Mango Lemonade
There's a nice depth to the aromas of this expression but the fruit character fails to fully capture the imagination. While the mango flavors are not quite as prominent as the sweet lemonade, they add an extra layer and an enjoyable seasoning.
18. Mango
Across all hard seltzer producers, the quality of mango flavors varies wildly. Truly does a good job with its offering, even if the fruit notes come across as more artificial-tasting than fresh. There's good balance and a refreshing finish.
17. Black Cherry Lemonade
While its pink hue may be barely perceptible, the familiar black cherry flavoring (a mix of almonds and medicine) is unmistakable on this seltzer's nose. Lemon and citrus overtake those "cherry" notes on the palate — this is a good thing — and the sweetness arrives at just the right pitch.
16. Extra Black Raspberry
The fruit character shines brighter here than on the Extra Peach Mango. The raspberry notes lean tart on the nose but arrive sweet and juicy on the palate. The rich sweetness won't be for everyone but there is a good balance between the fruit flavor and the booze.
15. Strawberry Lemonade
Ripe and attractive strawberry aromas pop on this expression's aromas. The palate is all about lemony sweetness, with just a hint of strawberry on the finish.
14. Blueberry & Acai
Not just a great combo for breakfast bowls, the one-two of blueberry and acai is a hit in seltzer form. While the overall profile is more basic than other Truly flavors, the balance is there and each sip is refreshing.
13. Raspberry Tea
A subtle raspberry aroma precedes this expression's palate, which is fruity with an attractive floral finish. There's a great concentration of flavors, too, and nice weight to the texture.
12. Wild Berry
An enjoyable mix of berries runs throughout this seltzer. The fruit character is not as bright or citrusy as other Truly flavors but each sip is full of flavor and delivers decent refreshment.
11. Grapefruit
Convincing citrus aromas are followed by rich pink grapefruit flavors. There's more depth to the palate than many other seltzers, even if the profile is more straightforward than others in its lineup.
10. Lime
Lime has become a staple offering for many producers and this version from Truly is up there with the best. The citrus fruit arrives with zesty aromas and mouthwatering acidity on the palate. This is a very clean and enjoyable seltzer.
9. Original Lemonade
Our favorite among Truly's lemonade seltzer line, the lemon notes arrive with fresh, energetic gusto. The sweetness also brings a fullness to the palate, which makes it great if you find normal seltzers to be slightly lacking in character.
8. Lemon Tea
Lemon also proves to be a winner when it comes to Truly's Iced Tea seltzers, though the tea is the driving force throughout. Full-flavored sips recall iced tea with a streak of lemon, while the citrus fruit adds great balance.
7. Black Cherry
This seltzer is so much fruitier on the nose than most other black cherry flavors on the market, and the palate is juicy with nice bursts of citrus and tart cherry. Only on the finish is there a hint of almond essence notes, but we're not mad at them.
6. Pineapple
Admittedly, this flavor recalls tinned pineapple chunks rather than just-sliced fruit, but it sure is tasty. There's even a hint of coconut and vanilla on the finish, though that may be our imagination and one too many Piña Coladas over the years speaking.
5. Lemon
Sometimes you want a simple vodka soda with lemon. Sometimes you don't even want to make that drink and it makes more sense to just crack open a can. With its lively nose and refreshing citrusy sips, Truly's lemon hard seltzer has you covered for those occasions and beyond.
4. Watermelon & Kiwi
The devil's in the details with this expression: The watermelon tastes more genuine than most competitors and the inclusion of kiwi rounds out the profile wonderfully. This is clean and fruity and perfect for summer.
3. Raspberry Lime
Serving bright, intense aromas, this is a great recreation of tart raspberries and zingy citrus. There's more depth to the flavor than expected but it remains refreshing and very easygoing. The finish is almost floral, which is a lovely surprise.
2. Orange
This seltzer's aromas are vibrant and fresh, and recall both freshly squeezed juice and orange peel. Each swig is light and refreshing, and never makes you crave extra sweetness even though the profile is bone dry.
(Truly recently replaced its Orange seltzer with a new flavor: Citrus Squeeze. We will update this ranking when we've had a chance to taste it and see how it compares.)
1. Passion Fruit
Even with its attractive tropical fruit aromas, the layers and nuance served on the palate arrive as a really welcome surprise. Like Truly Pineapple, there's a vanilla and toasted coconut quality to the flavors, and a remarkably fruity, tropical finish.