Martini-mania is real, and we're right in the thick of it. From classic gin and vodka builds to now popular variations like the Espresso Martini and the Pornstar Martini, it's highly unlikely that you've never enjoyed — or watched someone else enjoy — a chic sip from a V-shaped glass. With Martinis and their innumerable iterations skyrocketing in popularity at the same time as the ready-to-drink craze, it's not much of a surprise that brands would want to jump on both trends at once with an RTD Martini.
Though a newer part of the RTD market, bottled and canned Martinis are popping up with more and more frequency, and we doubt the craze will slow any time soon. Here, we've gathered five of the top classic-style RTD Martinis to try across a number of expressions — vodka or gin, dirty or crisp. We recommend enjoying all of these poured into a glass, so dust off those coupes, crack one open, and enjoy.
Ready To Serve Grey Goose Classic Martini Cocktail
When Grey Goose said Classic Martini, they really meant it. When stashed in the freezer before serving, this Martini takes on a clean, brisk taste and wonderful texture similar to that of straight chilled vodka, with vermouth adding a subtle floral flare. The brand recommends stirring or shaking over ice for 30 seconds, but we enjoyed it simply pulled from the freezer. Perfect with either an olive or a twist as a garnish, this is a great Martini for those who prefer theirs slightly on the wetter side.
The Club Vodka Martini
The Club's Vodka Martini RTD greets you with a clean nose carrying subtle hints of citrus. The palate follows with flavors essential to the Classic Vodka Martini: dominant vodka mellowed by vermouth and a whisper of a lemon twist. The Club is a wonderful option for those just embarking on their Martini journeys — it's canned at 20 percent ABV — but those who prefer a more spirit-forward sip may find it a bit lacking.
Heublein Wheatley Vodka Dirty Martini
If you fancy your Martini with a little bit of filth but don't feel like making one for yourself, Heublein's Wheatley Vodka Dirty Martini is the bottle for you. Made with Buffalo Trace Distillery's Wheatley Vodka — which is speculated to be unaged Pappy Van Winkle — the Martini presents with marvelous salinity on the nose, which translates just as well on the palate to complement the Wheatley's subtle sweetness and tangy olive juice. Be sure to stick this one in the freezer before serving for a more luscious texture, and garnish it with a few olives for an extra pop.
Tip Top Gin Martini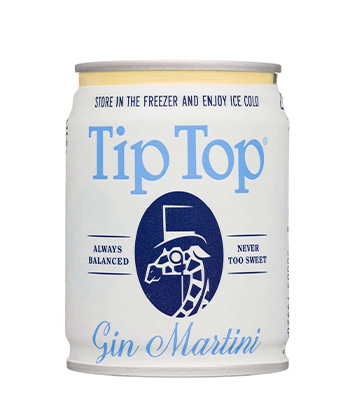 If Gin Martinis are more your speed, Tip Top's offering does all the work for you. While this cocktail is described as only containing gin and vermouth, the slightly orange hue suggests the inclusion of aromatic bitters. This likely addition helps elevate the herbaceous qualities of the gin, giving the palate a lovely, floral weight. Though the vermouth is present, the Martini remains dry on the finish and would be delightful served up with a lemon twist. Prior to serving, we recommend diluting the cocktail by stirring it over a bit of ice, as the 33 percent ABV blend can be a bit of a booze bomb.
Batch & Bottle Hendrick's Gin Martini
Batch & Bottle's Hendrick's Gin Martini drinks more like a riff on a Martini rather than a classic build, making it ideal for those who prefer 50/50 variations or experimenting with sherry in place of vermouth. Florals like rose build on the nose, complemented by a slightly saccharine finish. The palate is also sweeter than that of your average classic Gin Martini, and is accompanied by welcome salinity and delicate botanicals. While the brand recommends serving the drink chilled or frozen, we would recommend stirring it over ice first to dilute the 35 percent ABV.