Aww, boxed wine is all grown up. Gone are the days of slap-the-bag juice from college or garden party boxes of decades past. I mean, they're still out there, but it's getting crowded on those shelves and quality-conscious examples are taking up more space, thankfully.
We have been watching a resurgence in the category for some time now, but this year had us swimming in bladder bags — and we loved it! Quality is the goal now; that is clear. Also, as the world of wine recognizes more and more that sustainability is the future, the spectrum of this type of alternative packaging is widening.
The cost for producing and transporting bag-in-boxes is lower as well as more environmentally friendly than that of heavy glass bottles. They're also easier to recycle. With all these benefits, it's great that we are seeing so many more boxed wines on the market that deserve to be served in stemware, not solo cups.
After a marathon of bag tapping (not slapping) we narrowed our list down to 13 of our favorites. These are the best boxed wines available on the market today.
There is a lot of boxed Chardonnay out there. I've seen entire wine shop shelves filled with it. So if you see this little gem among the many, grab it. It has oak but not too much. It has butter, but it's not too buttery. It has acidity, which brings refreshment, and it has ripe punchy fruity for a little depth. This is a very impressive box.
Average price: $23 / 3L
Rating: 88
This Santa Barbara Pinot Noir is fruit-forward and a little smoky with a hint of cinnamon swirling among the classic cherry notes. This female-founded company promotes sustainability, and the packaging looks great on a counter at a party.
Average price: $46 / 1.5L
Rating: 88
Well, the company name says it all. This is a pricey box, but the quality is sound. It's heady and robust with notes of cherries and cinnamon. The palate has a nice lift, with some drying tannins to structure the wine a bit. This would be great for a dinner party.
Average price: $65 / 3L
Rating: 89
This unlikely blend of Grenache, Mourvèdre, Counoise, and Vermentino from Paso Robles in rosé form should be in your refrigerator all year round. The price is up there, but the quality is undeniable, making this a worthy annual pink investment. It's heady with ripe fruit, nice depth, and excellent acidity. This is a food wine, chill wine, spontaneous fun wine. It covers all the bases.
Average price: $95 / 3L
Rating: 91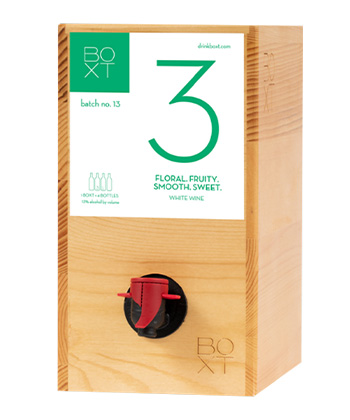 Sauvignon Blanc, Albariño, Gewürztraminer, Pinot Gris, Viognier, and Riesling make up this very expressive, zippy, and lively wine. The nose is waxy and floral with some of that Savvy B pepper. The fruit is tight but balanced and really comes alive on the palate.
Average price: $65 / 3L
Rating: 89
Grüner Veltliner is so fun when it comes in big green liter bottles that are meant for communal imbibing. What's even better? A box of it! This is a great casual white wine with enough depth to hang with some snacks and enough acidity to hang with just friends and good convo.
Average price: $26 / 3L
Rating: 89
This is more like a red blend than a Cab, but there's nothing wrong with that. It is juicy and deep with sweet oaky vibes and good acidity. It's as laid back as a Cab can get. It will be there for you when the burgers are ready or when the pizza arrives.
Average price: $23 / 3L
Rating: 88
This is a nice break from the norm. Monastrell is native to Spain and thrives on the country's east coast in a region called Jumilia. This is a great everyday example, with tight, dark fruit and a slick herbal note popping up here and there. With a slight chill, this would be great with grilled anything.
Average price: $28 / 3L
Rating: 89
Pasta, pasta, pasta! The price is right to have this box at the ready for red sauce night. It has that old-school Italian rustic vibe with some earthy fruit Nonna would sip with Sunday gravy (from a juice glass, obvs). This Sangiovese-Trebbiano blend has good balance and is weeknight-friendly.
Average price: $35 / 3L
Rating: 91
This wine is one hell of a deal. The quality is way up there, and the price is way down. It is very balanced, with Verdejo and Sauvignon Blanc giving mild acidity that adds refreshment through the waxy fruit. The palate hits all the right spots. This is a box that will raise an eyebrow or two at your next get-together.
Average price: $22 / 3L
Rating: 91
If you like Sauvignon Blanc but need it to be turned a notch down from 11 on the green capsicum feels, this is your wine. It is very refreshing with soft creamy fruit and frothy acidity. You get a slight hint of the peppery notes this variety is known for, but they are nice and subtle. An awesome crowd-pleaser.
Average price: $36 / 3L
Rating: 91
Wow. A skin-contact (orange) wine in a box. Now we've seen it all. This is so good. It's very balanced with no funk, has a great depth of fruit, and bursts with grippy tannins. Like, I'm thinking of grilling up pork chops and smothering them with some sort of herby spread with a side of shoestring fries, STAT.
Average price: $40 / 3L
Rating: 92
Big, bright, fruity, and approachable, this balanced red from BOXT doesn't disclose the varieties used in its blend, but I'm not sure I care. It is very balanced, with round, juicy fruit and a slight grip on the edges. It can hang all night, even with a slight chill.
Average price: $65 / 3L
Rating: 89
FAQs
Why is boxed wine so cheap?
Generally, boxed wine is cheaper than wine in bottles due to the lower production costs involved with distributing in cardboard rather than glass. In 2022, the cost of glass bottles increased by approximately 20 percent, significantly increasing the costs of distribution, and therefore, increasing the amount consumers are spending. On the other hand, boxed wine, which is packaged in plastic bags stored within the cardboard box, remained relatively insulated from the increase in prices, making their products notably cheaper than their glass bottle counterparts.
Is boxed wine poor quality?
It is a complete myth that boxed wine will be poor quality or lower quality than wine stored in glass bottles. While you may encounter some boxed wines that are produced with profits in mind — and are therefore lower quality — the same goes for some wines packaged in glass. Many boxed wines on the market right now are equally as high quality and delicious as glass bottle wines.
How many bottles are in one box of wine?
Boxed wine can come in a number of different sizes, but on average, a box of wine will contain the equivalent of four bottles of wine, or around 3,000 ml.
Why do Australians call boxed wine 'goon'?
Down under, boxed wine is often referred to by its slang name: "goon." The term originates from the word flagon, a large metal or pottery vessel once commonly used for storing and pouring wine. Aussies now use the phrase to describe boxed wine by referring to the box itself as the "goon box," the bag inside as the "goon bag," and the overall product as simply "goon."
VinePair's Tasting Methodology: How We Rate
Throughout the year, VinePair conducts numerous tastings for our popular Buy This Booze column and wine and spirits reviews. Our mission is to offer a clear, reliable source of information for drinkers, providing an overview applicable to day-to-day buying and drinking.
In alignment with our reviews mission, we believe in purposefully tasting all products as our readers typically would, with full knowledge of the producer, the region, and — importantly — the price. Tastings are therefore not conducted blind.
For Buy This Booze roundups, we typically include a maximum of one expression per brand, though we do often taste multiple expressions from a brand, and do sometimes allow multiple products from the same production facility (i.e. released under different labels).
For this list of the best boxed wines, our overall aim was to provide a complete overview of the growing category and to highlight options that are standouts in terms of taste, quality, and value. We feel confident that every box included in this final list delivers on flavor, balance, depth, and complexity for its respective price point.