When you think of summer, you might picture chilled Moscato or piña coladas. You wouldn't be the first to think dark liquor is too heavy for a hot summer day (try being a bourbon sales rep during those months). But bourbon can actually be a great spirit during this humid time. Bourbon makes for an awesome cocktail ingredient, as well as something to sip lazily on a scorching day. Mix spicy, thicker bourbons with a little lime, seltzer, grapefruit juice, or fresh herbs like mint or lavender. When it comes to lighter bourbons, enjoy them over ice with a dash of simple syrup and a twist. Confused as to where to start? Don't be. We've chosen a list of bourbons that vary in cost and texture, so whatever mood you're in, you'll find something for you. However, we've excluded 20+ year aged bourbons and the like, because we feel those are better suited for the bone-chilling winter seasons. They'll be here soon enough. In the mean time, stretch out, don a bathing suit, and say it with us now: no more wine coolers!
Let's kick off this list with some great news: Maker's Mark is inexpensive, widely available, and super easy to drink. This wheated bourbon is a fantastic replacement for those who are curious (but like, not that curious) about trying the mythical Pappy Van Winkle. Maker's is quite light and sweet, with a touch of fruit and vanilla. It doesn't point confusedly in several flavor directions, and it doesn't need to. Instead, this 90 proof bourbon is ideal for helping pass long hours of doing a whole lot of nothing. Maker's is usually priced at around $31 a bottle, so stock up.
Clocking in at a gentle 86 proof, this bourbon actually has a fair bit of spice. Aged for at least four years, Traverse's straight bourbon picks up plenty of the caramel and vanilla that comes with hanging out in oak for awhile. Still, Traverse City isn't aged so long that it becomes cloyingly sweet or ultra-layered. Instead, the bourbon remains enjoyable. Substitute this for the white rum in a Mai Tai for a twist on the tiki experience.
Made from the good folks over at Wild Turkey Distillery, this is a pretty wicked bourbon that, at 110 proof, has a good little dose of heat to keep you on your toes. In addition to the high proof, this bourbon is aged in super-charred oak, so it gets some smokiness from that as well. That being said, there's still cinnamon, dark sugar, and a subtle nose that won't bite your nose. If you're looking to make a vegetal cocktail or use herbs, this should be your go-to choice. It also mixes quite well with vermouth and aperitif wine.
Old Forester is a fantastic entry level bourbon for those who are looking for something straight forward, low-proof, citrusy, and easy to slip into a beach cocktail with fresh juice. We wouldn't necessarily recommend this for a round of Manhattans (you might want to check out the rest of Old Forester's line), but it's a high-quality mixing bourbon with a tinge of herbaceousness and enough palatable sweetness. Like Maker's, it's cheap at only $23 a bottle.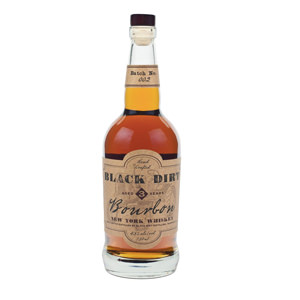 This is an exceptionally breezy bourbon made in our favorite up-and-coming bourbon region: New York! The mash bill is mostly corn based, with a little malted barley and rye thrown in. The rye in particular adds a kiss of spicy earthiness. However, like Maker's, this is an easy-sipping bourbon. Part of that is due to the fact that it's aged (at least) three years, so it's still fairly young with an ebullient palate and a short, soft finish. Pour this over crushed ice, add a brown sugar cube, and you're set.
Like Maker's Mark, Knob Creek Kentucky straight bourbon is a classic that can be found at your local liquor store. Aged for nine years, this bourbon is bursting with molasses, caramel, dried fruit, and maple syrup. It's a sweet bourbon that – much like Traverse City – we could see going well in punch and tiki drinks. Knob Creek may be 100 proof, but it doesn't come with the peppery severity that some boozier bourbons do. Plus, while 9 years easily puts this bourbon in the straight category, it also isn't enough time to add any medicinal tastes to the juice.
This bourbon has a nice hefty rye content, which definitely adds a level of spiciness. Of the bourbons listed here, it might be the most savory. You'll get leather, smoke, and dark fruit. Despite the dryness, this bourbon doesn't totally tip the scale in terms of idiosyncratic flavoring. It still has standard bourbon-tastes like vanilla and dark sugar. If you're looking for a solid bourbon to sip straight as the sun is setting, we'd recommend Smooth Ambler.
Aged for at least ten years, Eagle Rare from Buffalo Trace Distillery is the oldest bourbon on this list. That age shows: there's more complexity here, and a heavy chocolate flavor. If you're a fan of dark chocolate, red wine, or other semi-sweet desserts, this is a great bourbon to reach for. You can try mixing it with red wine, vermouth, amaros, or even coffee liqueur. We're not promising you a Hershey's bar, but the cocoa flavor will definitely shine through.
Ah, we saved the best for last. Like Black Dirt, Hillrock is made in New York. The best phrase to describe this solera (multi-barrel) aged bourbon is full flavored. There's simply so much to work with here. Plenty of dried fruits will dance around with sweet cream, a touch of pepper and cinnamon, and classic whiskey notes like caramel and vanilla. If you bust out this rather unwieldy bottle on a beach with a snifter, we guarantee you'll look like the most badass person around. An even better alternative is to sip Hillrock by the campfire.