Last October, The New York Times published a startling report in which 21 female sommeliers came forward with claims of sexual harassment and assault by male members of the Court of Master Sommeliers-Americas (CMS-A). The women's stories ignited an industry-wide outcry against the organization's lack of transparency, flawed mentorship customs, and blatant disregard for holding bad actors accountable for misconduct. Since then, the question on the minds of many wine professionals has been: Can, or even should, the CMS-A be salvaged?
Industry leaders and community members including VinePair have argued that the CMS-A must either take accountability for its misconduct by taking actionable steps toward protecting its female and minority members, or disband. It has since responded to criticisms by offering its courses online, creating an Ethics and Personal Responsibility Committee, and developing scholarship opportunities for Black, Indigenous, and people of color (BIPOC). However, it remains unknown whether an organization with such deep-rooted sexism and racism can be reformed. Additionally, as the wine world becomes more virtual, accessible, and inclusive, the value of such exclusive — and exclusionary — practices and certifications dwindles.
As we continue to grapple with these questions, the glaring need for safe, accessible mentorship and education for underrepresented and aspiring wine professionals has sparked a sea change.
Don't Miss A Drop
Get the latest in beer, wine, and cocktail culture sent straight to your inbox.
With the CMS-A's external investigation of its accused members ongoing since November, the wine industry has continued to move forward without it — offering and building upon new and existing programs for women, LGBTQ+, and BIPOC individuals to learn alongside one another in more inclusive spaces.
VinePair has gained insights from 10 of the most influential wine education and mentorship programs serving underrepresented groups in the U.S. today. Read on for an inside look at each initiative, and hear from the founders on why they believe a robust variety of equitable and accessible curricula are essential to the industry's future.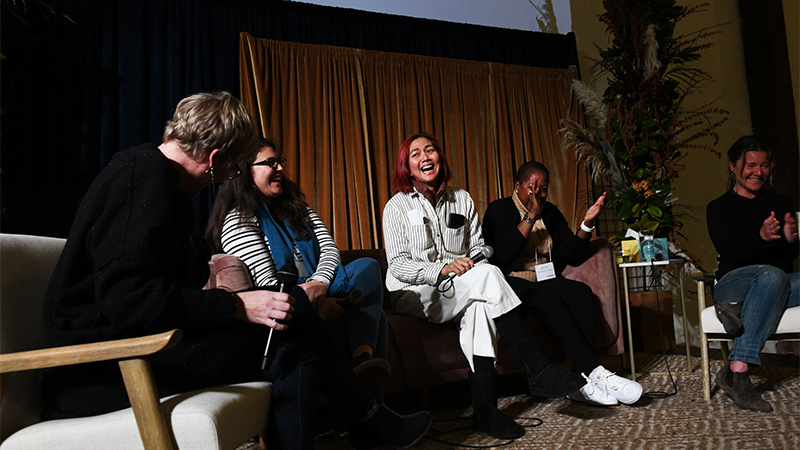 Based in Oregon's Willamette Valley, Assemblage Symposium is a nonprofit organization with the goal of advancing the careers of underrepresented wine professionals. Its founder, Rachel Adams, worked for over a decade in Oregon's wine industry before she realized how unaccepting the wine industry can be for those that don't fit its mold: white, cis, straight, and male.
"I had some really wonderful, positive experiences, but I also had some really painful and challenging ones that were tied to my identity as a queer person,"Adams says. At the same time, she checked her privilege: She knew that many of her colleagues were experiencing worse realities. "I'm white, I come from an affluent family, I'm cisgender. I carry a lot of privilege in this space," she says. "I pass and fit in at a lot of tables that I know my colleagues of color have traditionally struggled to access in the wine industry."
That's what led her to start Assemblage — and to help give voice to the unheard. The nonprofit held its first event in January 2020, shortly before the world shut down due to Covid-19. "Our first conference really convinced attendees and our greater wine community of the need for greater diversity," Adams says. Since then, she says, winery and wine shop owners in the Willamette Valley have made strides in employing more diverse staff members.
But before companies focus on hiring candidates of color, Adams says, there's education and training work that needs to be done. "If our businesses hire diverse candidates but we do nothing to change the environment in which we're working, we're setting those diverse candidates up for failure," she says. Adams is working to create a virtual training course for managers with the goal of changing workplace cultures, set to launch this fall.
Assemblage accepts donations to fund its scholarships and symposiums. Click here to donate.
Founded by VinePair contributing editor Julia Coney, Black Wine Professionals (BWP) began in July 2020 as an online database of qualified wine experts including sommeliers, retail owners, distributors and buyers — but has evolved into a community-driven resource that has created tangible change in the wine industry. Coney says that when she first started BWP with the intention to highlight deserving Black voices who were not receiving the same opportunities she had, "I never thought it would be what it is now, honestly."
The organization currently offers scholarships for its members and will even be offering an open-to-the-public book club amplifying diverse voices starting in the fall. Most recently, BWP partnered with Laurent Perrier to offer a scholarship to five of its members to the Wine Scholar's Guild's Champagne Master-Level Certification — the opportunity will be offered to five more BWP members again this fall.
To Coney, the most fulfilling part of her role at Black Wine Professions is "just seeing other people get the just recognition they deserve that they haven't; to see the people I looked up to finally getting highlighted in a way that they weren't."
Black Wine Professionals accepts donations to fund its scholarships. Click here to donate.
Second City Sommeliers (SCS) is a Chicago-based education and mentorship group with a mission to make wine a safe space for oenophiles of all ability levels. The program helps its members further their knowledge and abilities, hosting tasting events, educating on wine theory, and providing prep courses for wine certifications like CMS and Wine Spirits and Education Trust (WSET).
"We also try to take the opportunity — last year in particular and during the pandemic — to highlight different voices in the wine industry," Dustin Chabert, SCS board member, says. Some such seminars focused on transgender inclusivity and anti-racism in the wine industry.
Though SCS began as a local program, Covid-19 became a catalyst for growth as its sessions became virtual. "We were able to touch a global audience because it was virtual," Rachel Speckan, board member, says. And though the world is coming back to life as vaccines are now widely available, SCS will continue to offer virtual courses with a hybrid learning model, meaning that those looking to gain confidence and knowledge in wine can join SCS's community, no matter where they live.
When wine pros Sarah Bray and Stevie Stacionis noticed a gap in mentorship opportunities for women in wine, they knew they had to do something about it. While wine certification programs often have mentorship tracks built into their programming, these relationships, Bray says, are meant mostly to help wine students pass exams, rather than fostering community.
Bray and Stacionis started Bâtonnage to offer mentorship that is "meant to be practical and actionable. That's a fundamental part of our philosophy," Bray says. The program works to make wine a more inclusive industry — with a commitment to always having at least 50 percent BIPOC members — and encourages those far along in their careers to share their well-earned knowledge with those just starting out.
As Bray took an untraditional route in the wine industry, starting her own business rather than climbing the corporate ladder, she realized how helpful a mentor would have been to answer many of her day-to-day questions. "This is really meant to be an avenue for people to have honest conversations," she says, and to ask the questions they may have been too afraid to ask — from how to build profit/loss spreadsheets to creating budgets.
Bâtonnage also hosts an annual forum in which diverse members of the wine community discuss topics such as workplace harassment, coping with Covid-19's aftermath, and, of course, mentorship.
Bâtonnage accepts donations to fund its forums and mentorship program. Click here to donate.
When it comes to equality in wine, Lift Collective (formerly Wonder Women of Wine) takes a holistic approach. Not only does the organization host conferences in which leaders of the wine world discuss issues from systemic exclusion to wellness in wine, it also is committed to research, collective action, and job placement for diverse individuals.
Lift Collective founder Rania Zayyat was inspired to found Wonder Women of Wine when seeking her CMS certification. The Court's male-dominated environment meant there was a lack of mentors and teachers that looked like her, Zayyat says. "I felt like an outsider having to fight my way in." She knew that there were plenty of capable and accomplished women in wine who felt the same. And so, "Wonder Women of Wine was started as a way to amplify and empower women and to celebrate women and their accomplishments in the industry," she says.
Last year, the organization changed its name to Lift Collective to represent "anyone who has ever felt like they were on the outs or marginalized in some sort of wine setting," Zayyat says. This includes women as well as anyone who does not fit within the able-bodied, cisgender, straight, white-man identity that has ruled the wine industry thus far. The organization now co-hosts the Be the Change Job Fair, which helps to place diverse beverage professionals in the right roles, and offers scholarships to business owners and students of underrepresented genders.
Lift Collective also ran a survey to study the effects of gender inequity in wine in 2020, and plans to conduct additional studies examining the role of race in the wine industry. "There aren't a lot of stats out there about diversity and inclusion. There is not enough data for us to use as tools for learning opportunities but also to measure progress," Zayyat says. She plans to change that — and so much more.
Lift Collective accepts donations to fund its annual conference, scholarships, and online programs. Click here to donate.
Inclusion of diverse individuals in the wine industry is a goal many share. The Hue Society has gone a step further by creating a community by and for Black professionals to connect and learn about wine — with the motto "no assimilation required."
That last part is Hue Society founder Tahiirah Habibi's biggest goal. "I think that a lot of times, particularly in this wine space, we get indoctrinated into believing that if we don't have a Eurocentric viewpoint and approach to things, then we can't be successful," she says. "And that includes testing."
Habibi believes that while certifications like CMS are helpful for those who want to get them, many individuals only do so because they've been told repeatedly that such tracks are the only way to get a foot in the door. "We get led to believe that very often, and I just want people to show up as themselves. And I want people to participate in systems that allow that," she says.
While Black and Brown individuals are often told they must fit a mold to get a seat at the table The Hue Society is all about facilitating a different path. Because so many Black and Brown wine professionals have been told throughout their careers that they must change their hair, clothes, and the way they talk, Habibi says, she believes they've been traumatized by the industry. Habibi defines trauma as "not being allowed to be yourself on a regular basis — knowing that if you showed up as who you are, you would not be accepted, you would get fired, you would be punished." That's why, for many, The Hue Society has been a place of not only learning, but also one of healing.
The Hue Society hosts competitions in which Black judges are appointed to score Black wines; awards outstanding Black wine professionals with particular emphasis on those who have not previously been acknowledged; and offers opportunities for authentic, community-driven relationships. As of this writing, the organization has chapters in New York, Philadelphia, Sonoma, Napa, Oakland, Atlanta, and San Francisco — and Habibi hopes to expand into Miami, D.C., and Texas in the next few months of 2021.
Whether to build resumes, gain access to job opportunities, or simply learn about wine, many entering the wine industry seek out certification-driven education programs. But traditional wine education is far from accessible to everyone: The Court of Master Sommelier certification costs between $595 and $1,195, while WSET courses are priced between $275 and $1,250.
Wine Empowered is working to make similar levels of education more affordable. The nonprofit is an educating body run by and for women and minorities in hospitality, and offers tuition-free, fundamental wine education as well as mentorship and networking opportunities for its students.
President Victoria James says she and co-founders Cynthia Cheng and Amy Zhou came up with the idea for Wine Empowered after teaching wine classes to employees at a restaurant they worked at together. While they assumed the wine classes would simply be a way to help with sales at the restaurant, "what we didn't expect was that it really empowered people to take hold of their careers," James says. From there, they saw an opportunity to reinvent wine education. Its founders — all women, two of whom are Chinese — often felt unwelcome and left behind in the industry. They began Wine Empowered as a way to provide a welcoming place for women and BIPOC who currently work in hospitality and want to learn more about wine.
"We realized that one of the biggest barriers was education," James says. "Of course it's costly, but it's also about providing a space that feels as if you're not marginalized." When Covid-19 hit, it derailed the organization's classes, which are in-person only, but the curriculum is now back on track. James has high hopes for the program's inaugural class. "There are so many great programs out there, but what we're doing is so different because it is in-person classes, it is a really, really challenging curriculum, and we want to prove with this inaugural class that when the students graduate, they're really going to be at the top of their game," she says.
Wine Empowered accepts donations to fund free wine education for women and BIPOC. Click here to donate.
"The Roots Fund is a one-stop shop for everything," says co-founder and executive director Ikimi Dubose. Founded in July 2020, the nonprofit invests in recruiting young people of color to learn about wine, mentoring students enrolled in Historically Black Colleges and Universities (HBCU) and providing scholarships for college students and graduates through WSET, CMS-A, UC Davis, Cornell University, and more.
"What makes us unique is that we offer educational programs with no glass ceiling," Dubose says. This means supporting students from all angles: funding education; necessary resources like wine samples (which are often an expensive barrier for students whose education is otherwise funded); travel for examinations; and one-on-one mentorship pairings to provide support with studies. The mentorship piece is especially important to Dubose, who believes that individual, rather than group-based, mentor-mentee relationships are vital — especially because while all the program's mentees are BIPOC, many of the mentors are white. This dynamic, she says, has often led to a fear and lack of trust in communities of color based on past experiences in the industry.
The Roots Fund also works with those further along in their wine careers, pairing them with jobs and internships in the industry. Dubose explains that any company that posts a job with The Roots Fund is fully vetted to ensure that it is actively working to further diversity, equity, and inclusion (DEI) internally as well as within the industry as a whole.
Expanding the program internationally, The Roots Fund now offers scholarships in France in partnership with Domaine Dujac and the Burgundy School of Business. But while there are more opportunities on the horizon for The Roots Fund scholars thanks to the program's many partners and sponsors, Dubose says scholarship funding from colleges continues to be an issue: "Schools all want to raise their recruitment, but no one wants to contribute to programming or financial support for programs like ours," she says. As of now, Dubose says, none of the colleges that partner with The Roots Fund contribute financially to the program's scholarships.
The Roots Fund accepts donations to fund its programming. Click here to donate.