See our Best Rosés of 2018 here.
It's finally that time of year again! The sun is out, the shades are on, and all we want in our glasses is a crisp, refreshing pour of rosé. This delicious pink juice has become a summertime staple all over the world, thanks to its insane thirst-quenching capabilities. However, with so many bottles of the stuff on the market, where does one even begin? We took it upon ourselves to do the dirty work for you. After much swirling, sipping, and reflecting, we've compiled our official guide to the 25 best rosés on the market — and we're sharing it exclusively with you, just in time for the start of summer. Because as we all know, rosé time of year is the best time of year.
1. Ameztoi 'Rubentis' Rosé Txakolina, Basque Country, Spain, 2016
Even those who claim to detest rosé count down the days until this wine's release each year. Its impossibly thirst-quenching effervescence is characteristic of the Txakoli wines that come from the lush green rocky coast of Basque Country in northern Spain. Somehow the Ameztoi rosé manages to be extremely drinkable despite its complexity, with lip-smacking citrus, tart strawberry fruit, and distinctly rocky, salty minerality. Low in alcohol, it's best enjoyed in plentiful quantities via porrón. Average price: $23
Don't Miss A Drop
Get the latest in beer, wine, and cocktail culture sent straight to your inbox.
2. Stolpman Vineyards Estate Rosé, Santa Barbara, California, USA, 2016
This may just be the best domestic rosé we've ever laid our hands on. Made from 100 percent Grenache, two thirds of the grapes are immediately pressed vin gris, blended with one third carbonically fermented light red Grenache. All grapes are picked early to maintain freshness, resulting in a wine full of tart strawberry flavors marked with soft notes of salinity. Average price: $19
3. Charles Audoin Marsannay Rosé, Burgundy, France, 2016
Rosé may not be the first wine style associated with Burgundy, but Marsannay, the northernmost village in the Côte d'Or, was actually historically known for making rosé. While many Marsannay winemakers choose to stay away from rosé for that reason exactly, Charles Audoin (now led by Charles's son, Cyril) celebrates it. This rosé just hits the spot, lovely and easy-drinking, with a fine minerality that enhances the subtle berry flavors. It's like drinking a glass of ice-cold water on the hottest summer day, but so, so much better. Average price: $26
4. Clos Cibonne 'Cuvée Tradition' Tibouren Rosé, Côtes du Provence, France, 2015
Some Provençal rosés are merely forgettable, blush-tinged juice, but not this one. It's made primarily from old vines of the rare, local grape Tibouren, which makes earthy, herbal, slightly rustic wines. Though it comes in a dark-colored bottle, it's extremely pale, with hints of lemon, orange peel, underripe strawberry, and a salty, hearty earthiness. Average price: $26
5. Chateau de Trinquevedel Rosé, Tavel, France, 2016
Believe it or not, Tavel is the only AOC in all of France made up entirely of rosé. These darker-hued rosés contain a maximum of 60 percent Grenache and are chock full of flavor. Château de Trinquevedel's bottling comes from 30-plus-year-old vines, made in the direct press method. Full of ripe raspberry flavors speckled with notes of garrigue, this is about as terroir-driven as it gets. Average price: $17
6. Graci Etna Rosato, Sicily, Italy, 2016
While Sicily may give off sunny island vibes, the slopes along the active volcano of Mount Etna add the cooling effect that, when combined with intense volcanic minerality, create some of the summer's most exciting rosés. The Graci Etna Rosato made from 100 percent Nerello Mascalese leans hard on the acidity, with tons of Meyer lemon citrus and tangerine to complement lip-smacking strawberry and intense minerality. Average price: $21
7. Domaine de la Chanteleuserie Bourgueil Rosé, Loire Valley, France, 2016
Crafted at "the place where the larks sing" (Chanteleuserie), the vines' southern exposure and limestone-clay soils allow grapes to reach optimal ripeness. Made entirely from Cabernet Franc, locally known as Breton, the wine is produced by 50 percent direct press and 50 percent saignée method. Ripe red fruit and insane freshness dominate the wine — perfect for happy hour on the patio. Average price: $13
8. Bailly-Reverdy Sancerre Rosé, Loire Valley, France, 2016
Sancerre is so synonymous with citrus-driven white wines made from Sauvignon Blanc that few realize that the region also produces rosé, always made from Pinot Noir. Dry, medium-bodied, and super juicy, the Bailly-Reverdy has impact, particularly when it comes to fruit. Think of a cherry-raspberry-red currant melange, along with a touch of earth and clean finish. Average price: $17
9. Chateau d'Esclans Garrus Rosé, Provence, France, 2010
Regarded as one of the greatest rosés in all of France, this extremely limited bottling is a treat for anyone who gets their hands on it. The crisp palate of strawberry and crunchy apple is gorgeously rounded out by light toasty undertones. A denser yet refreshing rosé that has become a favorite among locals of the French Riviera; only six barrels are produced each vintage. Average price: $85
10. Red Car Rosé of Pinot Noir, Sonoma Coast, California, USA, 2016
A member of the small-scale, artisanal California winemaking trend, Red Car makes balanced, sought-after wines in the cool west Sonoma Coast region. Their rosé — available in both 750 milliliter and magnum bottles — is both high-quality and organic, making it unnecessary to sacrifice winemaking technique for tastiness. It's soft, summery, and easy-drinking, with flavors of lush cherries and roses, along with plenty of zip. Average price: $23
11. Pierre-Yves Colin-Morey Rosé of Pinot Noir, Burgundy, France, 2016
Yes, one of the most sought-after, standout young producers of white Burgundy is making rosé, and wine nerds everywhere are freaking out. Like many of the Pierre-Yves Colin-Morey (or PYCM, to keep it short and sweet) wines, it's in short supply but absolutely worth seeking out. Perfectly balanced and high-toned without being aggressive, it has bursting orange citrus and white peach fruit, with just a hint of delicate strawberry and that characteristic Burgundian minerality. This is Burgundy first, rosé second. Average price: $35
12. Viña Stoka Teran Rosé, Kras, Slovenia, 2016
This rosé defies the notion that a wine's color can accurately indicate its flavor. Though it's a more medium-colored pink, darker than some staunch rosé drinkers might venture to taste, it's incredibly light on its feet and refreshing. Made from the Slovenian grape Teran (a member of the Refosco family), along with some Cabernet Sauvignon and Merlot, the Stoka rosé tastes like a spring picnic: fresh strawberry fruit and fine, crushed rock-reminiscent minerality. Average price: $20
13. La Gioiosa Et Amorosa 'Rosea' Brut, Veneto, Italy, NV
What's better than rosé? Sparkling rosé! This noted Prosecco producer uses Pinot Noir and Pinot Blanc grapes to make a fresh, fruit-driven bubbly rosé with a dry finish. Lots of ripe red apple and strawberry fruit complement soft, mouth-scrubbing bubbles. Best of all? No corkscrew needed! Average price: $9
14. Matthiasson Rosé, Napa Valley, California, USA, 2016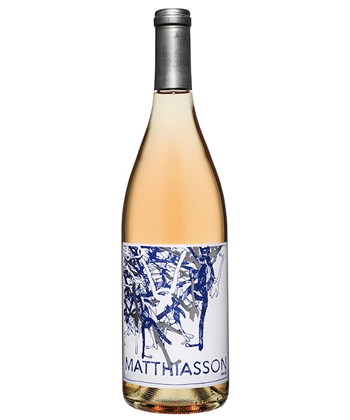 Comprised of Grenache, Syrah, Mourvèdre, Sauvignon Blanc, and Counoise, the fruit for Matthiasson's rosé is whole-cluster pressed, followed by fermenting and aging on the lees in stainless steel to preserve acidity. The palate bursts of tart red fruit and citrus notes; at a low 11.3 percent alcohol, you could easily drink this wine all day long. Average price: $26
15. M. Chapoutier Belleruche Rosé, Côtes du Rhône, France, 2016
All southern French rosé is not created alike, and while Provence is known for its many super pale, delicate options, the Rhône Valley offers rosés of more body, meant to be enjoyed with food. This Grenache-based blend delivers on value and impact if not on complexity, with ripe red cherry fruit, bitter herbal highlights, and pink peppercorn-like spice. Average price: $12
16. Robert Sinskey Rosé of Pinot Noir, Carneros, California, USA, 2016
A cult following clamors for this pale-colored vin gris upon release each year, enamored with its high-toned, juicy berry fruit and zingy acidity. Average price: $32
17. Tenuta della Terre Nere Etna Rosato, Sicily, Italy, 2016
The softer side of Sicily's high-quality volcanic rosés, this salmon-colored Nerello Mascalese rosé has subtle strawberry fruit and prickly, rocky minerality. Average price: $22
18. Domaine de Cala Prestige Rosé, Provence, France, 2016
A solid blend of Syrah, Grenache, and Rolle from Provence; fruit-forward and bright, with strong peach flavors and zesty acidity. Average price: $24
19. Fleur de Mer Rosé, Provence, France, 2016
This salmon-colored "flower of the sea" evokes aromas of juicy watermelon and Provencal lavender. It's a one-way ticket to the Mediterranean in a glass. Average price: $17
20. Fossil Point Rosé, Central Coast, California, USA, 2016
Hand-harvested Grenache-Syrah blend, full of tropical fruit and citrus flavors, this one is aged in both stainless steel and French oak. Perfect with grilled veggies! Average price: $12
21. Chateau d'Esclans 'Les Clans' Rosé, Provence, France, 2015
An introductory sister rosé to the high-end Garrus, the Les Clans is approachable when young but anything but simple, with round berry fruit and toastiness from oak aging. Average price: $67
22. Jean-Luc Colombo 'Cape Bleue' Rosé, Languedoc, France, 2016
A blend of Syrah and Mourvèdre, this coastal French rosé is a fruit-lover's dream — exotic tropical fruit, candied berries, and floral accents. Average price: $12
23. Gorgo Bardolino Chiaretto Rosé, Veneto, Italy, 2016
Crunchy Italian rosé made from the shores of Lake Garda in the Veneto region of Italy. Light, fresh, and fruity, this is the answer to all of your poolside sipping needs. Average price: $12
24. Château de Lascaux Rosé, Languedoc, France, 2016
Organically farmed, Cinsault-dominant blend from southern France, full of zippy citrus flavors and light garrigue-tinged spice, this one is a stellar value for the price. Average price: $15
25. Château Spencer 'La Pujade La P'tite Soeur' Rosé, Corbières, France, 2016
This Syrah-dominant blend hails from the Languedoc region of southern France. It's fresh, fruit-forward, and perfect for summertime aperitifs. Super affordable! Average price: $14