For far too long, in the minds of both casual drinkers and connoisseurs alike, Scotch has equated to single malt while Irish whiskey is to blends. That couldn't be further from the real truth. Now, there's absolutely nothing wrong with blended whiskey — a melange of single malt and grain whiskeys can often be delicious— but, for many drinkers, single malt is the apex of whiskey. And Irish single malt is truly a unique beast.
If you haven't dipped your toes into the world of single malt, there's no need to be intimidated. Many single malts, such as Bushmills 10 Year Old Single Malt Irish Whiskey, are extremely appealing — both in flavor profile and in cost. If you have any sort of inkling to explore the category, it's a good place to start.
Today, Bushmills Irish Whiskey is produced in small batches with passion, great care, and supreme craftsmanship. Each stage of the whiskey-making process involves skills that have been handed down over centuries. Perhaps that's why Bushmills has long been the most awarded single malt portfolio in all of Ireland.
First of all, though, let's discuss what actually defines a single malt, as many people are still a bit confused. Briefly, to be a single malt just means a whiskey is composed of 100 percent malted barley that has been produced at a single distillery. In the case of Bushmills, its single malts are, in fact, coming from the oldest licensed whiskey distillery in the entire world.
First granted a license to distill in 1608, today Bushmills has over 400 years of whiskey-making heritage. It's a tradition that has been passed down through the generations because Bushmills isn't just a distillery, but a village, where families, friends, and neighbors have worked side-by-side for years. That's one reason Bushmills has such a signature taste (smooth, pleasing) and famous house style. Another is because the distillery has never taken shortcuts and never compromised on quality.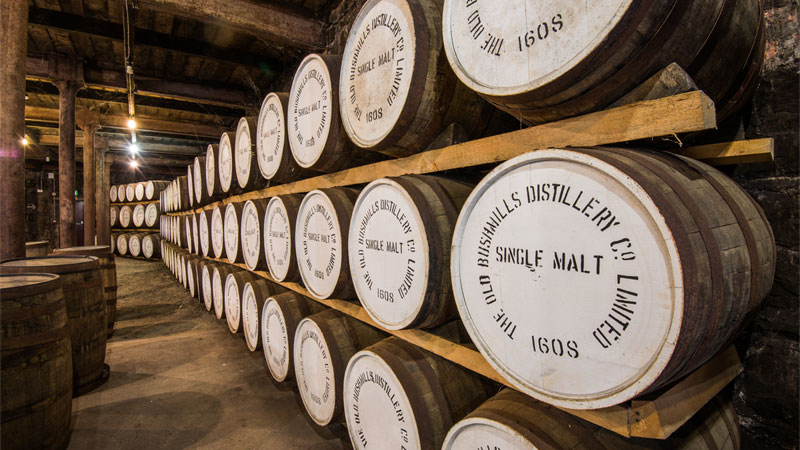 As mentioned previously, our exploration begins with Bushmills 10 Year, which is triple-distilled from 100 percent malted barley in copper pot stills, and then matured for at least a decade in sherry and bourbon-seasoned barrels. This "summertime" single malt has pleasing notes of honey, vanilla, and milk chocolate, and is perfect to sip over a couple ice cubes. It's no wonder it is a personal favorite of Master Blender Helen Mulholland, and it's hard to beat the price, at just around $44.99 a bottle. You will not find Scottish single malts of such quality that are so economical.
There's also Bushmills 16 Year Old Single Malt Irish Whiskey, aged in a combination of Oloroso sherry and bourbon-seasoned casks, then finished for about one year in port pipes. This creates an incredible complexity of flavors — juicy fruits, nuts, and spice. But the pinnacle of Bushmills core lineup might just be the 21 Year Old, aged in Oloroso sherry and bourbon-seasoned casks, then married and transferred into Madeira casks for a final two years of aging and maturation. Whichever you prefer, these are all classic Irish single malts, traditional, refined, and exceedingly drinkable.
Maybe you're more interested in the cutting edge of Irish single malt, however. The Sexton Single Malt Irish Whiskey fits the bill — a bit more of an unconventional single malt, even if it, too, is steeped in tradition. Inspired by the long history of whiskey-making on the North Coast of Ireland, The Sexton uses 100 percent homegrown ingredients, including only un-peated Irish malted barley. The spirit is distilled in copper pot stills, which gives it an exceptionally smooth taste and finish.
It's experimental component comes in its use of modern-day maturation techniques. Though only four years old — an unexpectedly young age for any single malt — it is consciously aged for that entire time in former Oloroso sherry butts from Jerez, Spain. This imparts an uncommon complexity and richness of flavor, with the palate offering notes of dried fruit, honeycomb, and a certain nuttiness backed by subtle oak notes. The overall depth of flavor from the wine-imbued barrels surpasses its youth.
Of note, it was created in 2017 by Alex Thomas who, like Mulholland, is one of the few female master blenders in the entire industry. In a way, The Sexton represents the changing face of Ireland, the liquid capturing the romance and provenance of the past and the optimism and creativity of the future.
Also looking to the future is Bushmills. After four centuries, this old dog is still trying new tricks. Just look to its recent "The Rare Casks" series, which burnishes the distillery's reputation for having an unparalleled stock of aged casks, with the bottles in this series featuring some of Bushmills' rarest. They are all finished across a variety of years and will be released in small quantities within the U.S. If you see a bottle, grab it.
The first bottle to be released in the series is Bushmills' new 28 Year Old Single Malt Cognac Cask. Mulholland rested Bushmills single malt in ex-bourbon and sherry barrels for 11 years before marrying them and then finishing the final 17 years of maturation in Cognac casks. This truly shows the height of Bushmills' single malt whiskey-making, offering exceptional flavor, and a price tag to match at $500. It's well worth the splurge.
Wherever you are on your single malt journey, now is the time to begin exploring all that Ireland has to offer.
Discover more of our content featuring single malt whiskey here!
This article is sponsored by Bushmills Irish Whiskey and The Sexton Single Malt Irish Whiskey.