If the first image that springs to mind when you hear "rum cocktail" is a frozen drink punctured with a colorful parasol, here's your chance to reimagine the scene — a global one, where rum stars in recipes that don't require a blender, brain freeze, or idyllic beach. Rum is an international spirit, and a cultural fixture in areas of the world where it is produced. Originally called "Kill Devil" or "rumbullion," rum's first recorded history dates to 1650 in Barbados. It became profitable in many Caribbean islands as a result of Europeans who forced Africans to work as slaves. However, the spirit continues to thrive with local pride, and brands around the world are excited to shift the narrative of rum as a spirit made solely for tropical drinks.
"Rum is the most versatile spirit category in the world, with an array of flavors, body, aromas and presentations," says Ian A.V. Burrell, global rum ambassador to the rum category, and founder of Equiano rum. Although the distilled spirit is made from sugarcane, a common misconception is that rum is always sweet. But while some rums are allowed to add sugar or sweet wines to their blends, many are as pure as bourbon, Tennessee whiskey, or single-malt Scotch. ("Pure" as in unadulterated, meaning no sugar, sweeteners, or additives are used to enhance the flavor.)
In this way, Burrell compares rum to whiskey: Both follow regional "rules" or laws, but have no global definition. "It is produced in many countries, most having their own definition of the sugarcane spirit, similar to whiskey from Scotland, Ireland, Canada, or America," Burrell says, "and like whiskey, it all depends on where the rum is made. For example, all rums from Puerto Rico must be aged for a minimum of one year before they can be called rum, and in Venezuela, two years. Rums from Jamaica must be made on the island and cannot contain additives such as sugar or spices. And Rhums from Martinique, using their controlled designation of origin (appellation d'origine contrôlée AOC), have many rules, including that they must be made from fresh sugarcane juice from local sugarcane and distilled in creole column stills."
Don't Miss A Drop
Get the latest in beer, wine, and cocktail culture sent straight to your inbox.
Likewise, Peter Ruppert, beverage director of Short Stories in the East Village of New York and brand ambassador for Don Papa Rum, compares rum to wine: "Much in the way that the same grape grown in Burgundy can be raised in California, yet produce two very different flavors, the same concept exists for sugar," he says. "It's such a delicate balance with many factors, from climate, to the proximity to a large body of water, and even altitude."
Ruppert continues: "In large part, what I think makes rum such a fascinating spirit is that it's mysterious, and you always want to know more. It's not just where it was grown and how it was aged, but how did it get there? Who found it? Where was it brought to, and who did it meet along the way? It simply has a ton of personality."
And speaking of personality, here is a look into rum varieties around the world that are showing how global and diverse the spirit really is — along with recipe inspiration for each.
EQUIANO
Made in: Mauritius and Barbados
Equiano made its debut this year as the world's first African Caribbean rum. The limited, molasses-based blend is 100 percent natural rum that's aged in a combination of French Limousin oak and ex-Cognac casks for a minimum of 10 years, then shipped to Barbados and blended with single-blended rum aged in ex-bourbon casks.
"We decided to take rum from Africa (Mauritius) and send it to the epicenter of the rum world, the Caribbean (Barbados), to be blended with local premium rums by the masters. This culminates in a smooth-tasting rum that is bursting with natural aromas, taste, and flavor, without the addition of any sugars or spices," Burrell, co-founder of Equiano, says.
Burrell's Kedu Daiquiri is a nod to Equiano rum's origins and to Olaudah Equiano, the 18th-century writer, entrepreneur, and abolitionist the brand was named after. Kedu means "hello" or "welcome" in the Igbo language of southern Nigeria, near the birthplace of Equiano.
"This cocktail is a simple, refreshing drink that embodies hospitality," Burrell says. "As Equiano rum has natural tropical notes on the nose and palate, it works well with exotic fruits such as pineapple. Historically, and due to its seemingly exotic qualities and rareness, the pineapple soon became a symbol of hospitality in early America. Because trade routes between America and Caribbean islands were often slow and perilous, it was considered a significant achievement from a host to procure a ripe pineapple for guests."
Kedu Daiquiri
Developed by: Ian Burrell, Global Rum Ambassador to the Rum Category, London
Ingredients
Directions
1. Place all ingredients, except Champagne, in shaker tin.
2. Add ice and shake vigorously to marry ingredients and chill beverage.
3. Strain into serving ware (coupette or Martini glass, preferably).
4. Float a little Champagne on top of the cocktail.
5. Float a pineapple leaf as a garnish.
DIPLOMÁTICO RUM
Made in: Venezuela
Diplomático rums are produced by Destilerías Unidas S.A. (DUSA), an independent, family-owned and 100 percent Venezuelan company, located at the foothills of the Andes Mountains. "Our main advantage to achieve a delicious and distinctive taste profile is our unique rum-making process," says Edouard Beaslay, global marketing director, Diplomático Rum. "Diplomático rums are distilled using a rich variety of methods, like ancient copper pot stills (British whisky tradition) for complex rums. Using pot stills, arguably the most authentic method of distillation, results in a more flavorsome spirit and richer in congeners."
Diplomático's rum raisin cocktail, created by brand ambassador Emmanuel Peña, shows just how many diverse ingredients can elevate rum's flavor. "Although named Rum Raisin, the star of this cocktail is the fig preserve," Peña says. "I found that when you dry figs, you're reducing volume of water, resulting in a similar raisin-y taste, but much more refined. The acidity of the lemon balances everything out and enhances the vanilla notes found in Diplomatico Planas. The color of the fig preserve adds that vibrancy to the cocktail."
Rum Raisin
Developed by: Emmanuel Peña, National Diplomático Brand Ambassador
Ingredients
2 ounces Diplomático Planas
1 bar spoon fig preserve or marmalade
1 ounce lemon juice
½ ounce agave nectar
Raisins for garnish
Directions
1. Add all ingredients into an ice-filled shaker, and shake vigorously to combine/chill.
2. Serve into desired cupware.
3. Garnish with raisins.
DOS MADERAS
Made in: Barbados, Guyana, Spain
What happens when rum is blended and aged in a number of places around the world before being bottled? Dos Maderas is what happens. "A rum like Dos Maderas has a unique system of taking rum that is produced and aged for five years in Guyana and Barbados, then bringing them to Jerez, Spain, where they are blended and aged in sherry casks in the cooler climate and solera system, bringing about a nuance and complexity from the rums that could not happen if they were aged in one place," says Andy Seymour, owner of Liquid Productions, an agency that develops education and beverage programs. "In a case like this, the rum enjoys the benefit of several places to be 'from,' making it even more special."
Dos Maderas' Bodega Banana Daiquiri cocktail is the taste of the tropics, without the overbearing sweetness that many Daiquiris fall prey to. "The rum has a balance in flavor that allows some of the spice to really come through on the palate, with the earthy and nuttiness of the Palo Cortado sherry that finish the roundness in flavor and texture, and create a beautiful canvas to build flavors, especially in the tropical world," says Diana Novak, national director of craft spirits education at Palm Bay International.
"The rum itself has notes that linger with tropical notes, and thus incorporating flavors like banana, mango, papaya, pineapple, even grilled flavors of tropical melon to muddle only bring out more the body of the rum, and round it out with the nutty, earthy flavor notes of the Dos Maderas 5+3 rum," she says.
Bodega Banana Daiquiri
Developed by: Diana Novak, National Director of Craft Spirits Education at Palm Bay International, Chicago
Ingredients
1 ½ ounces Dos Maderas 5+3 Rum
½ ounce Dry Sack Sherry
¾ ounce banana puree
1 ounce lime juice
1 ounce simple syrup
2 dashes bitters
Directions
1. Combine all ingredients in a cocktail shaker with ice, then shake vigorously.
2. Strain into a chilled Martini glass.
3. Garnish with banana wheel.
DON PAPA
Made in: The Philippines
Though rum production is usually associated with the Caribbean, in recent years, the Philippines has emerged as a strong competitor in the rum market. "Don Papa Rum gets its start in what some believe is the cradle of rum itself. Hailing from the island of Negros, Philippines, or 'Sugarlandia' as the locals call it, there is a special variant of sugarcane that is such a trademark of the landscape that it actually grows wild. It's incredibly sweet and we here at Don Papa like to call it our 'secret sauce," says Peter Ruppert, Don Papa Rum brand ambassador. This liquid gold is turned into molasses, then distilled and aged for seven years in American oak ex-bourbon barrels that produce an array of flavors that include honey, citrus, and candied fruit.
If you've never thought to combine coffee and rum, let Ruppert's Don Café cocktail be your inspiration. "Don Papa's notes of vanilla, honey, and caramel fit like a glove in this warm and comforting coffee cocktail," Ruppert says. "A little rum can go a long way when paired with the right ingredients and that's certainly true of the Don Café. Made with Don Papa 7, Grady's coffee, a touch of Mr. Black coffee liqueur for sweetness and an added kick, then finally just a couple drops of hazelnut, it's the perfect way to get your day going."
Don Café
Developed by: Peter Ruppert, beverage director of Short Stories, New York, and brand ambassador of Don Papa Rum
Ingredients
Directions
1. Combine all ingredients.
2. Stir and strain into a coffee mug.
3. Serve with Stroopwafel wafer cookie.
TEN TO ONE
Made in: Trinidad, Jamaica, Dominican Republic, and Barbados
For a true taste of what Caribbean rum is capable of, look no further than Ten to One, which gets its flavor profile from production on four different islands. "Caribbean people have been mastering the art of distilling, aging, and blending rum for over two centuries. Each island has its own distinct flavor profile and when combined with other rums can result in an exceptional blend," Marc Ferrell, founder of Ten to One, says. "Our White Rum is a blend of rum from Jamaica and the Dominican Republic, and our Dark is from Trinidad, Barbados, Jamaica, and the Dominican Republic."
Ten to One's Manhattan cocktail recipe utilizes the caramelized notes of the rum to balance the herbal flavors of bitters and vermouth in this classic drink. "Rum is not just for spring break and sugary frozen drinks. Rum is extremely versatile and has the ability to uplevel any craft cocktail. Try it in your next Old Fashioned or Negroni in place of whiskey or gin. We promise you won't be disappointed," Ferrell says.
Ten to One Manhattan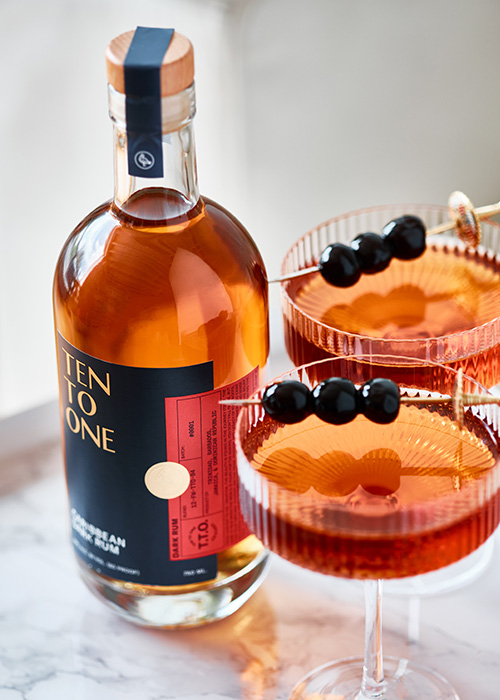 Ingredients
2 ounces Ten To One Dark Rum
1 ounce sweet vermouth
2 dashes orange bitters
2 dashes Angostura bitters
Garnish: Amarena cherry
Glassware: Martini or coupe
Directions
1. Stir all ingredients with ice and strain into glass.
2. Garnish with amarena cherry.
MOUNT. GAY
Made in: Barbados
Barbados is considered the birthplace of rum, and Mount Gay maintains the world's oldest-running rum distillery, dating back to 1703. The recent debut of its Master Blender Collection: The Port Cask Expressions, celebrates over 300 years of expertise and was created by the distillery's first female master blender, Trudiann Branker. This new blend incorporates the use of Tawny Port casks to create notes of cherry, dried fruit, oak, prune, and almond on the palate.
"Rum is often perceived as something served in a plastic cup with lots of sweet, sugary syrups and soda added," Branker says. "However, rum is just as sophisticated and nuanced as a single malt or your favorite bourbon. A well-made, balanced rum punch is one of our favorite drinks, but we challenge people to look beyond that and enjoy a rum neat or on the rocks to explore the flavors, aromas, and layers of complexity that come from the different casks we use. There are hundreds of years of expertise that go into making rum, and it's truly a spirit that you can enjoy and explore, like many other brown spirits."
XO Coco Hill
Developed by: Mt. Gay
Ingredients
Directions
1. Pour coconut water into ice mold and freeze for at least four hours.
2. Add coconut water ice cube to a chilled Old Fashioned glass.
3. Top with Mount Gay XO and enjoy!
SANTA TERESA
Made in: Venezuela
The family-owned Hacienda Santa Teresa has been making rum in Venezuela's Aragua Valley since 1796. Ron Santa Teresa was the first rum producer to be registered in the country — and it remains family-owned five generations later. The sugar cane and water used to make Santa Teresa 1796 come from a rich terroir that provides the perfect environmental conditions for aging rum.
"We're seeing that consumers are gravitating towards the dark, premium rum category, which features bottles that have a flavor profile more akin to Scotch or whiskey than the typical rum. With the rise in foodie and cocktail culture, expressions like Santa Teresa 1796, which has a rich, refined, and unexpectedly dry finish, are providing discerning drinkers a new, elevated experience," Geoff Robinson, Santa Teresa 1796 global brand ambassador, says. He adds that drinking the expression is "exploring a myriad of rich flavors, whether it's notes of honey and vanilla or deep notes of leather and tobacco. Ultimately, every rum is a story of the people, place, and terroir from where it is born, and that is the beautiful thing about rum."
Santa Teresa's Negroni enlists rum instead of gin in the classic Italian cocktail.
Santa Teresa 1796 Negroni
Developed by: Santa Teresa 1796
Ingredients
1 ¼ parts of Santa Teresa 1796
1 part Martini Rubino
1 part Martini Bitter
Directions
1. Build all ingredients in a mixing glass.
2. Stir 30-40 seconds.
3. Pour over ice in a double Old Fashioned glass.
4. Garnish with an orange peel.