It's hard to stifle a chuckle when the "Are you old enough to drink?" pop-up appears as I load up the Study Break Hard Seltzer website. I arrived at the site after discovering the brand on TikTok, where founder Sean Kawamura caught my attention with a video captioned "How I started a hard seltzer company at 19." So when I ventured onto the web to learn more, the irony that Kawamura would not, legally, have been able to enter his own site at the time of founding his company was not lost on me.
When I later speak with Kawamura, I learn that the TikTok caption and video only scratch the surface of his brand's unlikely tale. Kawamura's age makes for a good headline and an engaging social media caption. But here's a kid who also launched his now-nationally available hard seltzer brand in the midst of a global pandemic with zero marketing spend. Not only would he borrow no money along the way, Kawamura also turned down a dream six-figure salary job to take a punt on his unlikely RTD brand with no experience in the industry — all at a time when young adults are increasingly turning their backs on alcohol, or so we are often told.
Kawamura's early experience at college began like countless others. During his freshman year at the University of Southern California in 2016, he and his friends began exploring alcohol. In the fast-moving lane of booze trends, this was eons ago. Four Loko was the hottest thing going. White Claw hadn't even launched.
Don't Miss A Drop
Get the latest in beer, wine, and cocktail culture sent straight to your inbox.
Unlike many of his peers, Kawamura's approach to alcohol surpassed seeking what would bring him the biggest buzz and fastest. His curiosity piqued when considering flavor profiles and learning about unusual alcohol bases like those used in flavored malt beverages (FMBs). "I couldn't understand why they all had way too much sugar and a malty finish that tasted like beer," he says. "On top of that, I just didn't connect to the brands."
These early explorations of FMBs would ultimately inform his decisions when later choosing the base for his own RTD. The next stage in Kawamura's drinks journey inspired the flavor profile of Study Break.
When a friend bought him a cocktail set, Kawamura became the bartender of his group, and Mojitos proved particularly popular with his girlfriend and her friends. He soon got pretty good at making them, he says, but even with practice, preparation proved time consuming. It seemed costly, too, especially with half-bunches of mint invariably going to waste. More than anything, consistency served as the biggest stumbling block. "Even though I measured out the ingredients all the time, sometimes they turned out really bad," he says.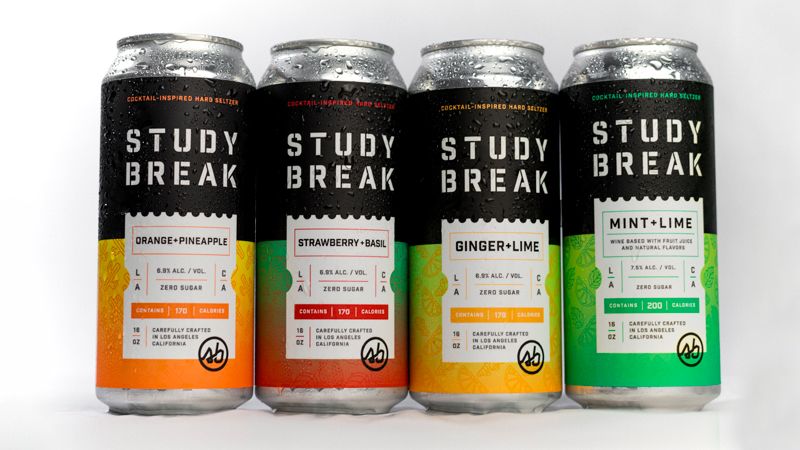 Frustrated by the experience, the by-now sophomore Kawamura looked at the $2,500 in his bank account and saw an opportunity. "A light bulb just hit," he says. "Instead of doing all the muddling and measuring ingredients, I thought, 'Why can't you just get this in a can?'"
By this point, Kawamura's interest in FMBs and the soon-to-boom RTD category had led him to reach out to distributors and brands such as Anheuser-Busch to learn more about launching a brand. Unperturbed by the suggestion he would need "$5 million in the first five years alone, just for distribution," as one professional told him, Kawamura took the plunge and set about creating an RTD.
After emptying his bank account, he hired a lab to create flavor formulations. The only guiding principle was that the drink should be low in sugar and flavorsome to a point. Samples were sent to a company address — his house — and at no point did anyone question Kawamura's age. "They all assumed I was 21," he says.
After four fruitless months trying to perfect the Long Island Iced Tea, he returned to the Mojito. "I'd bring the samples in, sneak up 15 or 20 kids into my dorm room, and we'd all sit around and blind taste test them," he recalls of early R&D sessions. Kawamura split up the tastings into different age groups: "21 to 23, 23 to 26, and 30-ish onward." Each session he'd record the group's thoughts on sweetness levels and the flavor profile. "Every time it got a little better and it got to the point where I was like, 'OK, let's just launch it,'" Kawamura says.
Ben Choi, who grew up in the same town as Kawamura and roomed with him during their freshman year at USC, was one of the students present in the early tasting sessions. "Sean's a go-getter; he gets an idea and he puts his mind to it and really goes for it," he says. "After trying one or two of the flavors and finding out they were really good, I wasn't surprised at all that he decided to go for it."
Now three years into the drink's development, he'd long since burned through his initial $2,500. Internships at finance companies — a field he was still planning to get into after graduation — kept the ball rolling. Kawamura also picked up shifts delivering orders for the online shopping platform Instacart. Past money, the work offered a glimpse into popular products at grocery stores, and how consumers shopped online.
With established hard seltzer brands like Truly and White Claw dominating supermarket sales, Kawamura decided to launch Study Break as an on-premise draft offering. If he debuted at stores in cans, people would be more likely to stick with the legacy brands that they love and trust, he figured. But if he introduced his product on tap and in bars, drinkers would be more willing to try the new product. The fact that it was much cheaper and easier for him to buy in kegs only sealed the deal, so he sank $10,000 into the first major run.
Study Break officially launched at the Los Angeles tapas bar Bacari on March 1, 2020. Located close to USC, the restaurant drew a good college crowd and regulars were familiar with its wine on tap, so it seemed the ideal place. The first weekend — aided by Study Break's placement on a 90-minute all-you-can-drink menu — was a sparkling success. "We went through 10 kegs," Kawamura recalls. "It was amazing."
Having witnessed the drink's development, Choi didn't miss out on the opportunity to experience Study Break's public debut. "It was awesome," he recalls. "Seeing Sean in that element — it was really real at that point."
Yet the good times would be remarkably short-lived. Within 10 days, he found himself sitting on more than 100 kegs of Study Break with nowhere to sell them because of Covid-enforced restaurant closures. Kawamura would eventually bottle what he could to hand out to friends and family. The rest of the first batch ultimately had to be poured down the drain.
Still, Kawamura couldn't shake off the positive response to the initial release. Rather than call it a day, he pushed on and found a local cidery that could can Study Break for him. He loaded up his Toyota 4Runner with crates filling every available inch in the SUV, and started hand selling to retailers. With booming off-premise alcohol sales because of the pandemic, he soon got into 20 stores.
Finally, Kawamura arrived at a crossroads. He'd accepted a job at a financial firm that would see him earn $150,000 in his first year as a college graduate. This was the career he thought he had gone to college for. Instead, he'd inadvertently launched a hard seltzer brand, and he wasn't ready to pour all that work down the drain, too.
This inevitably led to some "tough conversations" with his parents. "Coming from an Asian background, the expectation was: Go to college, get a good job, and work your way up from there," he says. But after sharing his vision for Study Break, and convincing them he had a solid business plan, Kawamura politely backed out of the finance job (which hadn't yet begun because of the pandemic) and committed himself to Study Break full time.
One year on, Kawamura now rents his own space in South L.A. He still buys in his base alcohol, but carries out every other step of production at his facility. Part of the space has been transformed into a "studio," which Kawamura uses to film TikTok videos and photograph his product. Study Break's employees include a creative designer, two sales reps (one full time, the other part time), and the brand is about to bring on a full-time brewer.
Kawamura sounds almost apologetic when describing the modest size of his team. I stop short of reminding him that most people 10 years his senior have never owned their own business, let alone employed anyone. It strikes me as a sign of his ambition, which Kawamura tries to keep bubbling below the surface during our conversation. On multiple occasions, he mentions how "this was never a business," and "just a fun project."
Whether that's true or not belies just how astute Kawamura has been along the way. Take the base alcohol used in Study Break: Rather than the FMBs he'd so diligently researched, Kawamura opted for a wine-based alcohol produced from oranges. Not only does this bypass the malty finish and taste "incredibly clean," according to Kawamura, it also offers major distribution advantages. Unlike spirits- and malt-based seltzers, wine-based products can be sold online and shipped to all 50 states.
Perhaps his lack of industry experience is the reason he's so far spent no money on advertising or PR. But these factors haven't hindered progress. Kawamura has already connected with high-profile music producers and released a limited-edition collaboration.
Dilan "Hef" Ames, a director of A&R at the Los Angeles independent label 10K Projects, discovered Study Break while browsing Postmates at the beginning of quarantine. Study Break's "cool label" caught his eye, so he decided to give the new brand a try. Blown away by the flavor, he started recommending the seltzers to everyone he knew, from friends back home on the East Coast, where he'd grown up, to his parents in Maryland, and artists and producers from Internet Money, a musical collective with whom 10K has a label deal.
Given the breakout success of Internet Money's 2020 hit "Lemonade," Hef asked whether the group would be interested in collaborating with Study Break on a limited-edition hard seltzer. Though he didn't know Kawamura personally, he'd been tagging Study Break regularly in Instagram posts, so it was easy enough to reach out and connect. Within days, Kawamura joined Hef and some artists from Internet Money at their recording studio and they began working on two new flavors: "Lemonade Ice" and "Pink Lemonade." The collaboration would coincide with the May 13, 2021 launch of Internet Money's latest single, "His and Hers." The seltzers quickly became a sell-out success.
"It's been a really cool project to see come to fruition, combining the two worlds that I'm in: drinking alcohol and working in music," Hef says, though he's quick to add that he's not officially affiliated with Study Break. "I'm just such a f*cking fan based off the fact that they're good people with an amazing product. And I know how hard it is to get out there."
Ultimately, it is his lack of industry experience rather than Kawamura's age that sets Study Break so refreshingly apart. Where all the major brands appear as 5 percent ABV, 100-calorie carbon copies of one another, Study Break arrives in 16-ounce tall boys at a slightly boozier 6.9 percent ABV. This way, you don't need to drink five just to feel a buzz, Kawamura explains.
The brand's three staple flavor combinations are all inspired by cocktails (the Mojito, Moscow Mule, and Strawberry Smash), and deliver more flavor than standard hard seltzers. By the current, unofficial industry standards, Study Break probably isn't even a bonafide hard seltzer. But Kawamura knows those two words are an easy selling point and they sound much more attractive than "wine-based cocktail."
All signs point to big things in the alcohol space for Kawamura. But where his journey takes him from here is almost insignificant, because he's already answered the very question he posed to himself during his early days of FMB exploration: "Why can't someone make something by our generation for our generation?"
This story is a part of VP Pro, our free platform and newsletter for drinks industry professionals, covering wine, beer, liquor, and beyond. Sign up for VP Pro now!