Screaming Eagle famously makes some of the most well-regarded, limited, and absolutely jaw-droppingly expensive wine in all of America. Owned today by billionaire Stan Kroenke, Screaming Eagle's Sauvignon Blanc sells for over $5,000 a bottle on average, and currently has a waiting list that reportedly takes over a decade to ascend to the top of, simply to be allowed to purchase bottles from the mere 400 to 750 cases released per year. This remains such an achievement to would-be buyers that it's the third most prominent link on the winery's website.
That's why, when I heard that Screaming Eagle's winemaker, Nick Gislason, had started a side project exclusively brewing lager — the most widely sold, inexpensively priced, and so often blandly flavored style of beer — I was intrigued. I quickly learned this was no highbrow/lowbrow situation, however.
In fact, Hanabi Lager Co.'s website is so over-the-top twee, it almost reads like a spoof of what many would call pretentious craft beer circa 2021. The young winemaker/brewer exclusively produces very slow-fermenting lagers in excruciatingly small amounts, using a steam-fired brewhouse he built by hand. He brews four times a year, at the start of each season, and names his beers accordingly (the most recent, Winter 2020). It won't take decades to ascend, but you have to be on an email list to even know when the next batch of beer is released, and then it's only available shipped direct to California residents. And I'm not kidding, it costs $90 a 6-pack.
Don't Miss A Drop
Get the latest in beer, wine, and cocktail culture sent straight to your inbox.
You have probably rolled your eyes by now and, though Hanabi Lager still mostly exists off the radar from the beer world at large for the moment, the few extremely online folks who have been clued into what's going on have quickly made their derision known.
"Reading their website gave me serious douche chills," a typical Facebook commenter recently wrote, in a private group. Added another man on Untappd: "Never thought I'd see a [pilsner] with a price tag like that, but I shouldn't underestimate beer in 2021."
After talking to Gislason, however, I don't think he deserves derision for Hanabi Lager. Though he's got grand ambitions, and a funny way of revealing them, his ego is in check. You will probably roll your eyes a few more times as you read this story, sure, but who knows? Gislason might very well be taking lager to a place it's never been before.
"The vast majority of beer consumed in the world is lager, albeit an 'industrial-commodity' version that's relatively simple and homogeneous in flavor," says Gislason. "Recognizing that high-quality lager brewing was underrepresented in the craft brewing world, that became our brewing R&D focus about 10 years ago."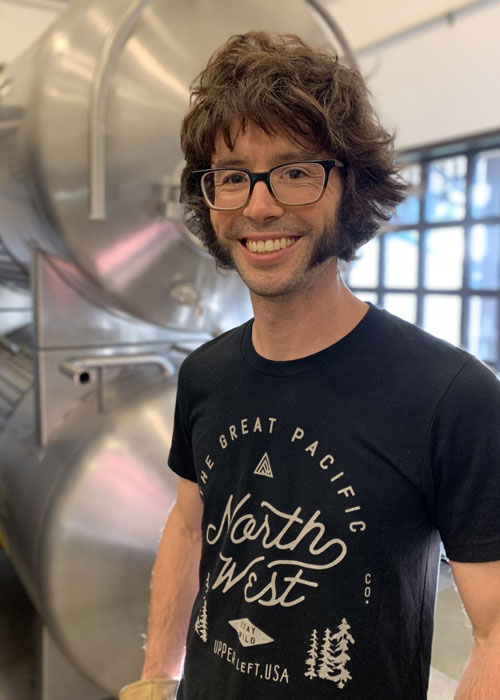 'A Lot of Beer to Make a Little Wine'
Gislason started homebrewing, with his parent's permission, at age 16s. He had an early interest in fermentation and, as he noted in a 2012 interview, "an innate drive to make things that brought people pleasure." Several years later, while earning a chemistry degree at Western Washington University, he took a job at Boundary Bay Brewery, on the mainland in Bellingham, Wash., just across the bay from where he grew up in the San Juan Islands.
At Boundary Bay, Gislason was a cellar man doing everything from inoculating fermentations to cleaning kegs and the brew house. But, by then, he was realizing wine might be more in line with his ethos.
Gislason moved onto graduate courses at U.C. Davis's famed brewing and winemaking school, and earned a master's degree in viticulture and enology. After short stints working at Harlan Estate in Napa Valley and Craggy Range in New Zealand, by the age of 26, in 2010, Gislason was hired as assistant winemaker at Screaming Eagle, the place that pretty much defines luxury "cult" wine. And, yet, he still couldn't escape beer.
In fact, within the first few days at his new job, then-head winemaker Andy Erickson asked Gislason if he could brew a harvest beer for the Screaming Eagle team and set up a kegerator system behind the winery. That was no problem for Gislason, and eventually he had built a sophisticated little 1.5-barrel brewhouse in the space.
"The saying, 'it takes a lot of beer to make a little bit of good wine' is absolutely true," he says. "Before all this Covid stuff, the winery team would usually have a daily glass of lager together after work, a shift-pint, to chat about things, recap the day, get some conversations going about winemaking, conclude the working 'shift' and send us home with some good food for thought."
In the meantime, by 2011, Gislason had ascended to the role of Screaming Eagle's head winemaker, quickly landing accolades in the industry. His first vintage scored a 96 on Vinous. His 2012 Cabernet Sauvignon netted a 100 from Robert Parker. A 12-liter bottle of his 2013 vintage sold for $500,000 at Auction Napa Valley. He was called a boy wonder, a wunderkind, and a genius. And yet, when fellow Napa winemakers popped by to talk shop with the young, skinny prodigy with a bushy head of brown hair, thick glasses, and muttonchops, they'd sip on his homebrewed lager. Eventually, the beer became more than a catalyst for conversation and started gaining an underground reputation among the Napa Valley cognoscenti.
"I was amazed by the quality," says Maayan Koschitzky, the director of winemaking at Atelier Melka. He started drinking Gislason's lagers in 2011 and has watched his prowess grow over the decade. "He never cuts corners and he will spend hours, days, months to self-educate himself and repeat his work until it's perfected," he says.
Soon, Gislason was being asked to bring batches of his lager to friends' weddings, private winery events, industry seminars, and local fundraisers like Inspire Napa Valley, which advances research to end Alzheimer's and dementia. They were a local sensation among an unexpected crowd.
"Nick's lagers are really what got me into beer," says Meghan Zobeck, winemaker at Burgess Cellars. She jokes that even though she's from the brewery hotbed of Colorado, Gislason's were the first beers she ever liked. "The first time I tried them I thought, 'Whoa. What is this?'" she says. "It's nuanced and complex. It reminded me of the reasons I appreciate wine."
Interactions like this were starting to happen to Gislason a lot around this time. "After hearing a lot of people say, 'I don't typically drink beer, but I love yours,' we recognized that there was an underserved audience who felt alienated by the styles of beers that are more prevalent in craft brewing today," he says, referring to himself and his wife/business partner, Jennifer Angelosante, who has a master's degree in viticulture and enology from U.C. Davis and currently works a day job as a technical writer for GuildSomm.
It was finally time to turn his hobby into a legitimate business.
The Director of Pyrotechnics
"Hanabi" is the Japanese word for fireworks and, if this story doesn't have enough, yes, potentially eye-rolling wrinkles, Gislason is also a fireworks expert. If brewing beer by age 16 is odd, Gislason had been exploring fireworks since age 12, and became an apprentice to a master fireworks builder of traditional Japanese-style fireworks displays. Even today — like he needs more side hustles — Gislason acts as the director of pyrotechnics for Lopez Island Community Fireworks in Washington State, where he designs and directs one of the largest Japanese-style fireworks displays in North America every July 4.
In fact, the curious images on Hanabi's labels come from Japanese fireworks catalogs from the 1800s. (So, if you're wondering about the strange numbering on each Hanabi Lager release — #51, #77, etc. — that was simply the number you would have asked for when ordering these fireworks effects; it has nothing to do with the beer.)
I actually think there's an interesting analogy between the artistry of fireworks and lager. I'm sure most people see a certain boring "sameness" in both categories, myself included. To many American craft beer fans, in fact, lager is a dirty word, or at least has been until recently. It's the province of Natty Light and Milwaukee's Best and PBR, with the only debate being whether it "tastes great" or is "less filling." For the last several decades it's been a style of American beer that needs the assistance of Spuds Mackenzie, the Swedish Bikini Team, and morons saying "Wassup" and "Dilly, dilly" to even get on people's radar.
In many ways, the craft beer movement was a reaction to the sameness of the American lager that had become so ubiquitous. There's a reason why, of the 8,000 or so craft breweries in America today, almost none focus solely on lager — because lager simply wasn't "craft beer." Until recently, most of these craft breweries didn't even brew a single lager, although most trendy brands are today adding a few to their lineups.
That's the reason I find it so intriguing when practitioners like Gislason (or Dan Suarez of Suarez Family Brewery in New York's Hudson Valley, or the crew at Live Oak Brewing Co. near Austin, Texas) come along and are able to coax out an underlying complexity, artistry, and beauty in a beer style so many regard as bland and unexceptional.
Hanabi's "workshop brewery," as Gislason calls it, is located in South Napa near his home and Screaming Eagle's in Oakville, under the same roof as a friend's custom-crush winery. Industry friends chip in when they can, even helping Gislason build the custom, steam-fired, four-vessel brewhouse from scratch. It may sound esoteric, but "the brewhouse needed to be capable of an older, very traditional lager brewing technique called 'decoction mashing,'" Gislason says, referring to an intensive series of multi-step mashes.

Still working the day job at Screaming Eagle, he can only drop into the brewery at night and on weekends. Since he only brews one beer per season, you'd think he wouldn't need to dedicate much time to this side project, but the lengthy and often fussy fermentations of lager mean he has to tend to it a lot more than if he were just pumping out ales every week.
"Our experience with yeast ecology in a wine context encourages fresh ideas about how to manage grain fermentations to bring about desired flavors, aromas, and textures," says Gislason. He likens it to how white winemaking focuses on post-fermentation aging on lees — the dead yeast cells and other particles remaining in a wine after fermentation — and how one uses those to develop texture and complexity.
Though, if you'd guess that a moonlighting winemaker would be big into having his own unique yeast strains, you'd be wrong. Feeling that native yeast should mostly be reserved for funky and sour brewing, Gislason uses commercially available yeasts, traditional strains that were originally collected in Germany and Czechia. His beers are aged (or "lagered," in brewing parlance) for three months in a combination of vertical and horizontal stainless-steel tanks, depending on the yeast and beer style.
"With winemaking we make time for things like this, build the time into the business model, whereas in hustling breweries that are trying to crank out lagers in four to five weeks to stay economical, you just don't have time for things like that," he says. "Certainly in winemaking, the value of patience and time is well understood, along with the interesting and delicious things you can do with it."
While he doesn't grow his own, Gislason treats barley like a winemaker treats grapes, looking for the most interesting, most flavorful grain from across the world. He has a special interest in seeking out older, more heirloom varieties. During his R&D brewing days, he was able to source some of the very first sacks of Chevallier, a century-old English variety recently revived, that first came into the United States in late 2014. For the first three commercial batches of Hanabi, Gislason has used barley from northwest Washington State, Czechia, and southern Germany. (Owing to the importance of the barley, each grain's variety or place of origin is listed on each Hanabi label.)
He's been eagerly watching the craft malting movement in America, too, with producers working tirelessly on providing more flavorful varieties of brewing barley grown in interesting areas around the country. This is opposed to the low-cost, mass-produced, "ease-of-use" grains that so many large malting companies offer; barleys bred more for technical attributes — yield per acre, disease resistance, enzyme content, and color — over flavor.
"Not all grapes are the same, and the same is true for barley," Gislason says. "In wine we focus intensely on raw materials, grapes, in terms of their variety, place of origin, and flavors and aromas. With beer in the U.S., although there's been a good deal of focus on hops, there's not nearly as much talk about barley, which, besides water, is the primary ingredient in beer."
Verve and Vibrancy
In a way, the craft beer industry has come full circle, though, embracing a sameness it once rejected, though the current sameness is built on indistinguishable pastry stouts, fruited sours, and double-dry-hopped hazy IPAs. Instead of coaxing flavor out of raw ingredients like barley and yeast, many breweries these days inject flavor in the form of fruits, purees, chocolate and vanilla beans, or even pure dessert.
Gislason observes the opposite happening in wine, and feels compelled to do the same for beer. "As winemakers we've seen an era where the goal was to make huge, powerful, oaky, impactful, extremely flavorful wines, and then have watched the pendulum swing back towards a pursuit of balance, freshness, and elegance," he says. "My personal preference is towards the wines of the world that manage a harmony of power with freshness and finesse, without being over-the-top powerful and blunt."
In this way, lager is the ideal platform for brewing beers that share those same characteristics — what he calls "complexity with verve and vibrancy." But, if brewing lagers and exclusively lagers these days is a rejection of that powerful and blunt sameness Gislason so rejects, it's not necessarily an easier thing to do. "It is more difficult to brew lagers [than ales] since their flavors are more transparent by nature, and any deficiencies in raw materials or brewer technique becomes glaringly obvious," says Gislason. But the beers he has perfected over all these years are, well, pretty flawless.
"So crisp, so clean and refreshing, so good," says Andrew Adelson, head sommelier of the French Laundry. Hanabi is served at the Michelin 3-star restaurant in Yountville, Calif., fitting in quite well with the $2,000 bottles of Harlan Estate and, yes, Screaming Eagle offered for dinner pairings.
What many beer drinkers, myself included, like so much about Hanabi is how much it highlights the true flavor of the grains above all else. The popular Instagram account Beer Zombies wrote of the "deep malt flavors of toasted bread and sweetish biscuits" in its recent review, calling it an "absolutely beautiful beer."
Gislason isn't German or Czech, and he doesn't feel beholden to recreating the classic styles from those regions. Instead, he uses them as a source of inspiration for developing his own variants.
"As winemakers and farmers, we embrace variability and seasonality," says Gislason. "Rather than trying to hone in 'our pilsner' recipe for instance, and then produce it over and over all year-round, we brew once per season, always something a little different, and acknowledge that beer, just like wine, is made from natural products that are subject to vintage variation."
That's the reason why all of Gislason's lagers are humbly named after the season they are released. His first release, Autumn 2020, was a Francin pilsner-style lager. Winter 2020 is a Bohemian pilsner-style lager. Spring 2021 is currently maturing in the tanks.
"We do plan to work our way through some historical styles," he says. "Although there is huge variety in lager, from blonde to black and bone dry to relatively sweet, our house style tends towards lighter styles like pilsner, helles, and Vienna lager, all fairly dry, mostly in the 4 to 6 percent ABV range."
Releases are still extremely small — Autumn 2020 was only 250 6-bottle (500-milliliter) cases; Winter 1,000 6-packs — and only available for purchase by signing up for Hanabi's email list which, unlike Screaming Eagle's, you can thankfully still gain access to.
Of course, what you really want to know is:
Is a 4.8 percent ABV lager really worth $90 a 6-pack?
If I say yes, will you roll your eyes some more?
"In our minds, lager brewing in the United States is still nascent and there are many more chapters of the story yet to come," Gislason says. "We feel like there's definitely room for dedicated lager breweries to enter the market, and room for them to push lager quality here to even higher levels."