I was into my third 10-ounce glass of Pliny the Younger when I noticed the line snaking outside Russian River Brewing's taproom in downtown Santa Rosa, Calif.
"Five hours," a bouncer told me.
That was the estimated wait time to enter the hallowed halls of Sonoma County's most revered brewery. Beer pilgrims hailing from 40 states and 17 countries were lining up to taste the 10-percent-plus ABV, triple IPA named among the world's best. Pliny is only available on draught at the brewery for two weeks every February.
Don't Miss A Drop
Get the latest in beer, wine, and cocktail culture sent straight to your inbox.
I found myself wondering about the impact we so-called "beercationers" have on Northern California. The area is rightly famous for its wine, but it's also the birthplace of American craft brewing.
In 2018, some 12,500 people attended Pliny releases, contributing $3.36 million to the county economy. It was a much-needed boost. Sonoma's tourism dropped 10 to 15 percent after the wildfires that damaged or destroyed nearly 10,000 buildings in Napa and Sonoma Counties last fall. Since the fires, brewery owners have reported losing up to 50 percent of their taproom sales.
These are dangerous developments for any business at any time, but especially problematic in Napa and Sonoma right now. Public misconceptions about the fires, which mercifully spared all 63 of Sonoma and Napa breweries and taprooms, are delaying visitor arrivals. Meanwhile, local labels like Moonlight and Seismic Brewing, as well as bigger players like Bear Republic and Stone, are all debuting new breweries and taprooms this year and next.
The market is already crowded — and challenging. According to the California Craft Brewers Association, the state set a record last year by opening 100 breweries. But the expansion rate slowed this year, reflecting the sagging growth of the industry overall. And a disappointing seven to 10 of the new breweries closed.
Construction of new breweries and expansion plans set in motion before the fires elevate competition in the area. But they could also be what "saves Sonoma County tourism," Herlinda Heras, a resident of the area and my host, says.
Can craft beer fare rescue Napa's and Sonoma's still-lagging arrivals? It all depends on what we do next.
*
The morning of my Pliny pilgrimage, Russian River co-founder Natalie Cilurzo drew me a fresh glass from the employee keg at her private production brewery a few miles away. As I excitedly sipped, she explained that at least a half-dozen breweries across the two counties had already planned or started major construction projects last fall. She hopes their openings will restore some normalcy to brewers' visitation rates.
Cilurzo's $40 million destination brewery is set to open on 15 acres in Windsor this fall. It will accommodate some 280 guests who can eat at the brewpub or on the patio, fill growlers in the tasting room, shop for merchandise, and tour the brewhouse. It is massive.
Stone Brewing debuted its new Napa County brewpub in mid-May. And Bear Republic Brewing, which is based in Cloverdale and distributed nationally, opened a second taproom two months before the fires.
The original Bear Republic brewpub in downtown Healdsburg, however, is suffering. The 22-year-old operation had to cut hours and staff because regulars permanently evacuated and tourists got scared away. Between October 2017 and May 2018, business at the pub was off by 25 percent.
"The wineries are waiting for you," Bear Republic co-owner Richard Norgrove beckons to would-be visitors. "And all the little pubs cannot survive on locals alone."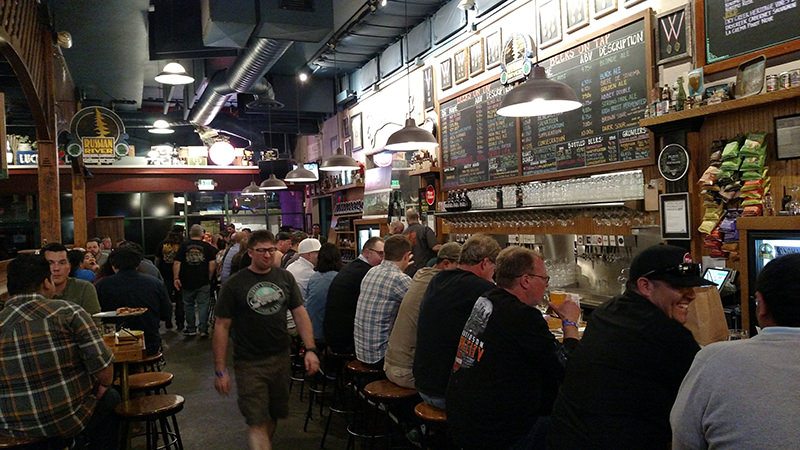 *
Craft brewing has long been a part of Northern California's identity as an innovation hub. In 1965, Fritz Maytag invented modern American craft beer when he bought San Francisco's failing Anchor Brewing and turned it into the first small, independent U.S. brewery since before Prohibition.
Eleven years later and three counties north, Jack McAuliffe enlisted two women to help him open New Albion Brewing outside the city of Sonoma. Though it closed six years later, its existence marked the first ground-up new brewery in at least six decades.
A few forgotten breweries opened and closed in and around Sonoma in the following years. Then, in 1980, a homebrewer named Ken Grossman opened the first craft brewery to last. The third-largest craft brewery in America, Sierra Nevada Brewing was and still is headquartered in Chico, 144 miles northeast of Santa Rosa.
*
Brian Hunt, a charmingly kooky old-guard brewer, recently opened a Moonlight Brewing tasting room in a Santa Rosa business park. Before, you perched on one of two uncomfortable stools and moved stuff around on the makeshift bar to watch Brian pull you his iconic Death and Taxes black lager. Now he has a 50-seat taproom.
Hunt wonders if he'll have enough people to fill the space or employees to staff it. "We planned that expansion before we lost our clientele," he says.
With 15,000 displaced Sonoma residents renting rooms and apartments in the already high-dollar county, shift workers can't afford to move into the scarce open spots.
Year-old Seismic Brewing is not currently open to the public, but president and founder Christopher Jackson, son of the owner of Kendall-Jackson Vineyard Estates, might face similar struggles when he opens a Seismic taproom this fall. Located in nearby Sebastopol, it will serve his exacting beers alongside simple food like cheese boards, and offer delivery fare from nearby restaurants.
In late summer, a trio of farm brewers named Matthew, Luke, and James will open their 3 Disciples Brewing tasting room, also in Sebastopol. They plan to serve food and make fresh IPAs and pale ales along with existing award winners like Zest Magic Lemon Saison and Lunar Halo Stout.
In Napa County, Trade Brewing and Mad Fritz both opened taprooms within the last six months. St. Clair Brown Winery brought a nano-brewing system online in January. Now, guests can sample a few of their 10 beers in the greenhouse tasting room.
These developments were all planned prior to the wildfires. Whether or not their businesses will survive depends largely on whether beercationers like those thronging Russian River Brewing continue to grow in numbers, and if they come out to explore the new guard.
"We're going to find more clientele," Hunt says. "From everywhere."