The Hudson Valley is what Williamsburg, Brooklyn was 10 years ago. It's teaming with artists, musicians, and young creatives who see the world a little differently — and want to make their mark. Because rents are cheaper than, say, New York City, and the earth is fertile, creating a successful food business, whether it's a farm-to-table restaurant or small-batch brewery, is actually feasible here.
With so much natural bounty at their fingertips, it's no surprise that wine, beer, and spirits producers in the Hudson Valley lean toward biodynamic and low-intervention processes. They like things that are naturally fermented without the use of commercial additives.
Kingston's Brunette Wine Bar embodies the area's ethos beautifully. Husband-and-wife team Jaime and Tracy Kennard curate their beverage list to encompass everything from rosy Beaujolais pét-nats and Willamette Valley Sauvignon Blancs to locally made pale ales and Belgian sours. They're also cultural tastemakers for the area, hosting evenings with musicians like A.C. Newman of the New Pornographers at their space.
Don't Miss A Drop
Get the latest in beer, wine, and cocktail culture sent straight to your inbox.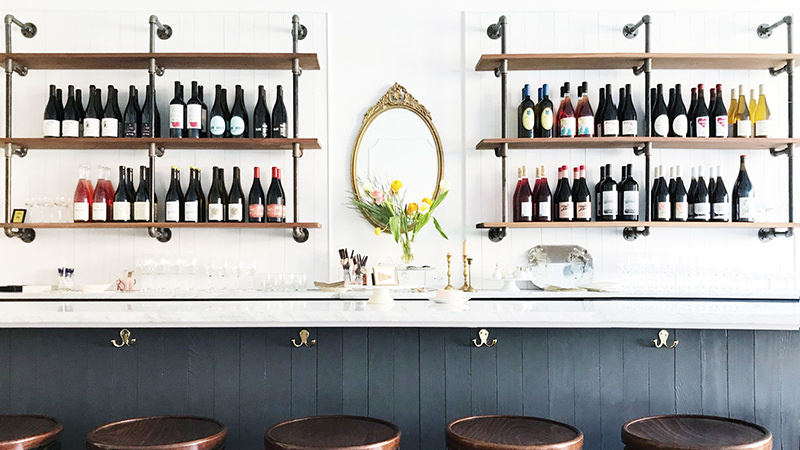 Since we love their taste so much, we asked Tracy and Jaime to share their favorites spots in the region with us. Let's dive in.
Where to Eat and Drink
The Hudson Valley is New York State's breadbasket, and restaurants and bars here pride themselves on their relationships with farmers and breweries. Their obsession with all things local rivals that of Portland, Ore.
Gaskins in Germantown, N.Y., one of the couple's favorite haunts, is no different. From the ground beef in its burger (Kinderhook Farm) to the hoppy pale ales on its beer list (Suarez Family Brewery), the restaurant cares a lot about sustainable sourcing. "There's good food, good wine, and it's always fun and lively, whether you are with a group of friends or solo at the bar," says Tracy.
Outdated, an eclectic cafe in Kingston, brings in its bread, cheese, greens, and various vegetables from local producers and makes many of its other elements in-house. Tracy and Jaime send friends there frequently for its quirky antique decor and hearty breakfasts, like huevos rancheros, kale and tomme cheese frittata, and tofu and chickpea tempeh breakfast sandwiches. Hang back after the meal to browse for vintage souvenirs: All their homewares are for sale.
Just a seven-minute drive down the road, Village Coffee has great flat whites and pour-over coffee. On Thursdays the cafe sells loaves of naturally fermented sourdough from Jons Bread, a favorite from the local farmer's market.
What constitutes a perfect day for the owners of an adorable natural wine bar? Getting a couple of prosciutto cotto sandwiches from Tivoli General, across the river in Tivoli, a bottle of wine from Kingston Wine Co., and enjoying them both while overlooking the water at Kingston Point. For those looking to recreate this bucolic itinerary, Tracy and Jaime suggest parking your car at Kingston Rotary Park and walking over to the picnic tables spread out around the lawn.
Get Outside
Its stunning trees, streams, and picturesque overlooks are just some of the many reasons people flock to the Hudson Valley from all around the state. Jaime spends every chance he gets outside the wine bar fly-fishing or traversing scenic hiking trails.
"The first rule of upstate life is you don't give away your fly-fishing or swimming spots, especially to journalists," Tracy jokes. "It's why you'll find that most people aren't geotagging special swimming or fishing spots on Instagram."
One local favorite that they do (openly) recommend is Esopus Creek, a tree-lined trout fishing spot just west of Kingston. The best parking is off Route 28 near the Emerson Resort and Spa, they say.
For beginner hikers, head to Huckleberry Point near Saugerties, Overlook Mountain near Woodstock, or Giant Ledge near Phoenicia early in the day. That way, you'll still have enough time to grab lunch and explore vintage stores in town in the afternoon.
Explore the Area
The area around the Hudson River is dotted with creative businesses. Kingston is certainly one of those places. The historic waterfront district, which surrounds Brunette, is packed with small shops to explore. Tracy and Jaime recommend parking your car nearby and making an afternoon out of it. They love Clove & Creek, a store with locally made ceramics and candles, and Hops Petunia, the flower and plant shop where they buy all of their blooms. In Uptown Kingston, Lovefield Vintage usually carries fun '70s jumpsuits, high-waisted Levis, and billowy cotton tops.
A little farther away in Germantown is Alder East, a homewares shop with great shirt dresses, and the minimal jewelry studio Mary MacGill. If you're driving from New York City, make sure to stop at the polished design shop At Land in Dobbs Ferry on the way down.
Where to Stay
Stylish Airbnbs and small mountainside inns dominate this area. While it's pretty easy to find a place to crash in town, Jaime and Tracy prefer to stay in secluded areas to enjoy the outdoors.
They like the Spruceton Inn near West Kill, located in the Western Catskills. "It's remote and the perfect antidote to frantic city life," says Tracy. Five fire pits are scattered across the property and a bar in the lobby is stocked with West Kill Brewing beer and Medley Brothers whiskey. From there, they take day trips to busier places by car and explore shops and local restaurants.
For a longer vacation, the two travel to Owl's Nest, a cozy wood cabin owned by the folks who run Brushland Eating House in Bovina. The place is about as quintessentially Hudson Valley as it gets: It's perched in the mountains and outfitted with simple but chic furnishings. And if you're into admiring the view, there's a hammock draped on the porch outside.
They also like to rent the sunny cabin owned by the couple behind local restaurant Table on Ten in Bloomville. A wood-burning fireplace warms the studio on cool fall evenings and there's a clawfoot tub, which is a perfect antidote for a long hike.