Over the past two decades, the Côtes du Rhône has experienced several changes, with a focus on high-quality grapes, sustainable agriculture, biodiversity, and, of course, great-tasting wines.
The French region has long been known for its blending mastery, and is celebrated for its ability to merge handfuls of different grape varieties into its red, white, and rosé wines — all of which make for some of the best food-pairing wines you can buy.
The wines are so beloved that winemakers from Australia to California often try their own hand at a GSM blend — shorthand for the red wines made of predominantly Grenache, Syrah, and Mourvèdre. But they can't come close to the original blend that was invented, and perfected, in the Côtes du Rhône.
Tucked into the hillsides of southern France, the Rhône Valley winemaking region features a warm Mediterranean climate with cascading south-facing slopes into the Rhône River. There, strong cold Mistral winds blow toward the Mediterranean and help to ripen healthy hearty grapes like Grenache, Syrah, and Viognier to their classic expressions. It's the sort of place where you want to sit outside with a glass of wine in the sun.
The Rhône Valley is split into two parts — Northern Rhône and Southern Rhône — and the Southern Rhône is one of the premier regions in the world for blending grapes.
In fact, there are up to 23 different grapes allowed in the wines. The region's diverse soils and vast microclimates permit a broad range of grapes to flourish. Several grapes you find here, including Marsanne and Roussanne, are actually indigenous varieties to the region.
In a typical Côtes du Rhône red, you'll have the GSM mix of Grenache, Syrah, and Mourvèdre, plus Cinsault and Carignan. This easy-drinking, full-bodied wine features flavors of black currant, plum, and spice, with approachable tannins and a lengthy finish.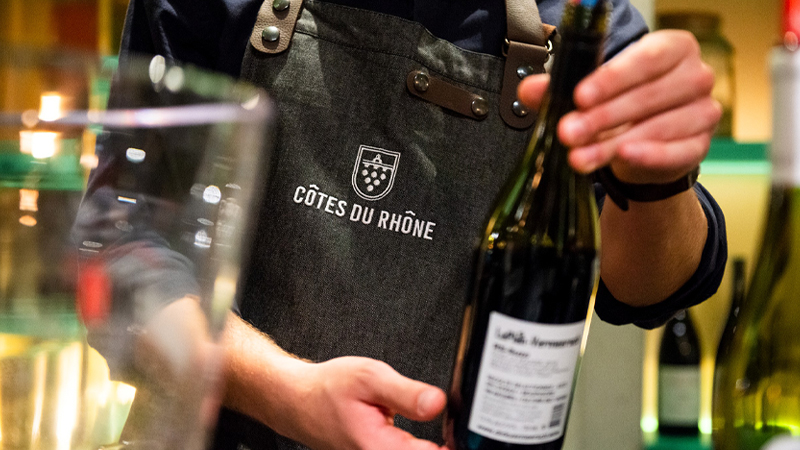 Whites are traditionally Grenache Blanc with Viognier and Clairette, creating floral-scented, full-bodied wines with peach, lemon, and honey notes, all with just the right amount of acidity. Plenty of other grapes are permitted in both, but the pros focus on these top grapes when discussing the merits of a particular Côtes du Rhône red or white wine.
If there is one Côtes du Rhône grape to look out for, it's Grenache. Talk to any winemaker and they'll rave about their Grenache and what they blended with it. These decisions show off their house style, the ethos of the wine they strive to recreate from year to year, despite differences in vintages and weather. Plus, these wines follow the guidelines of France's Appellation d'Origine Contrôlée (AOC), the governing body that oversees the standards for wine production. It runs a tight ship, so as a consumer, you know you'll always get top quality when you reach for a Côtes du Rhône wine. If it says Côtes du Rhône AOC, it comes from the Côtes du Rhône area (which comprises 171 towns and villages) and nowhere else. If you see Côtes du Rhône Villages on the label, that means it comes from a group of selected villages in the region that have more stringent rules on quality and geographical sourcing of the grapes.
No matter where you go in the Rhône Valley, you'll find producers focused on sustainability. In fact, in 2020, more than 12 percent of Côtes du Rhône and Côtes du Rhône Villages wines were certified organic and/or biodynamic, with many more practicing without official certification.
The entire AOC has committed to explore and adopt more sustainable practices, focus on biodiversity, and research grape varieties and climate change. The winemakers are working together to determine the best course of action for the evolving environment, and have ambitious goals for eco-friendly viticulture in their AOC.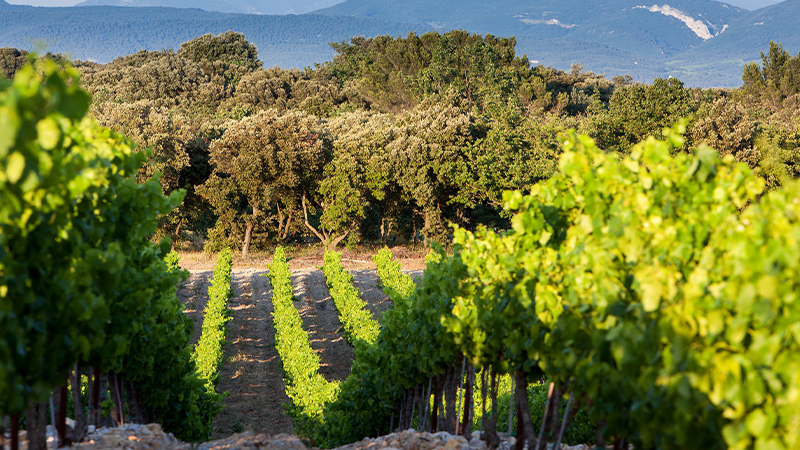 It all goes into why they pop up on wine lists everywhere, including back in the 14th century. Legend has it that during the Avignon papacy in the 14th century, the Roman Catholic popes became so enamored with pairing Côtes du Rhône wines with food, they demanded the wines be sent to the new headquarters in Rome. (Feel free to drop this fun fact the next time you pour some at a dinner party.)
There's simply no denying that Côtes du Rhône and Côtes du Rhône Villages wines are excellent accompaniments to all sorts of romantic cuisines. Grilled meats like rack of lamb and game meats like duck are classic red wine pairings, as are Comté or Camembert cheese. Try some with barbecue to really elevate your next warm weather meal, too.
For the white wines, nothing beats seafood, especially a goat cheese salad topped with shrimp. The whites are so good with fish that they're often served tableside with sushi. And let's not forget rosé: Côtes du Rhône rosés use many of the neighboring Provence's favorite grapes, like Mourvèdre, Grenache, and Cinsault, but offer more concentrated flavors that can stand up to meat-heavy meals — or, of course, the pool.
As we continue to host at home and dine alfresco, there's a good chance we'll be placing a Côtes du Rhône wine on our table. There's just something about blends that almost guarantees they'll be a crowd pleaser. So hurry and sample these smooth, flavorful wines for yourself, and discover how to serve them all year long.
Check out the video below to learn more!
This article is sponsored by Côtes du Rhône. Photo credits : Christophe Grilhé, Olivier Truyman, Thomas O Brien