This feature is part of our 2023 Next Wave Awards.
You know that fluttery, almost magical feeling you get when you're sitting in a movie theater and the lights go down? The subtle shift brings instant anticipation, signaling that something thrilling is about to happen.
The same thing happens every night at New York City cocktail bar Superbueno, which opened in April 2023 in the East Village. But instead of a brace-faced teenager flipping a light switch in a control room, it's New York hospitality veteran and bar co-owner Ignacio "Nacho" Jiménez setting the space's mood by hand — not at a pre-planned time, but gradually, and when the vibe feels just right. Sometime around 10:30 p.m., Jiménez will deepen the tone of the mounted pink-purple LED lights and bathe the 52-seat establishment in a warm, red glow. Its luminescence draws in sidewalk passersby like moths to a neon flame, and inside, guests are invited to settle in — or buckle up — for the night.
Don't Miss A Drop
Get the latest in beer, wine, and cocktail culture sent straight to your inbox.
"I don't like to use that color until I have a moment where I can feel the energy of the room is ready," Jiménez says. "And then I bring the lights even darker, and everyone looks so beautiful in that red light."
It's a small detail, but it's just one of many thoughtful practices at Superbueno that's already made it a mainstay among industry folks and cocktail aficionados alike. Jiménez and co-owner Greg Boehm are well practiced in curating an acclaimed cocktail bar: The former is a veteran of Saxon & Parole and the neighborhood's late, great tequila bar Ghost Donkey, and Boehm is also an owner at the award-winning Katana Kitten, Mace, and The Cabinet. Superbueno, though, aims to go beyond the public's collective tequila-fication to offer an experience that's part Mexico, part America, and all celebration.
"We wanted that jovial, festive nature of Mexican hospitality," Jiménez says, adding that the concept was largely inspired by the nation's street and pop culture. "But I didn't want it to be a tequila bar or a mezcaleria or a Mexican restaurant, so I had to find my own definition. It really came to be a Mexican-American cocktail bar; something that represents both worlds…I wanted to create something from my heritage and my journey within the industry."
Superbueno's cocktail menu couldn't be more reflective of this blended influence, injecting classic builds with Latin American flavors and awakening them with playful presentation. The wildly popular, Sauternes-sweetened Green Mango Martini features a distillate made from mangoes harvested in the Oaxacan mountains and was partly inspired, Jimenez says, by the "fruit lady" New Yorkers see on subway platforms serving mango with Tajín. The Roasted Corn Sour puts an essential ingredient in Mexican cuisine center stage, and it takes 12 ingredients to make the traditional sauce infused into the Mole Negroni, which is housed in a weighty black vessel crafted by Oaxacan artisans. And the house boilermaker? A carnivorous jab-jab-cross of raicilla, birria broth, and a can of Mexican beer with a splash of hot sauce on the tab.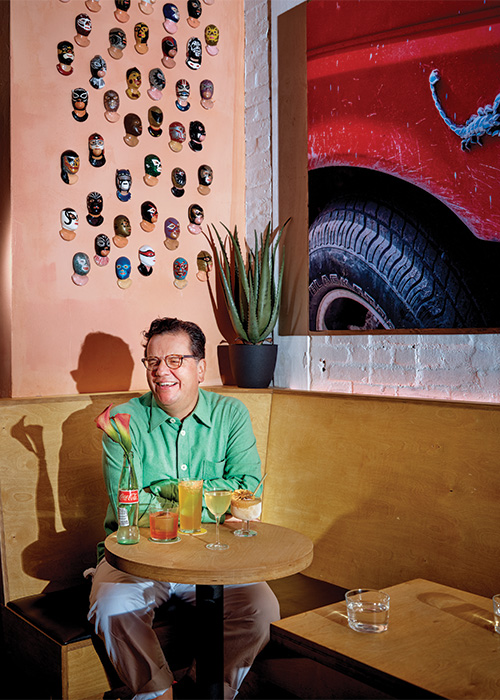 The finely curated food menu provides some much needed sustenance, with ingredients and dishes inspired by regions all over Mexico: Think unctuous poblano quesadillas, pork belly tacos, and the aptly named Nacho's Nachos, which are covered with mole and braised mushrooms. The single dessert option is a gigantic plate of fresh fruit smothered in chamoy — a fitting finale for the spectacle that is Superbueno.
"The cocktail menu, the decor, the personalities behind the bar, the music, all the lighting — everything serves a higher purpose," Jimenez says. "To create a unique, beautiful experience for our guests."