What's in a city's name? Just saying "New York" or "Paris" or "London" can conjure images of a metropolitan lifestyle and grand architecture. But for some of the most popular and most-loved cities, the name stands for something more: a cocktail.
We dug through cocktail recipes to find the best-tasting cocktails named after cities. New York has multiple cocktails, while others just have one iconic cocktail. Travel around the world in liquid form with these 15 drinks named after cities.
Singapore Sling
Don't Miss A Drop
Get the latest in beer, wine, and cocktail culture sent straight to your inbox.
The eponymous Singapore Sling dates back to 1915 at the Long Bar in the Raffles Hotel. Bartender Ngiam Tong Boon whipped up a gin, cherry heering, Benedictine, lime, and bitters cocktail, and then topped it off with soda. Today the drink is popular around the world, and many know it as the drink that kicked off the journey in "Fear and Loathing in Las Vegas."
Long Island Iced Tea

Yes, we know Long Island isn't a city. But it's a drink so renowned that it'd be a shame not to include it. The Long Island Iced Tea may look like iced tea, but it's an intoxicating mix of tequila, vodka, light rum, triple sec, gin, and just a tiny splash of cola.
The Parisian
When you think Paris and France, your mind likely drifts to fine wine. Instead, you should be thinking of the Parisian, a vermouth-forward cocktail with gin and creme de cassis.
Manhattan
New York City has a whole line up of cocktails named after the boroughs. The Manhattan is probably the most famous of those — borough-wise and cocktail-wise. It's a mix of rye whiskey, sweet vermouth, and bitters and then garnished with a cherry.
The Bronx
The northernmost borough in New York City borrows a lot from the perfect martini. It's a mix of gin, sweet vermouth, dry vermouth, and then, to make The Bronx its own, a splash of orange juice.
The Brooklyn
The Brooklyn was a cocktail long before Brooklyn became known for hipster bars and craft cocktails. Like the Manhattan, it's a whiskey-based cocktail. The Brooklyn is made with whiskey, dry vermouth, maraschino liqueur, Angostura bitters, and an orange peel garnish in a martini glass.
The Queens
The country's most diverse neighborhood has a cocktail very similar in composition to The Bronx. It's a perfect martini (gin, sweet vermouth, and dry vermouth), but instead of orange juice, it has a splash of pineapple juice. When shaken, the pineapple juice creates a foam head almost like an egg white.
Chicago Fizz
When you hear of a rum and port cocktail, you probably don't think "Chicago." But that's exactly what the Chicago Fizz is. It's made with white rum, tawny port, lemon juice, simple syrup, and egg white.
Moscow Mule
Despite the name, the Moscow Mule is not a Russian export. It was invented in the 1950s by the owner of a then-struggling Smirnoff. Today, it's one of the most well-known cocktails around.
Boston Rum Punch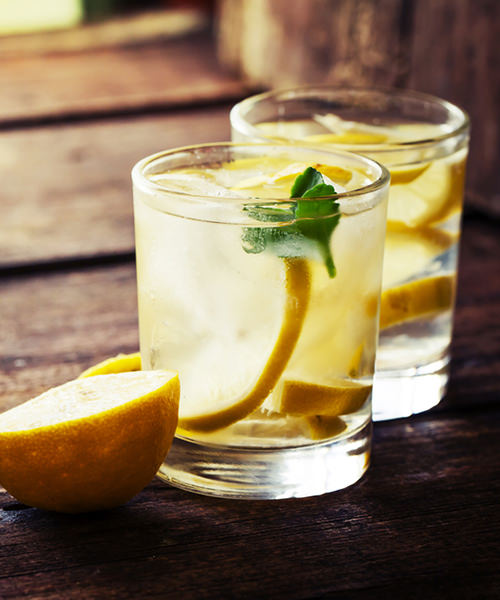 Boston was the home of the founding fathers, and it's not hard to imagine them having a Boston Rum Punch or two back in the day. It's a simple cocktail composed of rum, lemonade, and little bit of nutmeg and lemon peel to garnish.
Milano-Torino
The Milano-Torino (or Mi-To) is essentially a Negroni without the gin. It gets it's name from its ingredients: Campari (from Milan) and sweet vermouth (from Torino). Top that off with soda water and there you have it. After years of American tourists ordering the drink in Italy, the common name has shifted away from the origins a little. Now it's commonly known as the Americano.
Cape Codder
One of your first drinks could have been a Cape Codder and you didn't even know it. The cocktail is simply a vodka cranberry (named after Cape Cod, Massachusetts) that can be spruced up with a simple lemon and mint garnish.
London Fog
The London Fog takes after the weather feature the city is known for. It's made with London dry gin, chilled water, and absinthe. Brighten it up with a crisp green apple garnish.
Osaka Dry
Many cocktails are spins on the classic martini, and the Osaka Dry is one of them. It's a mix of vodka and saké garnished with pickled plum or a lemon twist.
Aspen Crud
"Crud" isn't the most flattering name to attach to a drink. But at the J-Bar in Aspen, Colo., Crud has come to mean quality milkshake cocktail. Aspen Crud is simply five scoops of vanilla ice cream with added shots of bourbon.