Getting into a bar is already a weird process. Maybe there's a secret entrance. Maybe there's an outrageous cover charge. Maybe there's an ornery bouncer nicknamed "No Tickle Willy" (who actually requires you to tickle him). And the weirdness doesn't stop with entrance rituals. In some bars, it's really only once you've gotten in that the true abnormality of the situation sets in. Here are some of the weirdest bars out there—which, we assume, only get weirder with each drink.
If you've always regretted you weren't old enough to watch The Little Mermaid drunk, don't worry, The Wreck's got you covered. Every Friday and Saturday at 6:30pm, "live mermaid shows" finally unite the experiences of aquatic entertainment and social intoxication. No word on appearances by Sebastian, but we hear he shows up once in a while, gets tipsy, and does the crab walk on the bar.
Don't Miss A Drop
Get the latest in beer, wine, and cocktail culture sent straight to your inbox.
Because Boston doesn't have enough ice, there's a bar in Faneuil Hall that keeps temperatures at "a brisk 21 degrees." You need reservations—it's $12 per adult—but they do give you a warm purple poncho to wear during your visit, which is recommended to cap out at 45 minutes (though theoretically you're welcome to stay as long as you want, pending climate change). Cool blue lighting makes it feel like you're drinking inside a computer instead of in front of one, and ice sculptures and liquor glasses made of ice keep the theme solid. Drawback: zero penguin bartenders, even though that would be entirely adorable.
Some of us want to keep the spirit of Christmas going all year long, or at least until February, when we sneak the tree out to the street under the cover of night. But Lala's really does it. The psychological dangers of perpetual holidays notwithstanding (see TGI McScratchy's Goodtime Foodrinkery), Lala's is packed with full-on kitschtastic Christmas décor to keep things merry and bright while you get merry and tight. Owner Frances Lala actually sold it, but a recent update says new owners FBR Management will re-open the bar in keeping with the tchotchke holly jolliness of the original.
No surprise the pulsating quirkitude of Portland could sustain a "horror-themed dance bar." The Lovecraft is actually a pretty serious music venue that just so happens to pay simultaneous tribute to pulp horror fiction hero H.P. Lovecraft and "the world of horror in all of its forms," which is appropriate in any place with a liquor mark-up. Look out for dry tendrils of dead Spanish moss, some fun pentagram imagery, a coffin, skeletons, freaky costumes—basically an all-you-can eat buffet of creepy memorabilia. For all the terror, the bar has a surprisingly good selection of teas and vegan sandwiches. Then again, it's Portland.
Beyond being one of the longest-named bars in history (the full name, at least what's painted on the door, is "Sister Louisa's Church of the Living Room—Come on in, Precious!"), Sister Louisa's is just a confidently confusing place. Opened by a former Masters in Divinity and Pastoral Care student who found his (her) calling in the artistic—and ping pong—prowess of "Sister Louisa," the bar is outfitted with a pulpit, crucifix lampshades, neon angels, and all manner of glowing pseudo-religious emblems, not to mention Sister Louisa's artistic creations. When neither art nor salvation are at stake, a mix of ping pong tournaments, tarot card readings, "assloads of choir robes," and church organ concerts keep the mood nicely purgatorial.
"Raise a glass with your best friend," says the Mutts website. And oh boy, did we really want to believe this was a place where dogs could drink. Not that we support the intoxication of pets, just the idea of dogs going in for a beer after a punishing day of tail-chasing and other-dog-sniffing, it sort of appeals. Mutts, however, is actually canine-friendly. Not just friendly, but encouraging, with an adjoining dog park, dog-friendly patio, and doggy ice cream so your pooch can enjoy his treat while you enjoy yours. Basically, by the end of the night, everyone should be sniffing everyone.
One of the more efficient self-styled speakeasies, PDT (or "Please Don't Tell") can only be reached by going into the adjoining Criff Dogs hot dog spot and getting into a phone booth (yup). Make the call and go in (actually, make reservations well in advance, then make the call to let them know you're there…even though it's a secret). The bar itself is snug and eerily dark, with some well-placed taxidermy (nothing like a dead deer staring at you to keep you from getting totally comfortable). Polished craft cocktails and a roster of awesome hot dogs will distract you.
As long as you keep your mutton chops out of the maraschino cherries, bartenders tend not to care about your facial hair. But they can enjoy the general fact of facial hair, right? Well, that's what Handlebar does, with a fairly expansive corner bar in Austin where décor is unabashedly 'stache-positive. You won't get any hair in your drink, unless it gets really late and some impromptu mustache-sculpting begins, but the general encouragement and appreciation of a nice line of upper lip-hair is always apparent, complete with cocktails named after famous mustaches (or the growers thereof, e.g. Sam Elliott, Salvador Dali, Charlie Chaplin).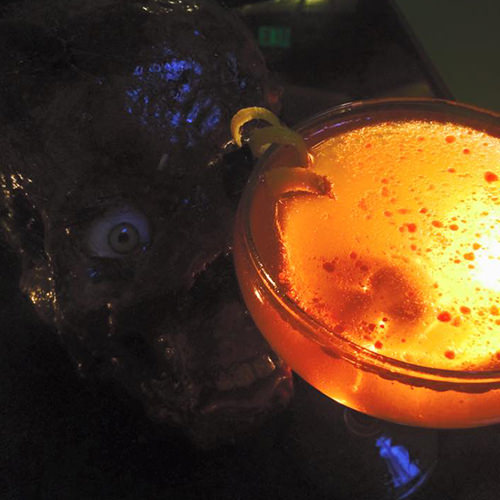 From the name you think you'd go into Donny Dirk's and find a bunch of zombies moaning over their vodka-Sprites after a long day of stumbling after brains, but Donny Dirk's is for people trying to escape zombies—"a safe haven for the big-brained humans" who apparently face the wrath of Minnesota's many zombies in the warmer months, when the undead get to thawing. Really a pretty sophisticated cocktail bar with some regular animal taxidermy, some zombie head taxidermy, a neon sign that reads "Undead frank lives," and an "in case of zombie attack" chainsaw behind glass, because, well, you never really know…
OK, so this one's not quite close to home, but it's weird enough to merit mention, since the idea was explicitly "to combine laundry and socializing" in one space. Since laundry is one of the lonelier human tasks—look into the next laundromat you pass and see how many people are embracing, high-fiving, or complimenting one another on their folding skills—it might be a bit of genius to add booze (and food) to the mix. Only issue is whether or not you overindulge and accidentally forget fabric softener.