We love our beer in America, and we're pretty loyal to our hometown heroes. With that in mind, we decided to figure out who has the biggest brewery in their respective state. While it isn't an exact science, determining whose brewery is the biggest is a pretty good indication of the hometown favorite, or at least of who's selling the most in order to keep up with all that supply that's being produced.
Check out the map and see if your local favorite is the winner, then see below for notes on how we selected the breweries in each state.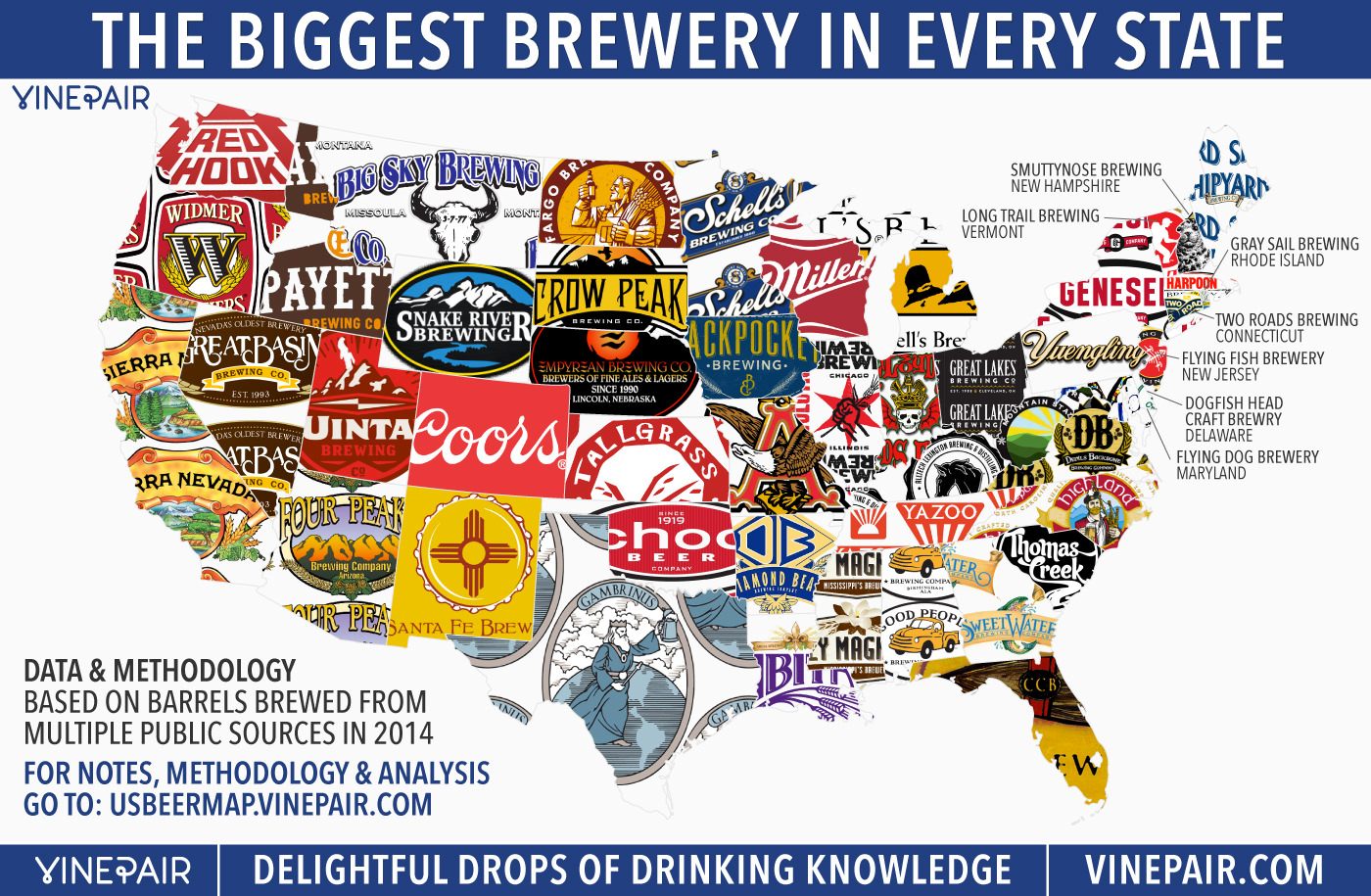 Notes on the map:
Arizona – Four Peaks Brewing is being acquired by AB-InBev. The next largest brewery in the state is SanTan Brewing Company.
Colorado / Wisconsin – While MillerCoors (pending its acquisition by AB-InBev) operates breweries in other states (and is headquartered in Illinois, the Coors and Miller breweries in those states are the "homes" of each brand, and by far the largest in each respective state. Colorado's next largest brewery is owned by New Belgium Brewing. Wisconsin's next largest brewery belongs to Sleeman Brewing Co.
Oregon / Washington – While Craft Brew Alliance is the parent company of Widmer Brothers Brewing and Red Hook Brewery, the brands' respective breweries are the largest in these states. The next largest brewery in Oregon is operated by Deschutes Brewery. The next largest brewery in Washington is owned by Georgetown Brewing Co.
Massachusetts / Ohio / Pennsylvania – While Boston Beer Co.'s Sam Adams brand is closely associated with Massachusetts, the company presently brews virtually all of its beer in Ohio and Pennsylvania. D. G. Yuengling & Son operates Pennsylvania's largest brewery.
Missouri – While AB In-Bev's Budweiser brand family operates breweries in multiple states, we mapped its brewery in its home state.
New York – Through a long series of transactions, New York's century-plus-old Genesee Brewing Company is now owned by Costa Rica's Florida Ice and Farm Company S.A. (FIFCO). The brewery is currently owned by a FIFCO subsidiary, North American Breweries. While the company produces many brands, and has a substantial contract brewing business, the production of the Genesee brands at the upstate brewery outpaces New York's second largest brewer, Brooklyn Brewery.
In other states such as Florida, where there are large secondary breweries for out of state brewers or contract brewing operations, we mapped the largest locally headquartered brewery.
Although Pabst is one of the largest beer brands in the United States, it is not represented in any one state, as it is brewed at various MillerCoors breweries throughout the country.