As you get ready to kick back and celebrate Thanksgiving with wine, turkey — and more wine — we invite you to take a look at how America celebrated Thanksgiving in the early 20th century. We rounded up photos, cartoons (of the silly and the political sort), dinner menus, and advertisements that paint a picture of a Thanksgiving holiday celebration that's more familiar than you might expect….
1902 – The Ideal Cook Book by Annie R. Gregory, assisted by one thousand homekeepers.

1905 – The Missionary Visitor – Dinner At The Brooklyn Mission
Don't Miss A Drop
Get the latest in beer, wine, and cocktail culture sent straight to your inbox.
1907 – The Farmer's Boy by Clifton Johnson
1908 – The Boston Cooking-School Magazine of Culinary Science and Domestic Economics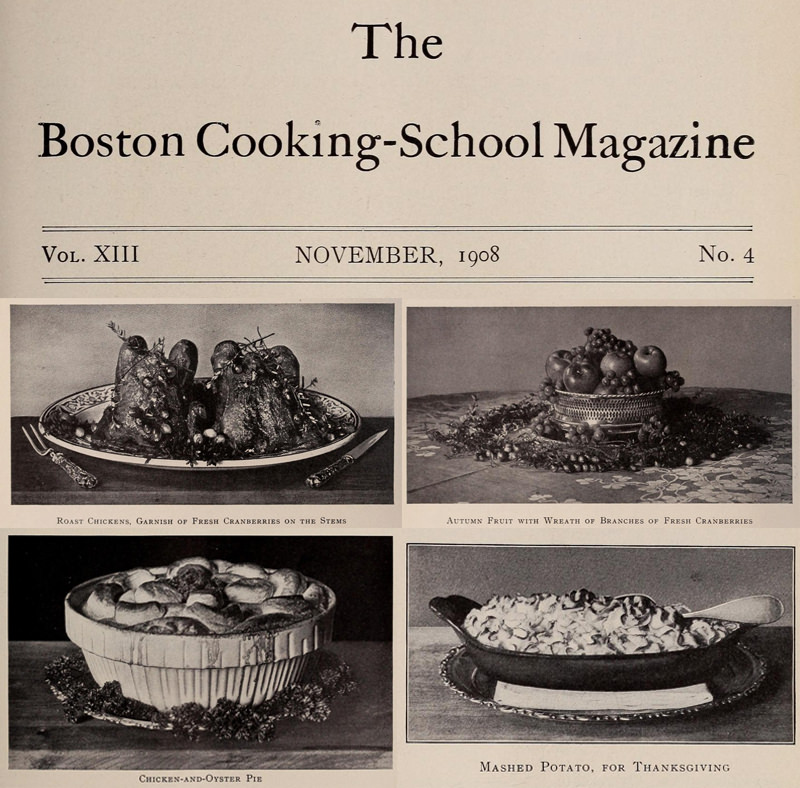 And their suggested dinner menu…
1911 – Caricature: Wit and Humor of a Nation in Picture, Song and Story illustrated by Grant E. Hamilton [and others]
1912 – Library of Congress: "Taking home turkies [sic] from raffle"
1912 – The Baltimore and Ohio Employees Magazine – A two-page Thanksgiving-themed marketing campaign pitching 'Railroad Men' to purchase homes on 'purchase plan.'
1913 – The Christian Herald: "The Bread Line's Saving Power" at The Bowery Mission (New York)
1913 – Puck – Political cartoon recognizing that someone (the lawyers) would be thankful about the passage of the Revenue Act of 1913 (aka the Federal Income Tax)

1919 – American Cookery (Formerly The Boston Cooking-School Magazine)
1939 – Library of Congress: "Farmer selling Thanksgiving turkey to farmer outside warehouse where tobacco auction sales are being held. Durham, North Carolina"
1940 – Library of Congress: "Sign on restaurant window during Thanksgiving week in South Boston, Virginia"
1940 – Library of Congress: "Mrs. T. M. Crouch, of Ledyard. Connecticut pouring some water over her twenty-pound turkey on Thanksgiving Day"
1940 – Library of Congress: "The family of Mr. Timothy Levy Crouch, a Rogerine Quaker, at their annual Thanksgiving Day dinner. A twenty-pound turkey was dispensed with in short order."
1942 – Library of Congress: "Neffsville, Pennsylvania. Thanksgiving dinner at the house of Earle Landis."