Oops. Looks like Swiss Miss got naughty.
OK, we take that back. That is a terrifyingly creepy sentence. Can we start over? How about three words to smooth things over: spiked hot chocolate.
Though we are fervent believers of infusing your favorite foods and beverages with alcohol (and in fact, boozy whipped cream would go great on some spiked hot chocolate), hot chocolate can indeed be respectably enjoyed on its own. It's a delicious beverage, a mixture of milk (cow, goat, soy, almond, what have you) and chocolate. Done with dark chocolate—and topped with an agar agar marshmallow—it can even be vegan.
Don't Miss A Drop
Get the latest in beer, wine, and cocktail culture sent straight to your inbox.
But if you're looking for some warmer-than-warm this season, and something a little naughtier than nice, there are more than a few ways to spike your mug. And since not everybody's cup of cocoa is, well, everybody's cup of cocoa, we have recipes categorized by flavor.
Not sure about the yield here, since there's 1 ½ cups of milk, 1/3 cup of Nutella, and a whopping 4 ounces of bourbon that goes into this one. But it's a super-rich offering. Just don't consume if you're allergic to nuts. Or bourbon.
Cocoa. Sugar. Chocolate chips. Tequila. Schnapps. Not a combination of words you'd expect to hear, but it makes for a tasty treat. Bonus points for the mint coolness masking some of the alcohol. Plus, two kinds of chocolate chips…
If you're one of the diehard few not letting go of pumpkin spice season, this is the hot chocolate for you.  Made like a traditional stovetop hot chocolate, except with pumpkin puree and some (forgive us) pumpkin pie liqueur.
Bear with us here—red wine goes with chocolate, right? This recipe just takes that union a little bit further with total gooey integration. Warm milk, melted chocolate chunks, and a few glugs of your red wine of choice (nothing too tannic, but also nothing too light).
Get a little Aztec with your hot chocolate. Ancho chile and cinnamon infused into milk and heavy cream, enriched with vanilla bean and chopped bittersweet chocolate. The—surprising—kicker: anise-flavored liqueur (Epicurious recommends Pernod, or Mexican Xtabentun).
Honey, cinnamon, and brown sugar make for a lush welcoming mat for rum in this doubly-warming hot chocolate.  Plus, Nigella Lawson tends to make sinful things seem a lot more forgivably sweet.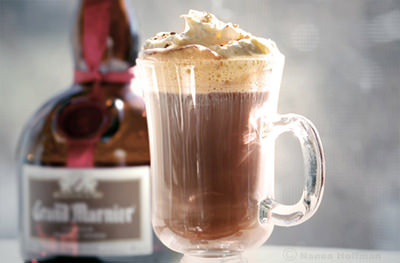 The combination of orange and chocolate, like the combination of mint and chocolate, is divisive, ending friendships, ruining bake sales, and keeping us all hoarding our combo of choice. But if you are an orange-choco fan, this should do your right, and really easily—just douse your stovetop hot chocolate with some Grand Marnier and feel the classiness wash over you.
If you're a traditionalist, there are a couple of things working against this hot chocolate: it's not hot, and it's got three kinds of booze (tequila, Grand Marnier, and Kahlua). But if you can get your hands on some of Serendipity's frozen hot chocolate mix, all that's left is chucking a few ingredients into a blender and putting on a sweater.