America's modern infatuation with wine began in earnest in the 1960s. Compared to Old World countries in Europe, our wine culture is young. Since the time of the American Revolution there had always been a market among the upper classes for imported European wine, but consumption was small relative to other alcoholic beverages. The nineteenth century saw waves of immigrants from the Old World who brought winemaking knowledge to our shores. Many of these immigrants headed west where they helped build California's wine industry. In the decades preceding Prohibition we made strides in local production and consumption, but the majority of those efforts were undone by our national booze ban.
Decades later wine began its steady march to where it is today. These advertisements show the changing ways we've perceived wine and our reasons for choosing it over beer or spirits. Wine was reintroduced to the American public in a period marked by the rapid rise of the middle class. The mid-century ads reflect that period in their stress on entertaining and hosting guests. Those ads also convey ease. Wine was a foreign product, literally in the case of imports, and figuratively for inexperienced drinkers. As wine's popularity increased we see a shift to ads that focus on quality and diversity in tastes.
Back In 1889 You Could Find Ads In A Directory Of Local San Francisco Merchants For California Grown Wine. Gundlach Bundschu Winery Is The Same J. Gundlach That Ran This Ad 125 Years Ago!
Circa 1910: Anti-Laria – A Sparkling Wine With That Champagne Kick…At A Fraction Of The Cost
Don't Miss A Drop
Get the latest in beer, wine, and cocktail culture sent straight to your inbox.
1941: The Wines Of California Featuring Lynn Fontanne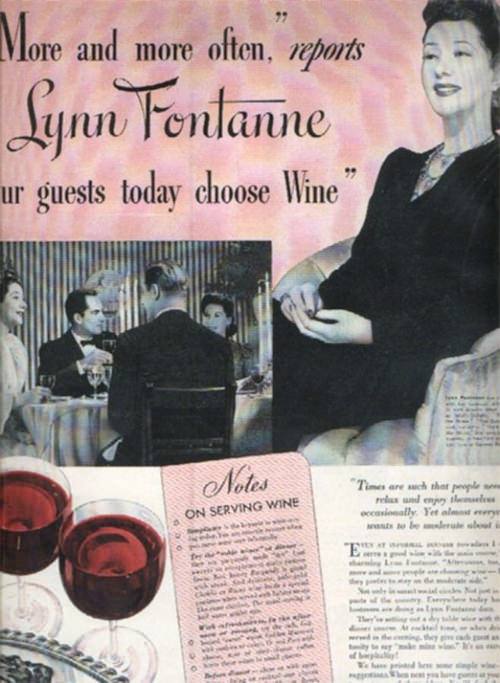 1941: Impress Your Guests With Inexpensive American Grown 'Virginia Dare' Wine. You Can Drink It With Or Without Food. Your Parties Will Be Tops Either Way!
1962: This Beautiful Ad From America's Leading Wine Producer E. & J. Gallo Promised A Wonderful Evening. It Was Still Common In This Period To Identify Single Varietal Wines By The Old World Region Where They Originated.
1968: This Ad Stresses How Mogen David's 'Specially' Sweetened, Concord Grape Wine Was Suitable For Any Occasion. Versatility Was A Key Selling Point To New Wine Drinkers.
1969: As This Ad For Ruffino Shows, The Traditional Straw Basket Fitted Fiasco Bottle Had Already Created A Quality Perception Problem For Chianti Producers By 1969.
1974: Jug Wine Was Still A Popular Inexpensive Drink In America, But Even Here A Shift To Higher Quality Was Appearing In Marketing Campaigns.
1970s: The Sweet German Wine, Blue Nun, Took The World By Storm, Selling 1.25 Million Cases In The US Annually At Its Peak. The Wine Was Marketed And Priced As A Premium Wine For The Mass Market.
1977: As American Palates Evolved Brands Began Marketing Wines To Exploit Those Shifts, Like This Ricasoli Ad Touting A Red Wine Light Enough For White Wine Lovers.
1981: Pioneering California Winery Paul Masson Blitzed TV And Print With Campaigns Featuring Orson Welles Stressing Quality…In Plain English.
1987: Château Mouton Rothschild's 'Second Wine,' Mouton-Cadet Was Heavily Marketed For Decades, Turning It Into The Highest Selling Bordeaux Wine In The World. A Series Of Ads Including This One Played On French Elegance As Well As Sexuality.