One of our most popular product lines by far is the Cooler Than Cool collection. And, it's really no mystery why. No matter your preferred beverage, these glasses keep your wine, beer, spirits, and cocktails perfectly frosty for as long as you're enjoying it. They're perfect for porch drinking, hot tub drinking, backyard drinking, fire escape drinking, or really any kind of drinking where you want to make sure your beverage is chilly without any additional dilution from ice.
And, today only, you can get any cup in the lineup for 20% off when you use the code FROSTY20.
Here's how they work. Whether you go for our classic BPA-free plastic or the Glacier Glass style, they come with a proprietary gel blend inside that's our secret weapon when it comes to keeping your beverage at its perfect temperature. Simply pop your glass (or, more likely, glasses) into the freezer upside-down when you think of it. After only two hours, they'll be chilly and ready to assist in your next time of need. We always keep a couple stashed in the freezer, and they're certified to be stored in there for extended periods of time!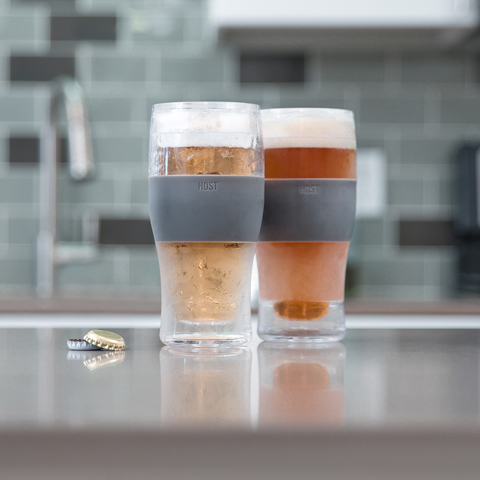 Then, pour in your juicy Vermont IPA, your bourbon, your Pinot Grigio or Beaujolais, or your Negroni or Margarita. Thanks to the gel, the double-wall construction, and a silicone band for easy gripping and extra insulation, your drink is protected from the heat coming from your hands and will stay extra cold for as long as you're enjoying it.
We have a set of these for every beloved beverage, but they offer an extra bonus when it comes to whisky or any other sipping spirits. Because you don't have to add ice in order to keep them chilled, you can customize your dilution to your exact preference. Of course, there's no shame in adding a bit of water to your dram (it can really open your spirit up), but ice all too often fast-tracks your dilution, leaving that dreamy spirit a little more watery than you intended. With these, you truly get to drink your Scotch, Bourbon, Mezcal, Cognac, and more exactly as you like them.
If you're still on the fence, we should tell you that reviewers love these. One says, "We thought they were awesome! The frozen gel within the glass really keeps that tini cold!"
David S says, "Thought it wasn't going to make a difference, but they really do work. Keep one in the freezer for a nightcap."
Julia C even wrote a short essay on how much she loves them, "I have given these glasses to my hubby, my Dad, my brother. They LOVE them. They rave about them. I had glasses like these in the past. They would melt by the end of the first drink/beer. The gel in these glasses lasts through 3 beers. And the band of rubber makes the glass enjoyable to hold and have to freeze your fingers off. I bought 5 more sets to give as hostess gifts. My friends were thrilled! LOVE these glasses!!"
What more needs to be said? We know you'll love these glasses as much as we do.