June 2019 marks the 50th anniversary of the Stonewall Uprising, a series of riots that took place at New York's Stonewall Inn and catalyzed the U.S. civil rights movement.
In May 2019, the legendary bar and national historic landmark also hosted the launch of the third annual Stonewall Inn IPA, brewed by the Brooklyn Brewery. The brewery will host a series of Pride parties throughout the summer, with a portion of sales supporting the Stonewall Inn Gives Back Initiative (SIGBI).
Limited-edition, Pride-themed products are a dime a dozen these days. This means it's more important than ever to seek out efforts like the ones below that go beyond rainbow-washing by financially supporting LGBTQ advocacy groups, nonprofits, and social spaces.
Here are 12 beers that are giving back for Pride 2019.
Comstock, MI
ABV: 9%
This Belgian-style Tripel with raspberries was originally launched at Kalamazoo Pride in 2013. It won a bronze medal at the Great American Beer Festival that year, and it's returned every year since.
Queens and Brooklyn, NY
ABV: 9.2%
Biere de Fierte is queer-friendly in more ways than one. A portion of proceeds go to NYC's Ali Forney Center, an organization that assists LGBTQ homeless and displaced youth. Additionally, the beer, now in its fourth iteration and aged in red wine barrels, is what Big Alice calls a "Lemongrass Ginger Belgian Tripel" – a.k.a. LGBT.
Brooklyn, NY
ABV: 4.8%
This bright and balanced session IPA with Citra hops is available on draft and in Brooklyn Brewery variety packs nationwide and in select markets abroad. Proceeds benefit SIGBI, a non-profit organization that aims to eliminate social intolerance affecting LGBTQ citizens around the world.
Austin, TX
ABV: 4.8%
The rainbow-clad version of Circle Brewing's Fanny Pack Kolsch donates $1 per case sold to Equality Texas, a nonprofit dedicated to LGBTQ advocacy in the Lone Star State.
Washington, D.C.
ABV: 4.5%
Since launching this special-edition Brau Pils in 2017, DC Brau has raised more than $23,750 for LGBTQ-focused charities. This year's label honors LGBTQ activist and transgender icon Marsha P. Johnson, who was pivotal in the 1969 Stonewall Inn uprising and instrumental in the Civil Rights movement as a whole. "The flowers on the label are for those blooms that Marsha was known to wear in her hair, as well as 27 pansies representing the 27 trans deaths that took place in 2018 and early 2019," Maggie Dougherty, who designed the can label, told the Washington Blade.
All Pride Pils sales will benefit SMYAL, an LGBTQ youth empowerment program; and The Blade Foundation, which funds journalism projects focused on LGBTQ and other underrepresented communities.
Baltimore, MD
ABV: 5.5%
The name gives us pause, but this potty-mouthed sour ale is brewed with glitter and fruity cereal in collaboration with Diablo Doughnuts. It combines tart, fruity notes with a biscuity finish, and a portion of can sales benefit the Pride Center of Maryland.
Seattle, WA
ABV: 4.4%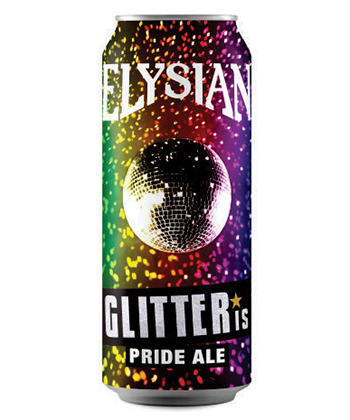 Available nationwide in June 2019, Elysian's GLITTERis Pride Ale is made with blackberry and raspberry puree. Anheuser-Busch partnered with "Queer Eye" star and LGBTQ advocate Jonathan Van Ness to promote the brand. As part of the promotion, Van Ness (a.k.a. JVN) officiated the wedding of an LGBTQ couple at Elysian's recently renovated brewpub on June 4, 2019. A portion of the proceeds for GLITTERis Pride sales go to Seattle Pride.
Staten Island, NY
ABV: N/A
This limited-edition hibiscus pilsner is brewed in partnership with the Alice Austen House, also known as Clear Comfort, where New York photographer Alice Austen lived with her partner Gertrude Tate for nearly 30 years. Both the home and its eponymous beer aim to raise awareness of Austen's work and life. The house, now a museum, became a nationally designated LGBTQ historic site in June 2017.
Brooklyn, NY
ABV: 5%
In the words of co-founders and designers Jon Moore and Jason Pazmino, this gluten-reduced golden lager is "queer all year." Brewed at Butternuts Beer and Ale in Garrattsville, N.Y., Gay Beer is currently available in select NYC Whole Foods locations, on the NYC Ferry, as well as online through TapRm. A portion of Gay Beer proceeds go to LGBTQ advocacy groups each quarter, Gay Beer tells VinePair. The brand is currently involved with several events throughout NYC.
Alton, IL
ABV: 4.7%
This limited-edition version of Old Bakery Beer's flagship Citrus Wheat Ale launched June 1, 2019 in collaboration with Saint Louis Effort for AIDS. As part of its Pride Month effort, the brewery will donate $2 from every case, along with $1 from every 4-pack sold at the brewery.
Queens, NY
ABV: 5.6%
This hibiscus-kissed IPA available for a limited time donates 10 percent of proceeds to Cyndi Lauper's True Colors United. The NYC nonprofit aims to alleviate LGBTQ youth homelessness in NYC and beyond. The beer will be available at SingleCut and at several events throughout June.
Brooklyn, NY
ABV: 4.5%
Gender Neutral, a pale lager with lemon zest, launched in 2017 to promote gender equality. Two years later, it's just as refreshing, with a portion of proceeds benefiting Anti-Violence Project to protect the LGBTQ community and those affected by HIV. Help give back at Threes' events at both brand locations in Brooklyn.