Beloved for its salty twang and savory undertones, the Dirty Martini is a classic for a reason. To change up the classic build, many mixologists have taken to using a variety of mixers to dirty up their Martinis. But purists know that olive brine is the best option: The humble liquid in your olive jar offers a vegetal salinity that complements and balances the bite of ice-cold clear spirits.
With dozens of olive varieties available from a multitude of producers, finding the best brine for a Martini can be a challenge at best. Not to mention the sheer number of pre-made mixers, stuffed olives, and refined brines now lining store shelves.
So, we tasked ourselves with doing the work for you, and we did our due diligence by testing each of the 29 brines we sourced with both gin and vodka to help you find your ideal specs. Here are the 11 best brines to use in your next Dirty Martini.
Best Olive Brines for Any Dirty Martini
Bono Castelvetrano Pitted Sicilian Green Olives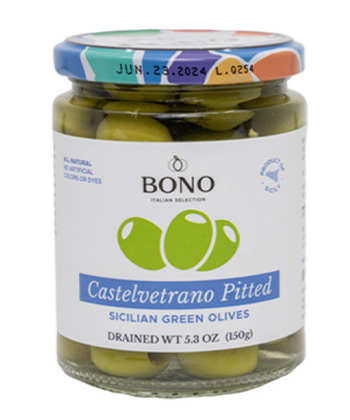 These olives are bursting with salinity, and their brine shines in both vodka and gin Martinis. In the former, the brine provides an almost tingly saltiness on the palate, while in the latter, the salinity level is more subdued and instead lends a viscous, velvety weight to the drink. If you don't consider yourself an olive fan but want to see what all the fuss is about, this jar is an ideal starting place.
Whole Foods Organic Garlic Stuffed Olives
These punchy little greens are for those who like their 'tinis filthy: Aromas of allium and ripe olive permeate the senses upon first whiff, while savory umami takes over on the palate. While the essence of garlic is strong, the flavors aren't overwhelming, so you need not worry about your breath being less than desirable after the last sip.
Whole Foods 365 Organic Green Olives
This jar is yet another perfect starting point for those just beginning their dirty journey. The brine's nose delivers a sweet, almost vanilla-like kick one might find in mild, high-quality olives. Paired with gin or vodka, this brine provides a true classic profile: salty, earthy deliciousness without a cloying or oily consistency.
García De La Cruz Premium Green Olives Stuffed With Pimento
When stirred in with gin, this brine offers an undercurrent of sweetness thanks to pimento peppers. If you prefer your Martinis shaken with vodka, this brine's high sodium content neutralizes the grain spirit's harsh bite. Though versatile, these olives are salty, so proceed with caution before dumping an overabundance of brine into your next nightcap.
Filthy Premium Olive Brine
No matter how you prefer your Martinis — gin or vodka, shaken or stirred — Filthy's all-star brine belongs in your glass. Its salinity levels are relatively mild, but it gives a delicious weight to any spirit and delivers woody notes with hints of salty roasted nuts. Also, having undergone five rounds of filtration, you'd be hard-pressed to find an olive brine that offers a rounder, cleaner finish.
Best Olive Brines for Vodka Martinis
Divina Blue Cheese Stuffed Olives
If you consider blue-cheese-stuffed olives to be part of your personality, Divina's are the perfect pick. The salt level in the brine is relatively tame, providing the palate with a nuanced savoriness that doesn't overwhelm the senses. The blue cheese also gives the vodka a lovely, weighted body that invites you back for sip after sip.
Mina Moroccan Pitted Green Olives
The verdict was unanimous: Mina's giving us exactly what we want in our Dirty. When this Picholine brine is mixed with vodka, the nose opens with welcoming whiffs of saline and a hint of vanilla that's only noticeable in high-quality olives. You'd typically have to eat around a pit to get that flavor, but Mina has done the work for you: The brine's earthy, salty complexity lingers on the finish.
Best Olive Brines for Gin Martinis
Dirty Sue Blue Cheese With Cracked Black Pepper Stuffed Olives
If this flavor combo sounds like too much funk for one glass, Dirty Sue is here to prove you wrong. The spiced edge of the cracked black pepper brings out gin's herbaceousness, which can easily be overpowered in Dirty Martinis. The moderate salinity weighs down the palate slightly, lending itself to a medley of flavors that evolve with each sip. Plus, the olives themselves make for a tasty after-drink treat.
Jack Rudy Cocktail Co. Olive Brine
Based in Charleston, S.C., and Lexington, Ky., the Jack Rudy Cocktail Co. has been producing and retailing cocktail syrups and mixers since 2010. When stirred into a Gin Martini, this brine takes on an almost floral quality, which combines beautifully with the spirit for a well-rounded sip akin to that of a Vesper. Naturally aged for 10 months, the brine provides a nice weight on the palate and a silky-smooth mouthfeel.
Divina Pitted Frescatrano Olives
Tickling the nose with enticing aromas of salt air and punchy fruit, Divina's pitted Frescatrano olives are an excellent choice if you're looking to experiment beyond the classic Castelvetranos. Though cured in the same way, Frescatrano olives are buttery and smooth, and offer the palate an earthy undertone that complements gin's floral notes. Each sip is balanced, complex, and lingers on the taste buds — exactly what you want in a Dirty.
Trader Joe's Colossal Olives Hand Stuffed With Garlic Cloves
If you prefer your 'tinis on the filthy side, Trader Joe's garlic-stuffed olives are an ideal option. Salinity blossoms across the tongue, playing well with gin's heavy juniper essence. While the olives are indeed garlic-stuffed, their allium punch doesn't overpower the zippiness of the brine, and their flavor warms the tongue for a layered and nuanced sipping experience.