Trader Joe's is best known for it's house-brand Two Buck Chuck. But Mr. Joe has his hand in beer, too — a lot of beer. Trader Joe's has a long list of house beers in every style imaginable. VinePair headed to the Trader Joe's in Union Square in Manhattan and picked up one of every house beer available. Then we tasted through them all and judged them based on taste, how well they adhered to style, and whether we'd be disappointed if it was the only thing left in the fridge. Here is  VinePair's official ranking of Trader Joe's house beers, from worst to best.
18. Boatswain Heavy Life Vessel
Strong Ale 7%
Nice caramel color that started out with a lot OF promise, coupled with a slightly bready smell. Tastes primarily of bitter hops with no noticeable floral hops. The bitter stays with you for about 10 seconds, reminding you that you just took a sip of real, actual beer. The relatively high alcohol level isn't evident. The faintest hint of banana creeps in if you really look for it (like really, really look for it).
Don't Miss A Drop
Get the latest in beer, wine, and cocktail culture sent straight to your inbox.
17. Trader José Light
Mexican-Style Lager 4%
Skunky smell immediately comes from the beer just like it should from a proper clear-bottle beer. The taste is more disappointing. It tastes like water. Like carbonated, slightly skunky water. Maybe a slight bit of sweet in there too. I'd still crush these endlessly (108 calories!), but you lose a lot of the cool factor by holding an appropriated José instead of a Corona. Hydration is good, though.
16. Organic IPA
IPA 6.5%
Organic cascade and organic nugget hops. This beer is certified organic, and you know what? More power to TJ. It takes a lot to get certified organic. That's about it for positive things I have to say about this beer. It's got a long lasting, almost synthetic bitterness. No head retention. No floral aroma or taste like I was hoping an ~ organic ~ set of hops could deliver. Maybe hops don't like organic or something. Zero balance in the end.
15. KBC Blueberry Ale
Flavored Beer 4.5%
Can't escape the blueberry candy that rushes out of the bottle like Braveheart. It tastes like Electric Blue Raspberry fruit rollups mixed with perfume mixed with the blueberry powder on Sour Punch straws. It doesn't taste enough like beer for people who like beer, and it isn't sweet enough for the Lime-a-rita loving crowd. If you like blueberry candy, though, here you have it.
14. Boatswain Twin Screw Steamer
Double IPA 8.4%
A double IPA is an ambitious move. DIPAs need to be extra. This beer is not extra. It's less hop-forward than it should be for an IPA, let alone a double IPA. The sweet malt is very clear when you smell it, but less clear when you taste it because the bitter takes over. Very little here that makes me want to come back.
13. Simpler Times Pilsner
Pilsner 5.5%.
First impression: light. It has a bit of an armpit taste and lacks the clean flavors I want when I'm drinking a pilsner. It's not quite a good American pilsner. More like a dirty European pilsner.
12. KBC Porter
Porter 5.7%
Bitter roasted chocolate. There's some residual sweetness that's nice, though. This is one of those where I thought, "Hey, yeah, this is O.K.!" But then that's the only thought that runs through my head after each sip. I'd drink it.
11. Boatswain Chocolate Stout
Stout 5.4%
The can says it's brewed with cocoa powder, which, whatever. You do you, Boatswain. Independent brewers are throwing all sorts of weird shit into beer; why can't Trader Joe's get in on the action with a little cocoa powder? The beer is dry and has good balance with some bitterness. It's got a good amount of viscosity, and next to zero residual sweetness. But unfortunately, there's no chocolate. As far as stouts go, this is one that I wouldn't be sad to have in my fridge.
10. Black Toad
Dark Ale 5.3%
A balanced dark beer with an almost lactose sweetness. It's a little thin. Black Toad is good; it just feels like it's missing something.
9. Josephsbrau Summer Brew
Kölsch 4.8%
Fresh and bubbly, low bitterness, some hidden citrus. Smells bretty. I did not expect to write that. If you like kölsch, you'll be happy with this. It's light and refreshing, with low-malt sweetness.
8. Trader José Dark
Dark Beer 5.3%
All of the Trader José beers have a twist-off top, which is a nice touch for beer meant to be drunk en masse. This one kind of smells like balloons, thought it tastes somewhat savory, which is good. It tastes a lot better than it smells, so just let that balloon smell float off like a fart in a fan factory.
7. Trader José Premium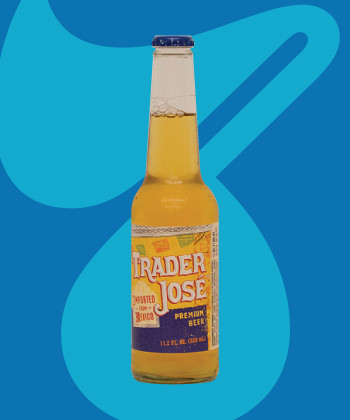 Mexican Lager 4%
Smells like high school on the beach, a.k.a., skunk fest, a.k.a., sand and sneaking beers from your dad's stash. It's more sweet than the light version and has better carbonation. Can't get away from the skunk in that clear glass, but this beer does what it's supposed to. It's right in line with what I thought it would be like: crisp, clean, needs a lime wedge.
6. KBC IPA
IPA 6.1%:
This one's a good mix of aromatic hops and sweet malt — really well balanced. Refreshing and tastes like, well, it tastes like a real IPA. There are so many IPAs out there that are similar-tasting for a much higher price point. A lot of IPAs can be half-assed and just thrown on the menu because IPAs are the moneymaker. This one is decent in all the right ways, and cheap.
5. Josephsbrau Heller Bock
Bock 7%
Malty and thick with a strong head. Tastes like honey and caramel. Actually really good! The high alcohol is masked by a full flavor and slightly bitter hops. The only thing holding this beer down is a slight metallic flavor.
4. Josephsbrau Bohemian
Lager 5%
Super light, but still a little toasty note there. I really like the malty flavor, but there's a slightly masked cardboard in there, like I'm chewing on a FedEx box. Somehow, it's not entirely off-putting, though. I would be very happy with a six-pack of these on a roof.
3. Josephsbrau PLZNR
Czech-Style Pilsener 5%
Clean and packs a lot into it for being such a light beer. This is a summer slammer for sure. It's balanced with a slight touch of sweet and an evening bitterness. The only thing that could really improve this is if it had much higher carbonation to increase how clean it tastes.
2. Stockyard Oatmeal Stout
Oatmeal Stout 5.2%
First thought: This beer is opaque. It tastes slightly bitter and slightly earthy to match the black volcanic dirt color. It's the type of bitter you get if you drink black coffee with some of the grinds left in it. There's some residual sweetness that makes it stand out. I'd prefer having this in my hand than a Boatswain Chocolate Stout, but not more than a Left Hand Stout. Silky smooth and present. If mindfulness were a thing for beers, this beer would be super mindful.
1. Mission Street Session Pale Ale
Pale Ale 4.7%
Smells malty and of floral hops. Not going to lie — I've been a fan of Mission St. for a while now and I saved this one for last. It didn't disappoint. It smells exactly how I want a hoppy session beer to smell and it's balanced, with no one, overwhelming flavor.