If you're like any other daydreamer, you've imagined yourself sitting among the rolling hills of Tuscany, in Italy, sipping a glass of wine. The villa rests behind you, and ahead of you is a great expanse of vineyards and sunflowers. Yes, it's all "Under the Tuscan Sun" meets "Master of None." The vision is often clear, but what fills the glass in hand, perhaps not so much. In reality, though, there's a good chance that glass houses a full-bodied Chianti Classico wine from this picturesque region.
Chianti, the main wine region of Tuscany, encompasses 7,000 hectares of vineyards, and exports their different wines around the world. Once famed for its easy-drinking fiascos (bottles wrapped in straw baskets), the region now lays claim to some of the most important red wines in the world and certainly the best expression of the native Sangiovese grape you can find. From everyday table wines, like Chianti, to bottles that can last upwards of 30 years, like age-worthy Chianti Classico Gran Selezione, the wines of Chianti showcase the terroir of the region, and the passion of winemaking families. Chianti offers consumers a range of products to fit every budget, mood, and, of course, menu.
The region's iconic rolling hills are what make Tuscany's microclimates so suited to growing grapes. Microclimates are distinct climate zones within a region's umbrella climate. They are often found in areas where hills block wind patterns, allow for sun to hit hillsides at different angles, and basically create a diversity of climates in the valleys between hills. Since Tuscany is 68 percent hills, Chianti's sub-regions each feature unique, dominant flavors and profiles that can be tasted in the Sangiovese wines produced there.
Sangiovese is the main grape of Chianti and its sub-regions. Native to Italy, the red grape combines high acidity with medium tannins, plus balanced flavors and aromas of red cherries, earthy notes, and tea. It's grown in areas with a native soil called galestro (similar to stony marl and schist), where the climate offers cool nights and warm days. Chianti Classico producer Lamole di Lamole's winemaker Andrea Daldin calls it a "winemaker's grape," noting that it can be temperamental to work with, but well worth the challenge. "Sangiovese is a labor of love," he adds. "It requires passion."
Italy has designated the following regions as Denominazione e Origine Controllata e Garantita, or commonly shortened to DOCG. This means they follow a strict set of production rules that guarantee the quality and taste of the best expressions of Sangiovese. Here, we breakdown the classifications of Chianti wines, and give you a crash course on what makes each unique and when you should reach for a glass.
Chianti DOCG
For starters, there's Chianti, a region comprised of approximately 38,000 acres of vineyards and seven subzones: Chianti Rufina, Colli Fiorentini, Colli Aretini, Colli Senesi, Colline Pisane, Chianti Montalbano, and Chianti Montespertoli. Sangiovese is the predominant grape in all the wines produced here. It's an easy-drinking wine, with bright cherry flavors, and it pairs well with another Italian favorite, pizza. Plus, it drinks equally well on its own (under the Tuscan sun).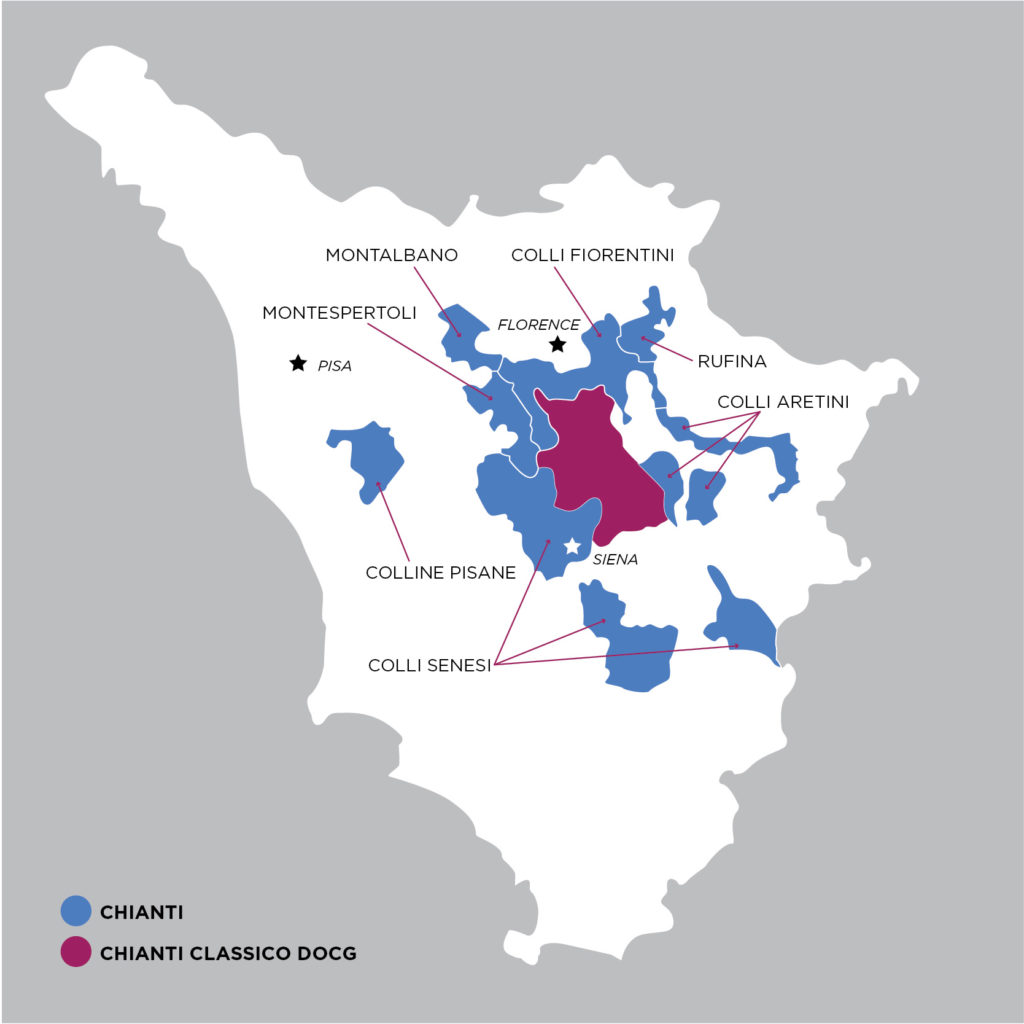 Chianti Classico DOCG
This small, hilly region is considered by many to be the heart and birthplace of Tuscan winemaking. Made up of about 17,800 acres of vineyards and located between Florence and Siena, this region was traditionally where the fullest, richest wine was produced, which lead to its designation as its own delineated region in 1716. It's now considered the iconic representation of Sangiovese, producing wines with more complex structure, and layers of earth and spice. The wines are more suitable for aging than Chianti, and require a one-year period of aging before they can hit the market. Since it's a more developed wine, it has the ability to pair with heartier dishes, like grilled steak and spicy jerk vegetables. "I like it with more traditional dishes, too, like bistecca alla fiorentina (steak Florentine) or ones with a savory note such as grilled chicken with herbs and green olives," explains Wine Educator Kristina Sazama, who represents the winery in the American market.
Chianti Classico Riserva
Chianti Classico has two additional quality levels, determined by additional aging and levels of quality. One is labeled Chianti Classico Riserva, which requires aging for two years in barrel, plus an additional three months in bottle, before hitting the store shelves. Its savory notes, elegance, and aptness for food pairing make it an impressive bottle to bring to any dinner party.
Chianti Classico Gran Selezione
The newest designation, decreed in 2014, within Chianti Classico is Chianti Classico Gran Selezione, which was developed to denote wines of superior quality. The designation requires wine to be 100 percent estate fruit, with at least 30 months of maturation in oak barrels. Many wineries source their fruit from a single vineyard, as Lamole di Lamole does with its Gran Selezione sourced from its Campolungo vineyard. Before the wine can be released, it must pass a strict Italian tasting board to confirm that the wine deserves the designation. In addition, not every vintage will qualify to declare as Gran Selezione. As you might imagine, it's rare, and perfect for special occasions. Or as Sazama says, "it will shine and impress."


This article is sponsored by Lamole di Lamole.