Everyone can agree that waiting at the airport is a total drag. The lines, the body scans, and the frequent delays are just some of the elements of airport travel that make it stressful and boring, a lethal combination. But there are exceptions, should you be catching your next flight from one of these elite airport lounges and have the requisite membership to get in. These super premium waiting hubs generally come with a hefty price tag, but hey, you can't put a price on comfort, right?
Airport comfort is obviously synonymous with a strong drink in hand. We've rounded up 10 of our favorite airport lounges equipped with the best bars. Airport lounging never looked (or tasted) so good.
1. The Bridge Cathay Pacific Lounge, Hong Kong
Forget the coffee bar, workstations, and 23 showers available. Head to The Long Bar, Cathay Pacific's gorgeous white marble bar overlooking the runway. Trained mixologists craft signature cocktails and pour premium wines, all served beside seasonal appetizers and decadent pastries. Champagne and dessert, anyone?
Don't Miss A Drop
Get the latest in beer, wine, and cocktail culture sent straight to your inbox.
How to Get in: First Class, Business Class, and elite oneworld frequent fliers
2. Lufthansa First-Class Terminal, Frankfurt
Who needs a first-class lounge when you can have a first-class terminal? Yup, you heard us. An entire terminal dedicated to first-class fliers, complete with a personal assistant, showers with blue-branded rubber duckies, and gourmet cuisine. Oh, and if your extensive bar menu isn't enough, there's an entire bar dedicated to H2O. That's right, a water bar.
How to Get in: Lufthansa First Class
3. Virgin Atlantic Clubhouse, New York
Walking into Virgin Atlantic's JFK-based clubhouse actually feels like a step into the future. Plush red couches, funky hanging lights, and big circular recliners make for lounging in style. The bar situation is pretty legit, too; cocktails, veggie dim sum, and endless tapas ensure you won't have to rely on mediocre airplane food to combat your travel hunger.
How to Get in: Virgin Atlantic Upper Class, Delta Diamond, Platinum and Gold Medallion members, VA Flying Club Gold Members, and Singapore Airlines First-Class Suites
4. La Première Air France, Paris
Passengers accessing La Première are immediately greeted by staff at the terminal, where personnel will take your bags, check you in, and escort you directly to lounging in luxury. Equipped with art books, newspapers, magazines, and a spa, passing time before your flight has never been easier. Snacks, meals, and wine list are all hand-selected by Alain Ducasse — you know, just the most important French chef of the last century.
How to Get in: First-class fliers; tickets available for non-first-class fliers starting at 150 euros
5. Delta SkyClub, New York
We were hesitant to put two New York-based lounges on the same list. But these two words tipped the scale: Roof. Deck. That's right — what better way to gear up for sitting cramped up in a plane for hours on end than with a drink and some fresh air on a rooftop deck? Wi-fi, workstations, and free snacks make pre-flight drinking exceptional. Oh, and did we say outdoor roof deck?
How to Get in: Delta SkyClub members, BusinessElite, SkyTeam Elite Plus (Gold, Platinum, Diamond), American Express Platinum/Business Platinum Cardholders flying Delta; Day passes available for $59 for non-members/cardholders
6. British Airways Concorde Room, London
Floor-to-ceiling windows, restaurant booths, and nonstop food service make this lounge one of the greats. The Concorde Room room opened nearly a decade ago, serving first-class fliers ultimate luxury ever since. Grab a beer, hit the spa, and get to relaxing.
How to Get in: First-class fliers
7. Centurion Lounge, Dallas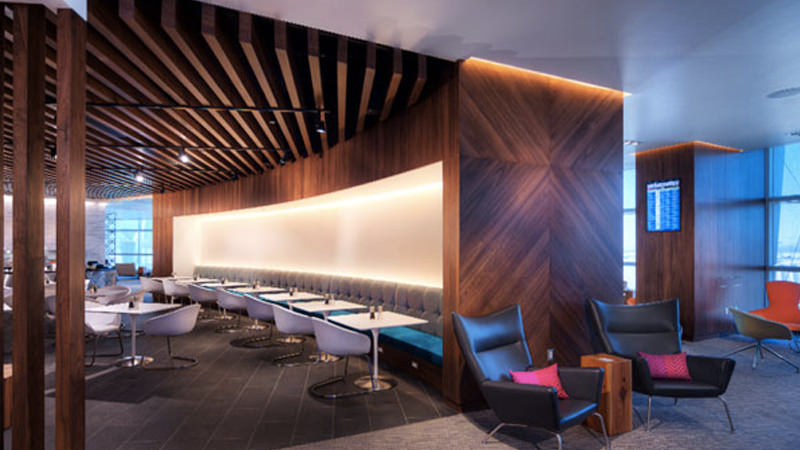 This newly opened lounge (2013) at Dallas-Fort Worth presents a mouthwatering, locally inspired food- and-beverage program, including Tex/Mex cocktails and Southwestern-style meals. The best part? Every flier is eligible for a free 15-minute treatment at the Exhale Spa (if availability permits.) Manicure with your Martini, anyone?
How to Get in: Holders of American Express Centurion/Platinum Cards (entrance for two guests included); non-holders can purchase a $50 day pass
8. Qantas First class Lounge, Sydney
Day spas, plasma TVs with game consoles, and over 10 workstations with internet will make you (almost) not want to venture into Sydney! Designed by Marc Newson, the lounge offers views over Botany Bay as well as a restaurant backed by Neil Perry. If "waiting" means sipping cocktails overlooking the bay, we're in.
How to Get in: First-class fliers
9. Emirates A380 First-Class Pier, Dubai
Spas, space, you get the drill. However, it's the individual buffet at each section that really gets us at the Emirates First-Class lounge. Direct boarding from the first-class area makes getting on the plane as hassle- free as it possibly could be. Oh, and there's a nap room.
How to Get in: First-class fliers
10. Swiss First Lounge, Zurich
Swiss's First Lounge perks vary for different ticket holders, but even the entry level is pretty sweet. Business-class travelers can access the live cooking station as well as a solid whiskey bar. First-class fliers, on the other hand, will benefit from hotel rooms, workstations, and a Champagne bar. The kicker? An outdoor patio with fondue, all set against a backdrop of the snowy Alps. Count us in.
How to Get in: First-class, Business-class, and frequent fliers of Swiss, Lufthansa, and Star Alliance