The culinary contributions of Kansas City, Mo., loom large in America's appetite. Missouri's biggest city created the M&M candy coating, Teflon frying pan, and the red, white, and blue Bomb Pop, a Cold War–era frozen confection developed in 1955.
Flavored with cherry, lime, and not-quite-natural blue raspberry, the Bomb Pop survived the Soviet Union's breakup to remain a summertime tradition for kids — and now grownups, too. Last May, fellow Kansas City staple Boulevard Brewing channeled the popsicle in Raspberry Rocket Pop, part of its Quirk hard seltzer line.
"We had to pay homage to that Kansas City tradition," says Boulevard brand director Ali Bush. The company thought a liquid kickoff to summer would last through the Fourth of July. It sold out in June. This year, Boulevard increased production, released Raspberry Rocket Pop in April, and will even give away 10,000 Raspberry Rocket Pop rally towels at a Kansas City Royals baseball game. "It's one of our most popular seasonal releases in Boulevard's history," Bush says of the brewery, in business since 1989.
Don't Miss A Drop
Get the latest in beer, wine, and cocktail culture sent straight to your inbox.
The success is part of a broader boom for rocket pop–inspired beverages, a trend that crosses the alcoholic-nonalcoholic divide. Mighty Swell makes Rocket Pop Spiked Seltzer, while the breweries Magnify and Deciduous collaborated on Blue Raspberry Rocket Pop, a Smurf-colored smoothie sour. Alani Nu offers a rocket pop caffeinated energy drink, as does the Prime brand from YouTube influencers Logan Paul and SKI. (Many beverages are called "rocket pop" because "bomb pop" is trademarked by current popsicle manufacturer Wells Enterprises.)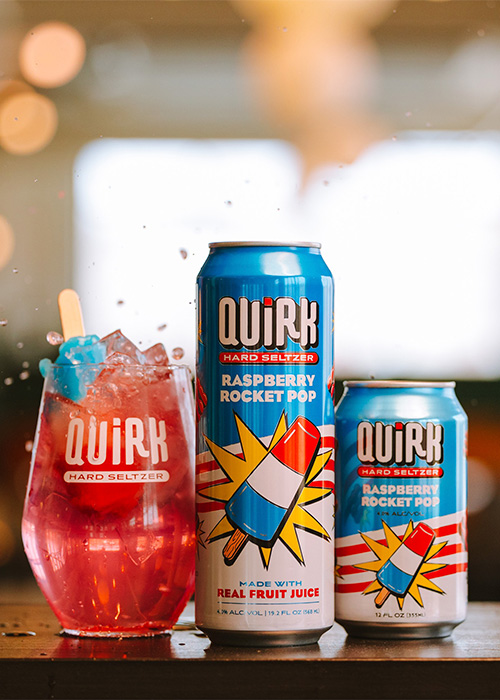 And the surest sign of the trend's mass-market ascension: Twisted Tea recently debuted a rocket pop hard tea "to fuel the fun this summer," senior brand director Erica Taylor said in a press release. Twisted Tea Rocket Pop might tout flavors of cherry, lemon-lime, and blue raspberry, but the most important ingredient is nostalgia. The hard tea is an "adult take on the frozen treat," Taylor added.
Nostalgia Is the Secret Ingredient in Rocket Pop Drinks
Channeling nostalgia is a proven sales tactic in the alcohol industry. Consider the pastry stouts inspired by chocolate birthday cake or sour ales inspired by the nuclear-green Hi-C Ecto Cooler. Childhood memories can be as warm as a two-IPA buzz, priming folks to enjoy a beer, cider, or hard seltzer before that first sip. And when times are tough, we often turn back to sweeter moments in our lives.
"We saw a desire for comforting, reminiscent flavors increase in the Covid era," says Boulevard's Bush. "That interest has stuck around."
Kids of the 1980s and 1990s are now industry stakeholders, owners, and brewers alike.
"I grew up in the '90s with my brothers and fighting for the loose change in the house to get my share from the ice cream truck."
Nick "Dickey" Palermo is the 31-year-old head brewer at Alvarium Beer Co. in New Britain, Conn., where he makes Rocket Pop sour ale. "Brewers are just a bunch of big kids with a bunch of big tanks and equipment that we can use to make all these fun things that tie back into our childhoods," he says. "I grew up in the '90s with my brothers and fighting for the loose change in the house to get my share from the ice cream truck."
Alvarium first released Rocket Pop in 2019, and Palermo achieves the popsicle's classic flavor by using sweet cherry and raspberry purées in concert with Key lime. "It's not just straight tart," Palermo says, adding that the sweet cherry contributes the round, almost "melted-popsicle flavor."
The brewery packages Rocket Pop in May, leading into summer and a Fourth of July release for Double Rocket Pop. The 8 percent ABV version contains extra fruit and edible glitter. Silly? So what. Have a sip and some fun. "I think the most important thing that we can do is make a little light in the world," Palermo says.
Companies looking to make rocket pop beverages must face a flavorful conundrum: What does blue raspberry actually taste like?
The birth of blue raspberry is a twisting tale involving a ban on deep-red dye FD&C Red No. 2, which reportedly caused cancer, as well as the Icee Company looking to visually differentiate cherry from raspberry. By the early 1970s, the blue raspberry Icee was helping kids cool off, and today you'll find so-called blue raspberry sports drinks, chewing gum, and even vodka.
"I was like, I feel pretty American right now."
"It's a different flavor than just straight raspberry," says Kyle Sherrer, an owner of Backpack Brands, which makes Graft and Hudson North ciders in Newburgh, N.Y. After analysis, the Backpack team decided that a touch of pear helps distinguish blue raspberry.
Last May, the company released a Rocket Pop version of Hudson North cider. This year, the company bumped up its release date to May to capture sales for Memorial Day and the Fourth of July. The cider's red, white, and blue label screams Americana, which is part of rocket pop's sales pitch.
"I was drinking one on the lake last weekend," Sherrer says. "I was like, I feel pretty American right now."
WeldWerks Brewing in Greeley, Colo., first made the annual Rocket's Red Glare, its collaborative sour ale with Southern Grist Brewing, on July 5, 2019. Patriotism was beside the point. "I wanted to make a blue beer," says WeldWerks head brewer Skip Schwartz. Channeling a rocket pop seemed to tick the boxes of seasonality and the color spectrum. The breweries dialed up a sour ale with blue raspberry sno-cone syrup, lemon, lactose, and popsicles that weren't just symbolic ingredients for an Instagram picture.
"When you eat those popsicles, you taste the actual stick," Schwartz says. Think of gnawing the cold, wet piece of wood, sucking out the last sugary juices. "Even if it's not a predominant flavor, to me it's part of that beer," he says.
Channeling Popsicles Can Lengthen the Seasonal Sales Window
Seasonal releases once served as quarterly deviations from a brewery's year-round beer roster. Fall is here! Time to tip back a brown ale! Nowadays many breweries debut new beers weekly, and calling something a "summer" release can relegate it to discount bins if cans or bottles linger too long into September.
Moreover, "summer" is shorthand for hot weather, and our geographically sprawling nation doesn't sweat on the same timeline. Urban South Brewery is based in New Orleans, where "it is warm 10 months out of the year," says Jacob Landry, the founder and CEO of the company, which also has an equally hot Houston outpost.
Urban South makes a Rocket Pop Gose that's released soon after Mardi Gras, sometime in March or April. "People down here are ready for hot-weather beers," Landry says. The seasonal release runs until the Oktoberfest lager arrives in August, and it's no big deal if there's overlap. "That's a benefit that we have just given the climate here," Landry says.
The brewery also offers the Paradise Park Rocket Pop hard seltzer that replicates the popsicle gose's flavor profile. It appeals to people who aren't "fully bought-in beer drinkers," Landry says. "They love that they can get that same flavor combo on the seltzer side."
Right now it makes sense for Urban South to make two rocket pop drinks. But every successful product spawns imitators, and too much rocket pop everything can run the risk of exploding the category. In the mid-2010s, pumpkin beers boomed, busted, and recalibrated to meet demand. Fans can still buy plenty of Southern Tier Pumking come fall, but store shelves don't sag with spiced imitators
"Next year it's going to be a race to be the first to have it on the shelf," says Schwartz of WeldWerks. Some rocket pop beverages will fly high, and others will flame out. Schwartz is fine with either fate. "I would bet money that next year we won't be making Rocket's Red Glare, but I've said that probably every year around this time."