It's not news that wine is changing. As climate and other factors continue to affect the global winemaking landscape, new styles and methods are becoming more prevalent across regions, and Burgundy is no exception. Regarded as the birthplace of terroir — and home to some of the world's most expensive wines — the region remains the holy grail for novices, industry folk, and collectors alike. However, a new style of winemaking is on the rise, and it's not exactly what many of us expected.
Regardless of opinions (and there are many), natural and low-intervention winemaking continue to find footing in this highly esteemed, long-established region. Spearheaded by a handful of up-and-coming producers, this progressive group of vignerons is giving the traditionalists of Burgundy a run for their money. But will these newfangled methods find a foothold in Bourgogne? VinePair sat down with a few locals to get the inside scoop.
Letting Nature Take Its Course
Chris Santini moved from the United States to Burgundy in 2003 to pursue wine studies in Beaune. Inspired by the style of wines that he personally loved to drink (responsibly farmed, native-yeast fermented, vinified with little to no sulfur), Santini set out to create his own twist on this style of winemaking. Today, he produces wines in Auxey-Duresses as naturally as possible.
Don't Miss A Drop
Get the latest in beer, wine, and cocktail culture sent straight to your inbox.
Santini finds that things are evolving in Burgundy, and confirms that many hectares are being converted to organic. He's also seeing many domaines experimenting with natural winemaking methods. "It's moving along so fast, I can't keep track anymore," he says, noting that he personally does not find natural or low-intervention winemaking to be unique or rare in Burgundy.
Elsewhere in Auxey-Duresses, California-born Jonathan Purcell is also making his mark on the region's natural winemaking scene. After surrounding himself with many natural-wine aficionados (and Beaujolais natives) at the viticultural school in Beaune, Purcell felt compelled to create wines from organically farmed fruit and natural methods.
"I drink almost exclusively natural wine now and don't see myself changing. It's not just for the idea, it's to do with flavor, complexity, taste, and living material," he says. Purcell notes that being a fan of these wines and vinification methods drew him to craft his own in this way, dubbing it the "only real option."
Purcell is convinced that natural wine has always had a place (albeit a very small one) in Burgundy, and, like Santini, finds that the style is certainly growing within the region, though he isn't sure to what extent. "Compared to other wine regions in France, it's easy to see that Burgundy is not at the forefront of the 'natural' winemaking scene, but it's not out of the picture, either," he explains, calling it "relatively rare, but developing rapidly."
Additionally, Purcell finds that Burgundy's proximity to Beaujolais and the Jura, two "hotbed" regions for natural winemaking, have had an undeniably large influence on the region, and that even winemakers who once had doubts about the quality and longevity of natural wines are now seeing many great references for both. (Purcell cites the examples of Domaine Prieure Roch, old vintages of low-sulfur Domaine de la Romanée Conti, and Emmanuel Giboulot. "It depends to what degree you are talking about natural vinification, but it's there," he says.)

Taking the Low-Intervention Route
North American natives Colleen and Nick Harbour have been pursuing low-intervention winemaking in Savigny-lès-Beaune since 2013. [Note: VinePair has chosen to use the term "low-intervention" rather than "natural" with regard to the couple's use of sulfur.] The pair's passion for Pinot Noir and Chardonnay, as well as site-expressive fruit and terroir-reflective wines, led them to pursue low-intervention winemaking.
"We want to celebrate the rich terroirs [that we work with] through making wines that truly express their uniqueness," says Nick, noting that more intervention in the winemaking process leads to less expression of diversity and individuality in the final wines.
Unlike Santini, the Harbours find that low-intervention winemaking is actually quite unique in Burgundy, given the region's long history. "That said, there is a slowly growing movement towards low-intervention winemaking, 'less heavy' winemaking," says Nick, additionally citing market desire and less global competition as other reasons for its rise in popularity.
"Burgundy is no longer competing with Bordeaux, California, and there is less desire in the market (and as a result, in winemaking) for darkly colored, extracted, structured, tannic, and oaky wines," Nick claims. In understanding this, the Harbours believe that Burgundian winemakers are finding pride now more than ever in producing delicate expressions of their wines, which can often be achieved using low-intervention methods.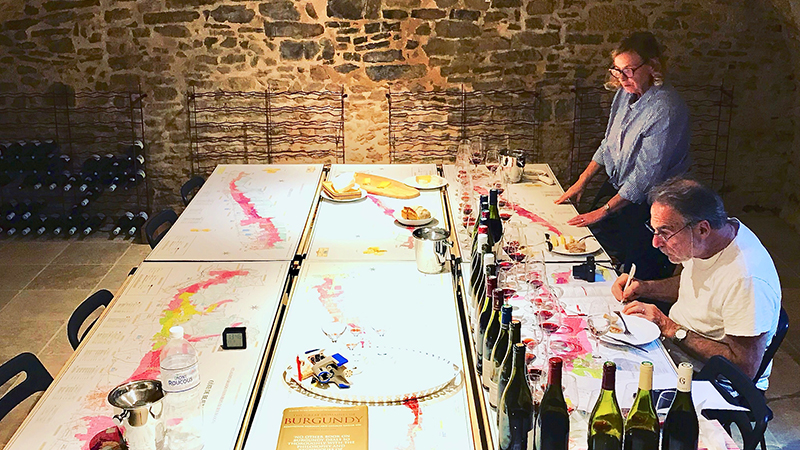 The Evolution of Burgundy
Paul Wasserman spent the first 23 years of his life immersed in Burgundy's wine industry due to the nature of his family's business. After moving to California to discover his American roots (and play music), Wasserman moved back to Burgundy in 2016 and has since rejoined the company, Becky Wasserman & Co. As someone with decades of first-hand experience, specifically in the Burgundy region, he finds himself a bit taken aback — and rather pleased — by the changes taking place.
And it's not just expats from the U.S. propelling those changes. "I'm surprised at how many people that I didn't expect to [shift their mentalities] are now changing," Wasserman says. He describes Burgundy of the past as a rather "closed circle," and says that the increase of young natural-wine drinkers coming through the region is helping to change the game. "It's beating down this stance that wines from Burgundy absolutely need to age and must be [produced] to do so," he says. "Everyone is realizing that the world is drinking wines younger. Even Jean-Marc Roulot made a sans soufre Aligoté. Lafon made one in 2020. The [winemaking style] is opening up fast."
Yay or Nay?
A few years ago, Wasserman's company began working with Chanterêves, a relatively new winemaking project founded by Tomoko Kuriyama and Guillaume Bott, that specializes in low-intervention and low-sulfur production of Pinot Noir, Chardonnay, and single-vineyard Aligoté. Arnoux-Lachaux and Nicolas Faure have also become welcome additions to the book, as well as Maison Harbour. But how did the traditional Wasserman client — both buyer and winemaker alike — react?
"Some of the classic Burgundians were not into it, but many of our classic domaines were certainly open to having conversations about [low-intervention, natural, and low-sulfur winemaking]," explains Wasserman. On the producer side of things, Purcell found that most of his clients were encouraging and supportive. Santini concurs. "No negative feedback whatsoever," he says. "Even conventional growers that come by seem to enjoy the wines, and clients, importers, seem to want to proceed in this direction, too."
Nick Harbour notes that although their feedback has been overwhelmingly positive, there are certainly plenty of people — winemakers, consumers, and importers alike — who will remain reluctant to change. "We have encountered people who taste our wines and question how 'serious' we are," he reveals, saying the criticism is understandable yet subjective. Santini also finds that many conventional growers now enjoy natural wines, too, but simply do not know how or even want to make the jump to natural or low-intervention winemaking themselves.

The Future of Burgundian Winemaking
Wasserman is convinced that natural winemaking in the region will continue to grow. "We're totally going to see more natural wine in Burgundy," he says. However, he finds that a "foot-in-both-worlds" mentality — that is, natural reds that see more extraction and show more sense of place (as opposed to the trendy glou-glou style of natural red wines) will likely prevail. And Santini agrees. "Burgundy has always evolved and will continue to do so. Not everyone, of course, but many, especially the younger generation of winemakers who travel, frequent cool wine bars around the world and become exposed to the wines that are getting everyone excited," he says. That view is shared by Purcell as well. "I'm not saying it will dominate the region, or even be a 'big player,' but it might make up 10 to 20 percent of the market instead of 2 percent," he predicts.
Furthermore, Purcell ponders the concept of  "tradition" within the region. "What people call 'tradition' in Burgundy today is typically a facade to hide the use of oenological products, destemming, and large doses of sulfur," he explains, citing that the real tradition as he understands it would incorporate whole-cluster fermentations in oak vats, the use of basket presses, and light sulfur. "One hundred years ago, no one was combating brettanomyces with magical powders or sterile-filtering their white wines," Purcell says.
"Tradition is overused as a marketing tool. I'd say natural wines on the low-intervention side are more traditional than many modern styles of Burgundy being made today," he says, citing that when one tastes really good old Burgundy and really stellar modern natural wines, there are often "striking similarities." Purcell also notes the importance of invoking the industrialization of winemaking when talking about "tradition" within the region. "Perhaps it's more important to distinguish 'artisanal' wines from 'industrial' wines than to always revert to the context of 'natural' versus 'classic,'" he says.
Whatever the distinction, as the global understanding of low-intervention winemaking expands, it's probable there will be more changes in how wine is made in Burgundy. We're certainly already seeing it with the handful of winemakers above, and as interest and curiosity grow, the prevalence of natural wine in the region likely will, too. For Nick Harbour, no matter how his wines are received, the sentiment stands: "It's an exciting time to be making wine here," he says.
This story is a part of VP Pro, our free platform and newsletter for drinks industry professionals, covering wine, beer, liquor, and beyond. Sign up for VP Pro now!