In an area that is just five miles across and 30 miles long, boasting over 400 wineries that welcome visitors, Napa Valley truly is the crown jewel of wine tourism in the U.S. And, while it's known for consistently producing outstanding wines, Napa is also home to a slew of Michelin-starred restaurants, luxurious lodging, a diverse array of spas and boutiques, and a vibrant arts and culture scene.
Whether you're planning your first trip to the region or would like to revisit and fall in love with Napa Valley all over again, there are myriad ways for every palate, personality, preference, and pocketbook to experience Napa Valley. Of course, it's a perfect place to stroll, sip, and see where the day takes you. We've simply compiled some options to help get you started — whether you're in the mood for food trucks or Michelin experiences, Cabernet or Chardonnay, hiking or spa-ing —  happy Napa Valley planning!
Where to Stay
Napa Valley properties raise the bar with world-class hospitality, offering full-service luxury resorts, bespoke boutique inns, and everything in between. Whether you're a fan of cozy, quaint hideaways or crisp, state-of-the-art hotels, one thing's for certain in Napa Valley: You'll be surrounded by some of the most stunning vineyards and rolling hillsides, with some of the most esteemed winemakers in the business.
Charm: The McClelland-Priest Bed and Breakfast
History meets modern luxury at The McClelland House in downtown Napa Valley. With six well-appointed, spacious suites, luxurious linens, and gourmet breakfast served daily, this historic landmark dates back to 1879. Just steps from downtown Napa's renowned tasting rooms, top-drawer restaurants, and boutique shopping, guests may borrow Specialized Como e-bikes from the inn's on-site fleet, or take in the charm and Victorian elegance with a glass of wine on the porch. Or, you may choose to hunker down in one of the suites, replete with high ceilings, cozy fireplaces, and hand-tiled, freestanding jacuzzi tubs.
Romance: SENZA Hotel
Conveniently located near the Oak Knoll District, just off Highway 29, the SENZA Hotel, which was recently purchased by Bentley Legacy Holdings, features a total of 48 romantic suites and luxury guest rooms — eight of which are located in the Parker Mansion, which was built in 1870. Guests may unwind after wining and dining by the outdoor heated pool and cabanas, or relax with a cocktail al fresco gathered around the fireplace. If all of this weren't enough, you may bliss out at their on-site spa and indulge in one of the numerous therapeutic treatments in a Zen-inspired facility.
Unique: Bann at Oak Knoll Napa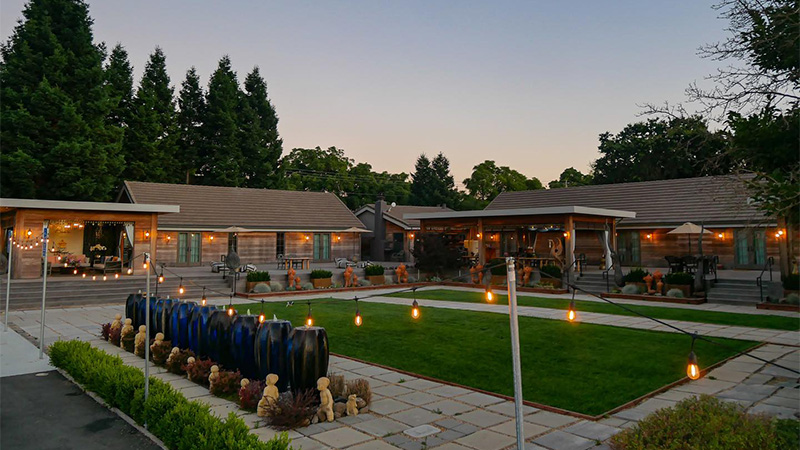 This resort-style bed and breakfast is tucked away among the vines in the heart of the historic Oak Knoll District. All five rooms at Bann at Oak Knoll Napa face a vineyard and feature hand-painted 18-karat gold sinks, floor-to-ceiling drapes, and authentic Thai decor. After checking in, you could unwind and stroll the property's gardens, enjoy a glass of wine under one of the many pergolas, then take a plunge in the heated salt pool and soak in the hot tub. Reviewers rave about the white- tablecloth, three-course gourmet breakfast, so take your time and indulge before heading out to the wineries, spas, and shops.
Where to Eat
World-class wine calls for meals that can keep up, and Napa Valley restaurants take this quite seriously. From bakeries and Michelin-rated eateries to food trucks and charming coffee shops, there are over 150 dining options across Napa Valley — more than enough choices for a weekend escape. Here, we present a few, broken down by meal type, for your consideration.
Coffee & Baked Goods: Bouchon Bakery
Chef Thomas Keller's charming Yountville bakery features artisanal breads, croissants, and pain au chocolat inspired by memories of his life in France. Fuel up on espresso drinks and custom-blended coffees before heading out to hike, shop, and sip your way through the day. Bouchon Bakery will charm you with its pale green facade and yellow awnings, but it's the decadent baked goods that will leave you wanting more.
Weekend Brunch: Evangeline 
Known as a French bistro with a Creole soul, Evangeline's brunch menu features small plates like fried pickles, Pacific oysters, and chilled cauliflower. Relax on the terraced garden patio with entrees like the prosciutto Benedict, biscuits and gravy, or shrimp and grits before your afternoon activities, and feel good supporting this eatery; they compost their food waste and repurpose water from melted ice in the bar well. The beverage program features local liquors, beers, and elegant cocktails — pamplemousse Mimosas, anyone?
Lunch: Oxbow Public Market
Located in the Oxbow neighborhood of downtown Napa, Oxbow Public Market is a hotspot for locals and visitors seeking great food and wine produced throughout Napa Valley. There's a cool outdoor deck with seating along the Napa River, and the 40,000-square-foot marketplace is home to over 22 merchants, each independently owned and operated. You'll find artisan cafes, organic produce, and local food vendors who are passionate about sustainability and social and economic equity. Whether you're looking for wood-fired pizza, bagels, oysters, or empanadas, be sure to swing by this foodie haven for a fun, satisfying lunch.
Dinner: The Charter Oak
With chef Christopher Kostow at the helm, The Charter Oak presents a festive family-style dining experience. The menu features simple yet elegant seasonal dishes and produce from its three-and-a-half-acre farm, just down the road in St. Helena. From a hearty dry-aged ribeye to roasted daikon radish and wheat porridge, the dishes are beautifully prepared and thoughtfully sourced. If you visit from November through March, you can enjoy your meal in a private heated yurt; just be sure to reserve one in advance!
Where to Sip
We'd be remiss if we didn't touch on wine tastings! With hundreds of wineries and tasting rooms to choose from, there are many ways to experience the incredible wines grown and produced in Napa Valley. Whether you're in the mood for a rustic, more intimate tasting or want to experience the wow factor of an OG Napa Valley vineyard, there are plenty of options. Keep in mind that in most cases, you should make a reservation for tastings at least one week in advance, and tasting fees vary depending on the winery, but are customarily waived if purchasing a bottle during the experience. Here are some additional helpful pointers that will help you plan your wine-tasting outing.
Eco-conscious in Calistoga: Larkmead Vineyards
Larkmead Vineyards is one of the oldest family-owned establishments in Napa Valley — much of the property has been under vine since the mid-1800s. Today, it's under the stewardship of the Solari-Baker family, and winemaker Avery Heelan produces small lots of nuanced, complex wines. They're Napa Green Certified, which means adhering to social equity, justice, and inclusion standards, as well as committing to sustainability and regenerative practices in the vineyard and winemaking facility. Be sure to check out their Tocai Friulano and Firebelle red blend. 
Architecture in Stags Leap District: Chimney Rock Winery
With a dedication to sustainable farming and grape growing, the Terlato family and winemaker Elizabeth Vianna allow the famed Stags Leap District appellation's fruit and soil to take center stage. Chimney Rock Winery produces Cabernet Sauvignon, Malbec, Sauvignon Blanc, and additional wines that showcase the region's terroir, and the estate features stunning architecture in the Cape Dutch style. Keep in mind that tastings are by reservation from 10 a.m. to 5 p.m. daily, and you can even book a truly bespoke, private, curated tasting and lunch experience.
Earthy in St. Helena: Conn Creek Winery
If you're looking for a down-to-earth and relaxed tasting experience, start at Conn Creek Winery. Since 1973, Conn Creek has produced Bordeaux-style wines of note in Napa Valley and was among the first to commit to eco-friendly green construction with an energy-efficient winery in the Rutherford appellation. For example, 20,000 corks, along with styrofoam and steel mesh, were used to construct the Mediterranean-style winery. For a truly unique tasting, book the Barrel Blending Experience®, a seminar in which participants barrel-taste wines from select Napa Valley sub-appellations and blend their own bottles to take home.
Wine, Dine, and Unwind
In between spectacular meals and sampling some of the finest Cabernet Sauvignon, Merlot, and Chardonnay that Napa Valley has to offer, you might want to check out the vibrant local art scene, schedule a hot air balloon ride, hike, or bike around town. And if you're in need of a more restorative activity, there's no shortage of luxurious spas and wellness facilities offering everything from massages and facials to yoga and mineral hot spring baths.
Get out into the great outdoors and kayak, boat, or fish at Lake Berryessa, just a scenic 45-minute drive from Rutherford. Once there, check out Pleasure Cove Marina; they offer jet ski and boat rentals perfect for tubing, waterskiing, and fishing.
Regardless of where you choose to rest your head or which activities you're drawn to, Napa Valley's five unique towns have so much to offer when you're ready to visit. From foodie fun to tasting wines of distinction produced by some of the most renowned vintners in the business, there's no time like now to book your getaway. Get ready to discover Napa Valley, and remember, there's no wrong way to go about it — explore and craft the perfect itinerary that suits you best!
This article is sponsored by Visit Napa Valley.