This week marked the conclusion of the second annual L.A. Spirits Awards (LASA), a dynamic event that is working to redefine the spirits competition, better represent the industry it serves, and offer winners a bigger bang for their entry fee bucks.
The competition was first conceived in 2019 by Nicolette Teo and Joel Blum, after years as the driving forces behind a major spirits competition in San Francisco – Teo as its managing director and Blum responsible for its image and promotions. The two realized that there were serious flaws in how most modern spirits competitions are structured and conducted, and set out to trigger what they described as a "new competition paradigm."
LASA assembled a diverse judging team that comprised industry experts who could evaluate products through a new lens in taste-making — one that was unclouded by outdated expectations and would best "reflect the face of the contemporary spirits industry and its consumers."
One of the most exciting ways in which L.A. Spirits Awards differs from most other events of its kind is in its commitment to supporting its winners after the judging is concluded.
After the results are announced, the competition offers resources for winners to promote their awards and has developed strategic partnerships to help connect their winners to useful services, from marketing support to import assistance to specialized legal services. LASA is also planning to feature its winners throughout the year at tasting events, in its targeted online marketing, and in additional programs it is developing to raise brand and product awareness for its participants.
The competition also seeks to support the world beyond its spirits competition niche and will continue this year to donate a portion of its proceeds to the Equal Justice Initiative (EJI). EJI works with communities that have been marginalized by poverty and discouraged by unequal treatment, and is committed to changing the narrative about race in America.
Read on to learn more about what sets this unique spirits competition apart, and check out the list of Best In Show winners below. For a complete list of the winners, click here!
The Judging
This year, 14 experts from across the country joined L.A. Spirits Awards' judging panel. Each was selected based on their unique story and brought more to the table than mere mixology fame or spirits know-how.
In addition to being highly respected spirits experts and tastemakers, L.A. Spirits Awards' judges are also advocates for social justice causes, with some having started their own nonprofit ventures to support hospitality workers, mentor young spirits professionals, promote the health and wellness of service workers, or push for greater representation of minorities in the wine and spirits industry.
Blum explains that while the spirits industry has evolved dramatically over the last two decades to attract a more diverse array of distillers and consumers, the makeup of competition judging panels has been slow to follow. "Because the spirits industry has been traditionally dominated by an older, white male culture, spirits competitions drawing their experts from the industry generally reflected that same demographic. But by pointedly recruiting a younger and more diverse roster of judges, as L.A. Spirits Awards has committed to do, we believe we better reflect the face of today's spirits industry than other competitions."
The Process
While the competition represents a landmark shift in the world of spirits judging, many consumers aren't even sure what that world looked like in the first place. Yet the mechanics of such events can be fascinating and complex, and expert management plays as critical a role as spirits expertise.
L.A. Spirits Awards is meticulously managed by Teo to ensure the accurate shepherding and tracking of its many, diverse entries through the competition process. Guarding against the pitfalls that spirits judging often suffer, tasting flights are limited to avoid the very real dangers of palate fatigue and drunkenness, and individual judging panels are selected for their specific appreciation of the types of spirits they'll be tasting. The management systems that Teo has developed and the process by which the judges evaluate entries are guided by an understanding that at the end of the day, reviewing and rewarding spirits is an incredible responsibility – both to the entrants and to the consumers who rely on their recommendations.
This year, VinePair staff writer Tim McKirdy joined L.A. Spirits Awards' judging team. Reflecting on the experience, he shared, "When judging spirits, it's important to always keep top of mind that we're focusing on quality and not personal preferences, with regard to style." In the past, spirits competitions often centered around one 'tastemaker's' palate, but LASA is all about coming together and discussing the strengths of every liquid.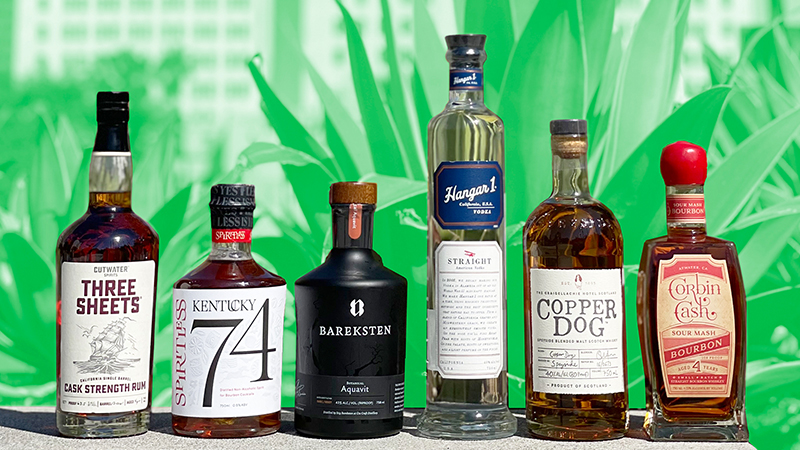 McKirdy goes on, explaining, "The panel judging phase is a fun and educational experience; because while some spirits display clear strengths or weaknesses, others ignite debate on topics ranging from what consumers are looking for from a product to the very purpose of a category or subcategory. Having a diverse selection of viewpoints and professional backgrounds in this scenario is key."
So after months of organizing and many spirited rounds of tasting and deliberation, the panelists have rendered their decisions and bestowed their honors. To see which winners made the list — and which bottles won the coveted title of "Best in Show" — read on for the full results below.
Best in Show – L.A. Spirits Awards
Best Vodka
Hangar 1 Straight Vodka – California, USA
Best Aquavit
Bareksten Botanical Aquavit – Bergen, Norway
Best Gin
Tanqueray No. TEN Gin – Edinburgh, Scotland
Best Rum
Cutwater Spirits Three Sheets Cask Strength Rum – California, USA
Best Tequila & Best Añejo Tequila
Cutwater Spirits Añejo Tequila – Jalisco, Mexico
Best Cristalino Tequila
Jose Cuervo Tradicional Reposado Cristalino Tequila – La Rojeña, Mexico
Best Mezcal
400 Conejos Joven Mezcal – Oaxaca, Mexico
Best Bourbon
Corbin Cash Sour Mash Bourbon – Califonia, USA
Best Tennessee Whiskey
Uncle Nearest 1856 Premium Aged Whiskey – Tennessee, USA
Best Rye Whiskey & Best Whiskey
Stellum Spirits Rye Whiskey – Kentucky, USA
Best North American Single Malt Whiskey
Stranahan's Sherry Cask Single Malt Whiskey – Colorado, USA
Best Blended Malt Scotch
Copper Dog Speyside Blended Malt Scotch Whisky – Speyside, Scotland
Best Scotch & Best Single Malt Scotch
Lagavulin 2020 Special Release 12 Year Old Single Malt Scotch – Islay, Scotland
Best Liqueur
Sugarlands Distilling Co. Banana Pudding Appalachian Sippin' Cream Liqueur – Tennessee, USA
Best Ready-To-Drink Cocktail
Cutwater Spirits Orange Vodka Smash – California, USA
Best Non-Alcoholic Spirit
Spiritless Kentucky 74 – Kentucky, USA
For a complete list of the winners, click here!
This article is sponsored by L.A. Spirits Awards.