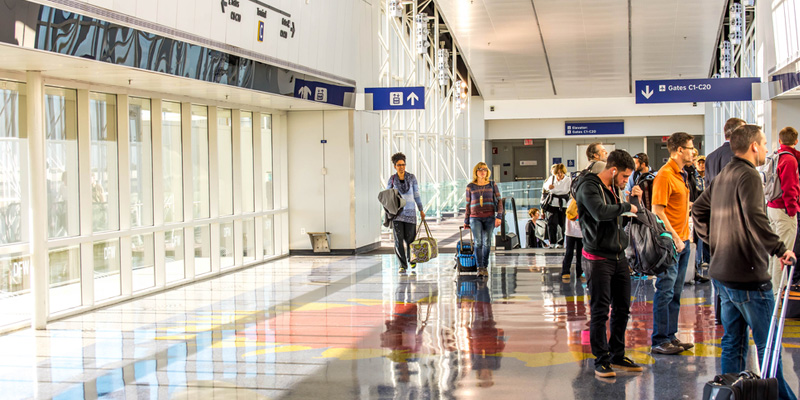 Everything is bigger in Texas: the food, the hair, and the airport lines. You can enjoy and soak up those first two, but for the latter, there's only one good solution: airport bars.
Here are the best places to grab a drink in each terminal of the Dallas-Fort Worth International Airport, the fourth busiest airport in the United States.
Terminal A
Wild Bleu Martini Bar & Mediterranean Cuisine: Mediterranean food and inspired cocktails like their namesake Wild Bleu Martini with Ketel One.
Don't Miss A Drop
Get the latest in beer, wine, and cocktail culture sent straight to your inbox.
Vino Volo: This wine bar is small and personal, just like any wine bar should be. Wine and small plates are available.
Dallas Cowboys Club: Didn't get enough of the Cowboys while you were in Dallas? Hit up this bar and sit in football glory with wine, beer, and cocktails.
Terminal B
Rodeo Bar: Nothing says Southwest like a rodeo. It's no Auburn Rodeo, but this bar has a selection of beer and wine that can make you forget you're stuck in the airport.
Cantina Laredo: Nothing says great escape like margaritas. Drink up some margs made with fresh lime juice and tequila, and grab some food as well.
Terminal C
Belgian Beer Cafe: The name says it all for this one. A fine selection of Belgian beers on tap and in bottle.
Texas Stadium Skybox Bar: Get a big draft of beer on tap (it'll be from one of the mass-beer producers, but it'll be big). If craft is more your style, there are a few more options in bottle.
Terminal D
Gas Monkey Bar & Grill: Craft beer, including a local selection, and rotating taps. Also offers bar food.
Whitetail Bistro by Kent Rathbun: French cuisine with an airport twist. Come for the food, stay for the wine, beer, and cocktails.
CRU Food & Wine Bar: CRU offers an extensive wine list for an airport, and even offers wine flights you can sample before your actual flight.
Tigin Irish Pub & Restaurant: Sometimes you just need a Guinness. If that mood strikes you while in the airport, head to Tigin's for pub food and beer.
Pizza Vino: You know what goes with Italian food? Wine. Find plenty of that here, as well as Italian classics like pizza, spaghetti, and calzones.
Terminal E
Fly Bar: This place gets the job done. Just stick to beer rather than getting food.
Blue Mesa: This bar is one of those places that believes tequila is more than just margaritas (although they have those, too). Sample some new tequilas and eat some good food at Blue Mesa if you've got time to kill.