This article is part of a summer drinks series, Bramble On, sponsored by Bombay Bramble. Discover more articles here!
The summer months are when many people finally switch from darker spirits to prepare for an entire season of crisp, refreshing cocktails. This year, Bombay is turning the usual summer lineup on its head with its new berry-forward release, Bombay Bramble.
In addition to classic styles like London Dry, there are now many flavored gins available that will add fruit and berry notes to the deep botanical mixture that already defines the spirit. However, many of these are overly sweet and rely on added sugar or artificial flavors to create their tasting profiles. For the modern, mindful imbiber, these additives won't fly and are something that most are careful to avoid.
Bombay Bramble, the latest product from the storied Bombay Sapphire gin brand, eschews these techniques, instead relying on freshly harvested blackberries and raspberries to provide its bright and vibrant character. Ivano Tonutti, Bombay Sapphire master of botanicals, and Dr. Anne Brock, master distiller, worked together to come up with the perfect twist on the classic gin recipe by adding macerated berries picked at peak ripeness to the spirit.
"We wanted to blend the mastery of our unique vapor-infusion process with what we saw as an opportunity in the market, to deliver an all-natural yet vibrantly flavored gin that embodies the quality of Bombay without adding sugars," said Jaime Keller, brand director of North American Bombay Sapphire. "Most of the other flavored and colored gins on the market do not offer this combination." This means that this flavored gin actually has up to 10 times less sugar per serving compared to its closest competition, making it the perfect summertime mixer to use in so many different fresh and fruit-forward cocktails.
Bombay Sapphire is on track to be the first major gin made using 100 percent sustainably sourced botanicals, certified by Ecocert S.A., according to Keller. This is good news for consumers, who are increasingly looking for mindful drinking options. "Spirits that use sustainable ingredients and do not add sugar provide a solution to this demand, and this market continues to grow at a fast pace," she explains. "With Bramble, you don't have to sacrifice quality for taste. [It] is an all-natural gin that offers a rich, berry taste with each sip."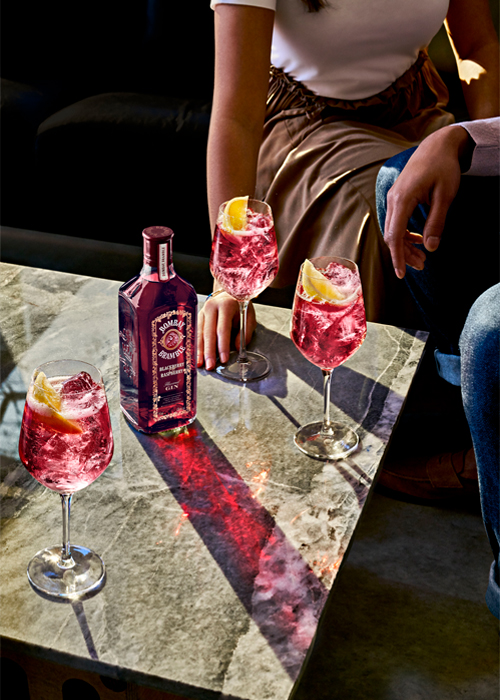 "Much like our most popular gin, Bombay Sapphire, Bombay Bramble is a dry spirit which marries perfectly with a variety of cocktails, most notably the Gin & Tonic," said Keller. "This cocktail is light, bright, and refreshing, which makes it the perfect drink for summer sipping. With that said, it is also timeless making it the ideal cocktail for any occasion."
To mix up your own Bombay Bramble & Tonic, simply combine 1 and a half ounces Bombay Bramble with 4 ounces of tonic water over ice. Squeeze a lemon over the drink, stir, and serve in your favorite balloon or wine glass for a little extra 'oomph'.
If you're looking for a lower-ABV cocktail, try reducing the amount of Bramble and combine with equal parts soda water and tonic for a mashup called the Bramble and Sonic. From there your options are endless, and the namesake Bramble cocktail, a take on the classic Tom Collins recipe, is another exciting drink to try out. Combine Bramble with lemon juice and simple syrup in a rocks glass, top with crushed ice, a lemon wedge, and blackberry, and enjoy. Otherwise, try making a reimagined Clover Club by combining Bramble, lemon juice, simple syrup, and egg white in a cocktail shaker. Shake until combined, strain into a Martini glass, and garnish with fresh berries.
The strength of any great spirit is in its customizability, and you know you can really let your imagination run wild with Bombay Bramble because the cocktail possibilities are endless.
Bramble's subtle sweetness naturally arrives from the infusion of ripe berries, which makes this unique spirit stand out from the pack. Yet most importantly, the true character of Bombay gin still shines through in every sip, with core botanicals such as juniper, licorice, coriander, and almonds still breaking through onto the palate.
"Bramble is the perfect infusion of flavor and a pop of color for vibrancy, which makes it stand out in the world of flavored gins," said Keller. "[It] highlights our own unique approach to the gin category. We've focused on creating a gin that challenges what is possible for a flavored and colored expression and the result is a sophisticated, naturally flavored gin that stays true to the core credentials of Bombay Sapphire." That's why Bombay Bramble should be your summertime go-to spirit, as this versatile, refreshing spin on gin opens up a world of cocktails to treat your friends and family to all season long.
This article is sponsored by Bombay Bramble.