With dozens of nuanced expressions, The Macallan is one of the best-selling Scotch whiskies in the world, with its distillery selling an average of 700,000 bottles per year.
A main driver behind the success of The Macallan is its revered flavor profile, which is derived from aging the spirit in sherry-seasoned oak casks. As one of the first Scotch distilleries to use sherry barrels during aging, the Macallan distillery quickly garnered a reputation of producing whisky with layered complexity that tastes years older than it actually is. The maturation in sherry oak provides the Scotch with distinct aromas of caramel, toasted nuts, and dried fruits followed by a palate rich with notes of ginger, berries, and raisins. Sherry barrels are so crucial to the flavor of The Macallan that its distillery actually employs their very own master of wood, Stuart Macpherson, whose job it is to directly source the highest-quality barrels from the United States and Europe.
Though The Macallan may have been among the first to employ this method of aging, they certainly weren't the last. Sherry barrels have since become the darling of the aged spirits industry; the barrels are now so sought after that an entire industry of sherry-barrel production has spawned in Spain. Today, the number of sherry barrels exported greatly outnumbers the amount of actual sherry that leaves the country.
Don't Miss A Drop
Get the latest in beer, wine, and cocktail culture sent straight to your inbox.
With this increased number of distillers turning towards the fortified wine barrels to impart nuance into their spirits, The Macallan is no longer the only high-quality sherry-aged Scotch on the market. If you're looking to explore the wonderful world of sherry-aged Scotches beyond the original trendsetter, here are five alternatives.
The Balvenie 12 Year Old DoubleWood Single Malt Scotch Whisky
Cask finishing, or secondary maturation, actually originated at Balvenie in the early 1980s, so you can trust they know what they're doing. Hailing from Speyside, the Balvenie 12 Year Old DoubleWood Single Malt delivers a rich and rounded drinking experience thanks to dual aging in ex-bourbon and ex-Oloroso sherry casks. Aromatic notes of golden raisins and honey greet the nose, followed by a robust palate of gently toasted spice and vanilla.
The Glenrothes 18 Years Old Speyside Single Malt Scotch Whisky
Matured exclusively in sherry-seasoned oak casks for 18 years, this single malt from the Glenrothes is delicate and offers a smooth yet robust sip. Thanks to the near two decades it spends in sherry casks, the palate carries succulent notes of baking spices, fresh berries, and salt air. Though certainly more of a splurge, this special single malt is certainly worth the extra cash.
The GlenDronach Revival Aged 15 Years
For those seeking out the Macallan for its distinct "sherry bomb" quality, consider this single malt that's dual-aged in Pedro Ximénez and Oloroso sherry casks. After a three-year hiatus, the GlenDronach Revival Aged 15 Years was rereleased in 2018, bringing forth aromas of stone fruit and blackberries. The palate follows suit with a powerful fruit core and wonderful candied walnut finish.
Aberlour A'bunadh Speyside Single Malt Scotch Whisky
Bottled at an impressive 61.2 percent ABV, this small-batch release from Aberlour is aged exclusively in Spanish oak casks. Since its release in 2000, the A'bunadh has cultivated a cult-like following, and for good reason. Blooming florals and a whiff of orchard fruits welcome the nose before succulent honey-soaked stone fruits and toasted oak splash across the palate.
The GlenAllachie Speyside Single Malt Aged 12 Years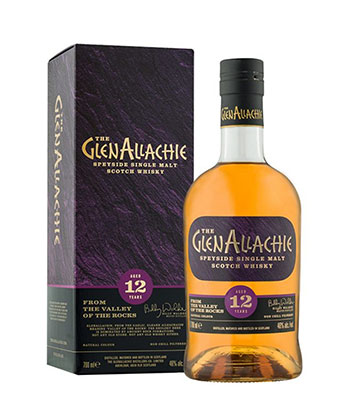 Matured for 12 years in a combination of Oloroso, Pedro Ximénez, and virgin oak casks, this expression from the GlenAllachie showcases layers of expressive dimension. Warm baking spices and toasted oak imparted from the wood carry the palate in this unpeated single malt, and blend seamlessly with more delicate notes of ripe berry and vanilla.