We're firm believers that most things are made more enjoyable with a little alcohol, and many notable fiction authors and characters seem to agree. For bookworms who are also boozehounds, we've compiled a selection of famous works paired with corresponding cocktails, wine, and beer.
Break out the books and break open the bottles — it's about to get lit.
'The Great Gatsby': Mint Julep or Gin Rickey
You don't have to wait for a themed party or Halloween to channel the glamour of the Roaring Twenties. Throw on a flapper dress or a pair of wingtips and pay homage to F. Scott Fitzgerald's famous novel with a Mint Julep or Gin Rickey. (Bonus points if you opt for authentic, Prohibition era-style drinking and do your sipping at a speakeasy.)
Don't Miss A Drop
Get the latest in beer, wine, and cocktail culture sent straight to your inbox.
The 'Harry Potter' Series: (Peanut) Butterbeer
While your local bartender isn't likely to oblige your request for the signature beverage of the Potter world — and you probably don't have a wand or the power to summon one with a simple "Accio butterbeer!" — there are certain beers, British ales in particular, that bear a slightly buttery flavor. (Or you can do the next best thing and opt for a peanut butter option. We're just mere muggles, after all.)
'Their Eyes Were Watching God': Bourbon Lemonade
Primarily set in the Florida Everglades, Zora Neale Hurston's classic explores race, gender, and American history in beautifully lyrical language. Transport yourself to Janie's porch, where she and Tea Cake shared lemonade and pound cake and fight the Florida heat with a spiked version. Gin or vodka would work here, but something about bourbon feels just right.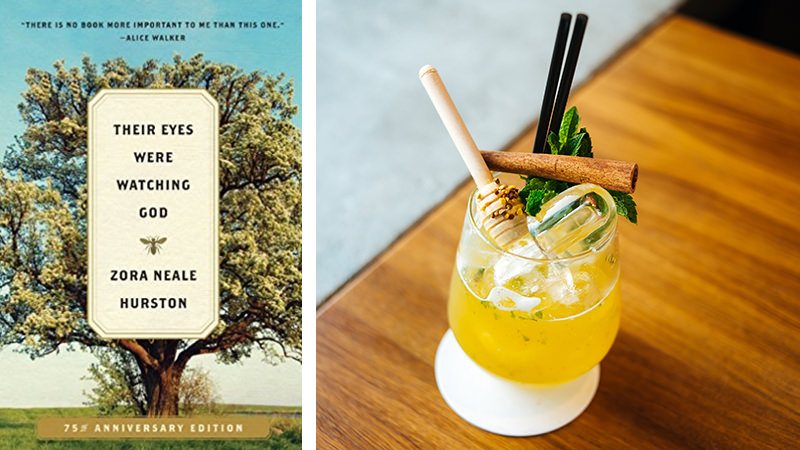 'Lord of the Rings' Trilogy: Middle Earth Cask Ale
Were J.R.R. Tolkien not a pre-internet author, he'd be pleasantly surprised with the amount of content dedicated to the eating and drinking habits of Middle Earth's inhabitants. (It's understandable — the six-meals-a-day habit of hobbits does have its appeal.) While wine and mead are mentioned in the books, it seems that beer is the preferred booze of Shire and beyond — but that doesn't mean you should pick up a 12-pack or Coors Light and start calling yourself Gandalf.
While San Francisco's Barebottle Brewing once offered a session ale called Middle Earth, it's no longer available, so to get your hands on real hobbit hooch. We suggest a trip — or quest, if you will — to Middle Earth Brewing Company in Derby, England.
Its ale pairs perfectly with elevenses.
'Cannery Row': Milkshake IPA
"If a man ordered a beer milkshake he'd better do it in a town where he wasn't known." – John Steinbeck, "Cannery Row"
Take these words to heart, but consider a figurative interpretation. (Unless you're boozing at Red Robin circa 2012, when beer milkshakes were actually a thing.) Might we suggest one of Tired Hands' Milkshake IPAs, a genre-defining (and critics-defying) style characterized by lactose sugar, oats, and big, juicy fruit flavors?
'A Christmas Carol': Smoking Bishop
We don't support being a Scrooge, but we gotta admit, Ebenezer had a good thing going with the Smoking Bishop, a Victorian-era type of mulled wine that not only has a rich English history, but serves as a delightful way to warm up when temperatures drop and you're feeling particularly "Bah Humbug."
(P.S. We've seen the Ghost of Christmas Future. It mentioned one hell of a hangover.)
'1984': Wine. Any Wine.
While some people today might fear we're moving toward an eerily Orwellian future, you don't have to share that pessimistic outlook to pour a glass of vino and toast, à la O'Brien, to the past (and simpler times — like when Trump's tweets didn't matter).
Because while George Orwell was likely more focused on the symbolism of the wine than whether Julia and Winston were offered Merlot or Malbec, we'll take any excuse to open a nice bottle — whether it's celebrating a birthday or joining the Brotherhood.