Some days just call for happy hour at home, especially if you have a chic home bar to leisurely sip at in style. Most homes (and nearly all apartments!) don't come fully equipped with an already existing bar station, but we scoured the internet for seven inspirational at-home bar ideas.
This beach-inspired bar is perfect for patios, outdoor spaces, and, of course, right beside the pool. Keeping fresh fruit available not only adds an adorable touch, but it's great for mid-afternoon snacks and happy hour cocktail crafting.
Not sure how to utilize that awkward space under your staircase? Turn it into a bar, of course! The exposed brick wall adds a rustic touch to this contemporary design.
Don't Miss A Drop
Get the latest in beer, wine, and cocktail culture sent straight to your inbox.
Make your own mad-scientist cocktail laboratory, inspired by this gorgeous corner bar station. Ample shelving makes this station perfect for smaller living spaces.
Spruce up your neutral-tone bar space with a bright accent color, like this gorgeous emerald green. Adding a contrasting color pop with flowers makes the space even more vibrant.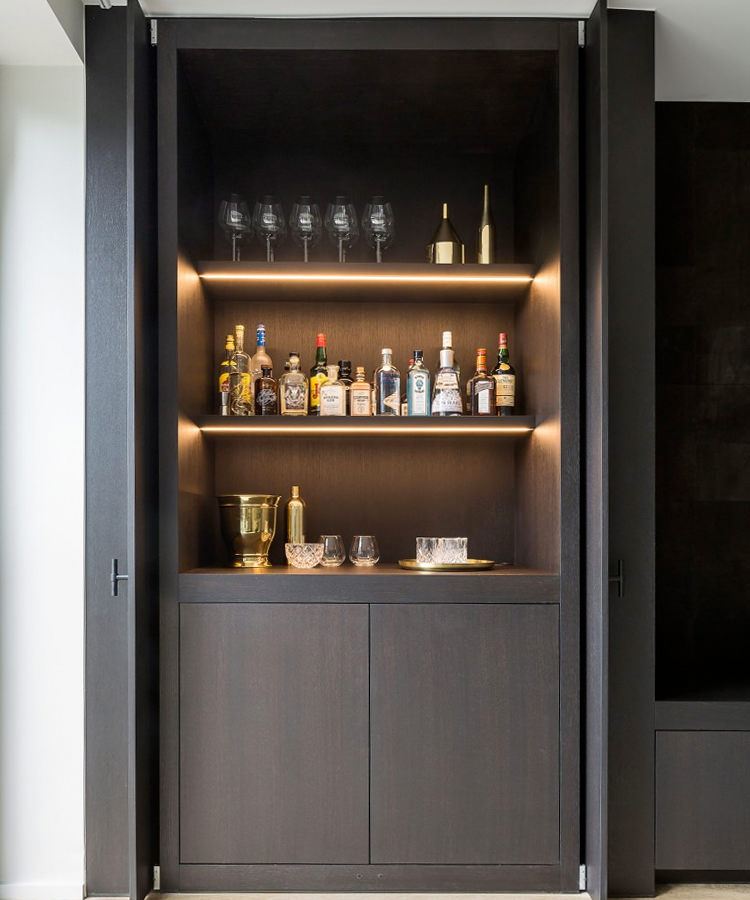 Even an addition as simple as some lighting fixtures can change the entire ambiance of a bar space. Organizing shelves by accessories, bottles, and glasses makes the bar look even more elegant and put together.
Simple Ikea cabinet or sophisticated DIY bar? It's amazing what a painting, a plant, and a rose-gold shaker can do for a space.
As if that kitchen island weren't multi-purpose enough, take it one step further by turning it into your wine storage rack! We're obsessed with this chalkboard-painted wall, too; perfect for scripting out tonight's happy-hour menu or wine of the evening among friends.