Winter (usually) means it's cold outside, but it never means that you have to stop drinking the wines you love. While we all know that red wines go well with hearty winter fare, there are plenty of elegant, complex white wines that pair just as well or even better with stews, steaks, and noodle dishes. Read on for six winter whites and what to eat with them.
1. Hermann J. Wiemer Semi-Dry Riesling 2017 with Pad Kee Mao
When warming up with spicy Thai takeout, there's no better wine to pair with it than a semi-dry Riesling. Its fruit flavors, kiss of sweetness, and refreshing acidity help cut the spice and play up the complexity of the dish. The Finger Lakes region of New York is quickly becoming known as one of the world's best Riesling regions, thanks to producers like Hermann J. Wiemer. Price: $17.50.
2. EnRoute Chardonnay, Russian River Valley, "Brumaire" 2018 with Roast Chicken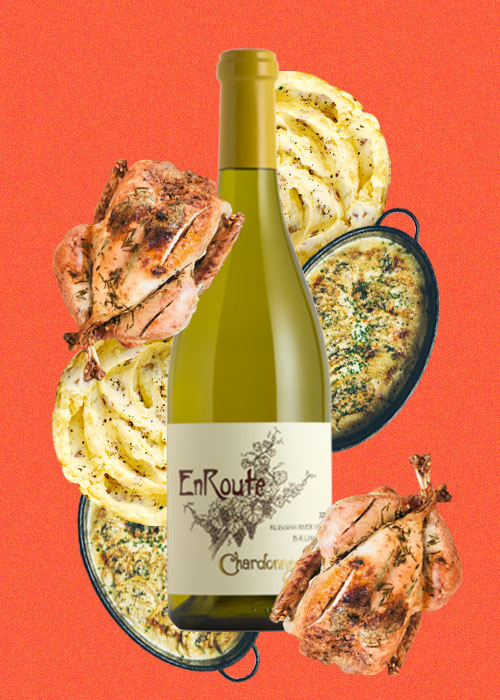 If you're not opposed to a bit of oak in your whites, a California Chardonnay like EnRoute from the Russian River Valley has the roundness, acidity, and stone fruit flavors to pair well with just about any of your favorite hearty winter dishes. Roast a chicken, whip up some mashed potatoes or a root celery gratin, and dig in. Bonus: It's also a great pairing with pre- or post-dinner cheese. Price: $40.
Don't Miss A Drop
Get the latest in beer, wine, and cocktail culture sent straight to your inbox.
When you need a dinner with a bit more sunshine to it, a winter salad with citrus, burrata, and bitter greens will be complemented perfectly by a lively, fruity wine like this Rueda Verdejo from Marqués de Cáceres. Perfect for fans of Sauvignon Blanc! Price: $12.
4. La Gitana Manzanilla Sherry with Seafood Stew
A salty, savory Manzanilla sherry from the coastal town of Sanlúcar de Barrameda is low-key one of the best winter white wines you can find, thanks to its acidity, body, and nutty complexity. Pork roast or a buttery seafood stew will do quite nicely. Price: $17.
5. Happs Semillon 2015 with Steak
Australian wine doesn't stop at Shiraz! From the cool-climate Margaret River comes this full-bodied, textured wine featuring ripe fruit, gentle acidity, and a hint of smokiness on the finish. Expect notes of pear, melon, snow pea, and ripe fig. Spurn tradition and pair this big ol' white wine with a big ol' steak. Price: $18.
6. Aubry Brut Champagne NV with Macaroni and Cheese
Staving off the winter blues requires plenty of hygge and the occasional indulgence. What's cozier and more of a treat than mac and cheese? Make a fancy version, order it in, or grab a blue box and hit that nostalgia hard.
When buying grower Champagne like this brut from the Aubry Brothers, you can count on more character and (often) better prices. And, as with all Champagne, the racy acidity, effervescence, and roundness thanks to extended lees contact make this iconic French bubbly a delicious pairing with just about anything. Price: $35.