Beer, the people's drink, pairs beautifully with humans' best friend. Breweries across the country are catching on, as dog-friendly businesses welcome furry guests and create staff positions for the most qualified pooches. You may even see good boys' and girls' headshots in the "about" section of brewery websites, like Alementary's and Monday Night Brewing's.
From New York to Oklahoma City to Rocklin, Calif., here are 15 valued brewery employees who just so happen to be dogs.
Marjie
Marjie has been with Alementary since day one, and was recently promoted to general manager.
Don't Miss A Drop
Get the latest in beer, wine, and cocktail culture sent straight to your inbox.
"Marjie has spent more or less every day in our brewery since she was 11 weeks old," Blake Crawford, Alementary's head of operations, says. "She's unflappable. Cannot be flapped … unless someone accidentally kicks the trash can. That's her kryptonite."
Marjie is tight with the regulars, and makes sure new customers feel welcome with a wag of her tail. "[She] even helps teach our weekly beer yoga class," Crawford says. "In short, she handles all the things and we are fortunate to have her on our team!"
Milo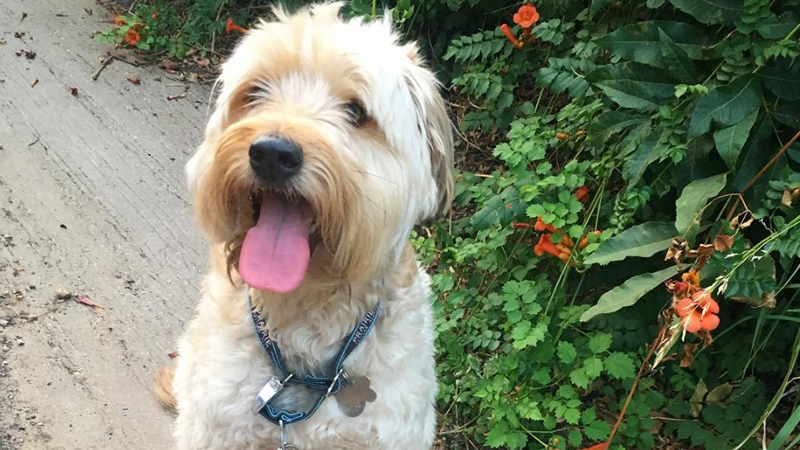 This pooch serves as Deep Ellum Brewing brand ambassador, office greeter, and good boy. He also leads free tours around the brewery block. "Milo is easily motivated, willing to work long office and event hours, and gladly accepts payment in snacks," a Deep Ellum spokesperson said.
Riley
Riley, also known as Riley Bear, is a Gordon Setter mix from Kentucky. He moved to Queens to work at Bridge and Tunnel Brewery seven months ago.
"Riley is super friendly and loves pretty much everyone, which includes people, other dogs, and cats," Rich Castagna, Bridge and Tunnel founder and brewer, says. "Since Bridge and Tunnel Brewery is a dog-friendly establishment, Riley has been successfully filling the shoes of K-9 maître d', and all-around good vibe ambassador for fellow doggos and people alike."
Tank
A golden retriever puppy named after a brewery tank, Tank is a soft and cuddly addition to the Anthem Brewing team. "Mama showed me the inspiration for my name," Tank "writes" on Instagram. "I love going to work with her but it was a long day and I was ready to go home." He'll get the hang of it.
Maizey
Lineup Brewing
Brooklyn, N.Y.
"Maizey sleeps at the door of the brewery," Katarina Martinez, Lineup Brewing founder and head brewer, says. "She's waiting for the spent grain. I give her a plateful when I grain out and it's her favorite thing in the world."
Along with being "the No. 1 beer doggo in all of America," Maizey is "the most happy, friendly dog in the world," Martinez says. "She loves people, kids, cuddles, and food."
Rex, Eden, and Cowboy
Atlanta's Monday Night Brewing is a dog-friendly operation that champions canine rights and has hired three local dogs since opening in 2006.
Rex heads up Monday Night's Welcoming Committee. "In his position, he makes sure to alert the entire office that someone is at the door. Or in the office. Or, remind us that they've been in the office for 10 minutes already. Basically, he's really good at barking at people. But he's cute, so we put up with him," a Monday Night spokesperson says.
Eden is a loving pit bull mix who serves as Monday Night's Guard Gal and Lunch Thief. Jonathan Baker, Monday Night co-founder and CMO, says Eden is "loyal, snuggly, and hates salespeople who don't have appointments. If you're a salesperson without an appointment reading this right now, Eden bites. If you aren't, don't worry, she doesn't bite. She might lick you, though, particularly if you bathe in peanut butter."
As Monday Night's appointed Cuddle Buddy and Mover and Shaker, Cowboy, affectionately called Cowman, is a scaredy dog. "He's basically a canine Shake Weight," a Monday Night spokesperson says. He continued, "[Cowboy] is a simple soul, reveling in people, playing with Eden, and naps. If you need to be alerted that there are fireworks going off, a thunderstorm has just rolled in, or someone is clapping furiously right behind you, Cowboy is your dog. If you need a constant cuddle buddy, Cowboy is your dog. If you need protection, pack some heat or take a self-defense course."
Egg, Vera, and Plato
Egg Callaghan is Cigar City's official greeter and food truck inspector. According to a Cigar City spokesperson, "She says hello to everyone as they enter the office, and she diligently waits outside of each food truck to test each truck's food for quality."
Cigar City's accounting assistant and office bouncer Vera is "the ultimate protector," Cigar City says. "She keeps away any bothersome intruders with her ferocious roars."
Named after the Plato gravity scale, a measurement brewers use to determine the potential alcoholic strength of beer, Plato keeps things grounded at Cigar City. He also helps out in the taproom and with brewery tours.
Molly
Molly, the canine employee of this Illinois operation, inspired the brew that won best beer at Border War Beer Fest 2018. The name for that beer, Aushabsky, comes from Molly's breed, Aussie Lab Husky. It was a white stout with peanut butter weighing in at 12 percent ABV. "This beer is decadent, indulgent, and will warm your heart just like a puppy's love," Only Child wrote on Instagram. As for Molly herself? The post continued,"She brightens days, enjoys swimming, and is super cuddly."
Bernie and Pearl
Bernie and Pearl are the head and assistant brewpugs at Moksa Brewing. When they're not cleaning kegs and emptying mash tuns, this brother-and-sister pair loves sitting down to a taste test. Our sources tell us that Pearl in particular thinks it's a real treat.
Zeke
Loyal customers here may be lucky enough to meet Zeke, Perrin's prestige dog model and marketing support. "Zeke is quick to strike a pose for any new beer release. With a contagious grin and puppy eyes, his marketing strategy makes anyone want to crack open a cold Perrin and hang with their doggy best friend. He agrees that nine times out of 10, any Instagram photo with a dog gets a double take," Perrin says. We know we sure can't stop looking.