For more stories on TikTok, check out our whole series here.
By now, you've probably heard of TikTok, the short video-based social media platform that's spiked in popularity since the onset of Covid-19. Whether you've gotten on the bandwagon or not, it's hard to ignore that the app is setting trends, influencing everything from what we listen to to what we eat. But beyond TikTok's beloved recipe videos and choreographed dances, there's an abundance of always entertaining — and sometimes educational — drinks content to consume. You just have to know where to look.
VinePair is here to help. To get you started, we've compiled a list of the accounts our team can't stop watching. From bartenders with big personalities to imbibers with opinions stronger than their drinks, they're some of the most interesting folks to follow on TikTok right now. We hope they'll provide you with as many hours of endless entertainment as they have us.
With a palate as impressive as his whiskey collection, Steve Higdon, the creator behind @60secondbourbonreview, proclaims his reviews to be "the fastest and most honest" out of Louisville, Ky. Higdon joined TikTok just six months ago and has already gained over 50,000 followers on the platform, often racking up hundreds of thousands of views on his reviews of everything from Willett Pot Still and Elijah Craig to Kentucky Gentleman.
With a 1920s flair, Portland, Ore.-based Hannah Chamberlain is all about fancy cocktails with gorgeous presentations. From boozy afternoon tea and drinking etiquette tutorials, to over-the-top airplane drinks, Chamberlain makes sure her followers are always sipping in style — and that their cocktails are always made with fresh citrus juice (it has to be fresh).
With big personalities and a vast library of content, self-proclaimed alcohol enthusiast Mann of JonesnMann sips, reviews, and educates about spirits. The duo's followers can look forward to Mann's "drinking the comments" videos, in which he makes cocktails suggested in the comments of his previous videos. With their high energy, fun music, and very open-minded approach to drinks, it's no wonder that Jones and Mann have racked up almost 200,000 dedicated followers.
Evie, the creator behind @drinksbyevie (formerly @evieisntreal) has a unique setup, making beautiful cocktails beside her NYC apartment window. (She's had to give an apartment tour because followers couldn't believe her view was real.) With gold bar tools, crystal glassware, and oldies playing in the background, this creator's content is all too easy to watch.
What started out as a son filming his dad making cocktails (and plenty of dad jokes) has turned into what VinePair considers one of the most intriguing drinks accounts on TikTok — and one with a following of over 600,000 followers to boot. John Rondi creates everything from classic cocktails to original creations like the Whiskey Moon (whiskey on the rocks topped with lemon juice and Blue Moon). While JohnnyDrinks' concoctions may not always look the tastiest, the New Jersey-based duo's personalities shine through in every video and always keep things entertaining.
Intimidated by home bartending? Shawn Soole makes it look easy, seamlessly mixing up cocktails both classic and complex, and always in less than a minute. The Victoria, B.C.-based bartender could turn high-speed mixology into an Olympic sport.
Branden Seymour, also known as @american_winemaker, takes TikTokers behind the scenes at the winery, farm, and lab where he works to press grapes, fill bottles, and more. Seymour also uses his platform to educate his followers about wine with explainer videos on wine varietals, smoke taint, and more.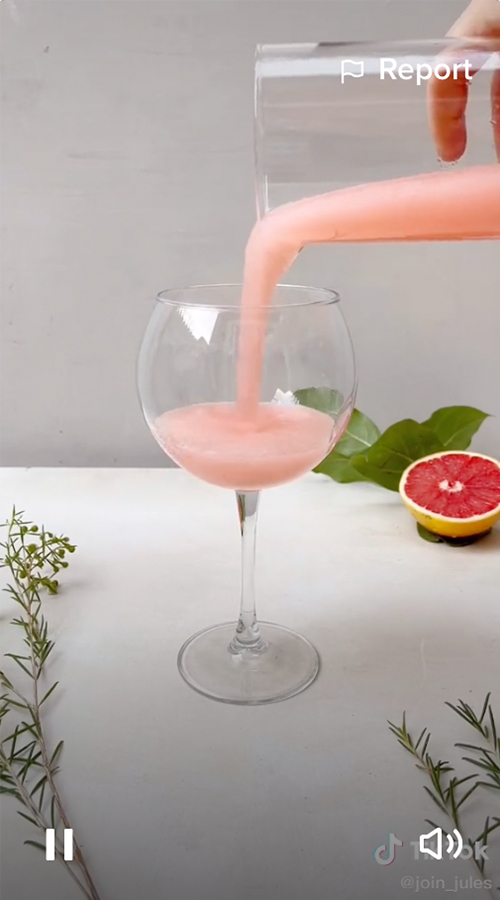 Julianna McIntosh (@join_jules) is the queen of TikTok's ASMR cocktail scene. From mesmerizing Ranch Water tutorials and Prohibition-style Aviations to "Bridgerton"-themed tea cocktails, McIntosh's creations are as mouthwatering as they are soothing to watch.
Kenny Coleman, host of the "Bourbon Pursuit" podcast, takes to TikTok to educate viewers about his favorite spirit. From ice sphere tutorials to behind-the-scenes shots at distilleries and more, Coleman cleverly interprets bourbon through TikTok trends — leading to plenty of viral videos racking up views.
Justin Sajda, a.k.a. Thirsty Whale, isn't a trained mixologist. In fact, his bio reads "average guy, above average cocktails." But you'd never know it from the undeniably above-average drinks he whips up. Not only does Sajda school his followers on the art of clear ice carving, he also makes tutorials on both classic and out-of-the-box libations — always making sure to infuse humor into his videos.
Lucas Assis (@thelucasassis_) isn't a fan of celebrity tequila or mezcal, and he doesn't care who knows it. Assis educates his growing following (25,000 and counting) on what makes for a good agave-based spirit, recommends good budget options, and even shares inside looks at how various brands make their liquors. Follow along and you'll get all that plus plenty of cocktail demos.
Vivian, the creator known to #DrinkTok as @coffeebae97, makes coffee-based beverages with lots of foam, plenty of fancy ice, and a sprinkling of drama. Expect dirty matcha lattes, the colorful sippers of your childhood fantasies, and a cocktail thrown in here and there.