There are bar crawls and then there are "beer trails." And while we're more than happy to join the slow-moving conga line of beer drinkers as they make their tipsy way from bar to bar, we're kind of more intrigued by the prospect (and quality) of this newfangled craft beer tourism.
So what is a "beer trail"? Well, unlike a bar crawl, a beer trail won't take you from bar to bar but brewery to brewery, with possible craft brewpubs scattered in between. Which means, yeah, you're traveling a lot farther between stops, which also means you'll probably have to secure a designated driver and shower him/her with delicious gifts, including a collection of tasty beers from the breweries you visit.
Once transpo and DD are secured, the beer trail is one of the best ways to explore regional beer riches deposited all over the country.
Don't Miss A Drop
Get the latest in beer, wine, and cocktail culture sent straight to your inbox.

Unofficial motto: "We're more than just busted bells and cream cheese." There are actually a bunch of big names in Philly brewing — Yards, Sly Fox, Victory — as well as some local heroes like Philadephila Brewing Co. Visit Philly does a great job of organizing them by county.

With "100 brewpubs, breweries, and tap rooms in the metro area," this beer trail is a bit more of a beer whirlwind. Thankfully, the good people at Denver.org winnowed it down to 20 breweries for trail purposes, with names you might know like Great Divide among the many local breweries putting Denver on the national craft beer map.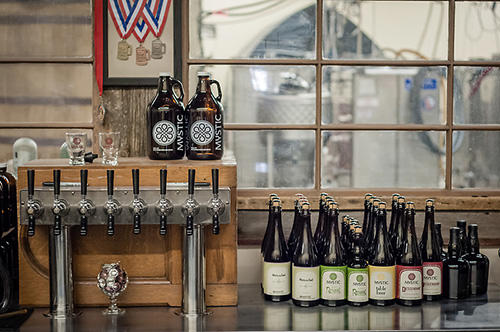 Like most of these states, there's beer being made all over Massachusetts. But as you'll see on the map, your best bet for a workable trail is in the greater Boston area. Wherever you go, be sure to get your Craft Brewers Passport stamped by participating breweries (you get free stuff for drinking beer, a clear win).

There are "120 working brewery locations" in San Diego County, which is maybe why San Diego offers a brewery guide instead of an exact trail. (With the guide, you can make your own trail.) You can narrow the map down by neighborhood, beer style, tasting room vibes, even dog friendliness. Plus "Bruce's Picks." There are a lot.
Another non-trail that instead allows you to create your own trail, with a comprehensive list of Illinois' contribution to our great nation of craft breweries. They'll let you know which breweries do tours and which do tastings (most, thankfully), so you can create and save a map to suit your thirst.

"The most up-to-date and comprehensive guide to breweries and craft beer in Western North Carolina," or so they claim, and based on the site (and free app) it's hard to argue. In addition to the main map there are four self-guided tours and plenty of beer-pertinent events. Which are, let's be real, the best kind.
A trail not to be missed, if you accept our posit that Maine arguably has some of the best craft beer out there right now. The program is seven years old, with more than 70 breweries on the trail divided into seven regions on the Maine Brewers Guild map. Plus, yeah, prizes. Will travel for beer, and prizes.

Move over red and green chilies, craft beer's in town. (Don't go too far, chilies. You're delicious.) There are breweries all over New Mexico, from Albuquerque to Santa Fe to Taos, former home of Georgia O'Keeffe. Since this is a land of bold flavors and big, broad vistas, expect some serious creativity from brewery to brewery.

OK, Founders fans, this one's for you. Grand Rapids is home to one of the most beloved craft breweries out there. But there's more than Founders in "Beer City USA" (awarded that name in a USA Today poll). In fact there are 40+ breweries on the trail, "more incredible craft beer per square mile than just about anywhere else on earth." (We sent some scientists out to verify this, but we think they passed out somewhere around brewery 11 or so.)
One bonus of a beer trail in Brooklyn: easier public transpo options, so possibly no DD required. You'll also find great breweries like Kelso, SixPoint and, of course, Brooklyn, not to mention the bars and brewpubs not listed on the downloadable map that you'll inevitably run into between brewery stops. Brooklyn likes its suds, and we like Brooklyn.
An hour's drive between Tarpon Springs and St. Petersburg, Florida, could potentially put you in close personal contact with a whopping 27 breweries and brewpubs. Chances are you won't visit all, unless your DD is incredibly gracious, but there's a surprising wealth of local, independent breweries on the trail. Try a local style called Florida Weisse. Like Berliner Weisse, but sunnier.