We all have at least one whiskey lover in our lives who we consider our "easy" person to shop for — except when it comes to actually choosing the whiskey. With multiple subcategories (Scotch, bourbon, Irish whiskey, etc.) under the broad umbrella of "whiskey," where does one even begin? We've compiled a list of some of our favorite whiskey gifts for this holiday season that are sure to please your whiskey aficionados. Tumblers and cigars not included.
For Scotch Lovers…
Bunnahabhain 12 Year
Bunnahabhain 12 Year is one of our favorite old Islay single malt Scotches. The barley is malted and lightly peated before undergoing the distillation process. Recently, Bunnahabhain decided to remove the chill-filtration step in its single-malt products, seeking to produce the purest expression of flavor profile and mouthfeel as possible. A unique and special gift for the whisky lover in your life.
Johnnie Walker Green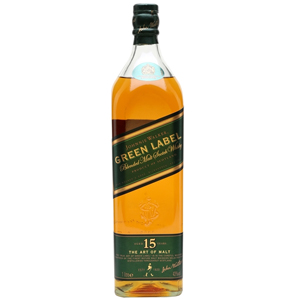 After a brief disappearing act from the market, Johnnie Walker Green is back! Johnnie Walker is certainly known for being one of the greatest blended whiskies in the world, with its first blend introduced to the market in 1867 (did you know it was illegal to blend whisky in Britain prior to 1860?). Green label is an 86-proof blend created from only single malts, with each malt aged for a minimum of 15 years. With Red and Black considered more everyday Scotches and JW Blue just downright expensive, Johnnie Green makes a perfect holiday gift. Plus, its festive coloring will look stellar underneath your Christmas tree.
Don't Miss A Drop
Get the latest in beer, wine, and cocktail culture sent straight to your inbox.
Ardbeg Dark Cove
This limited-edition Islay single malt was released this past spring in honor of Ardbeg Day during the annual Islay festival. The whisky is aged in both ex-bourbon and dark ex-sherry casks, adding layers of complexity to this smoky, sweet blend. Dark and delicious, this makes a killer gift.
For Bourbon Lovers…
Jim Beam Black Extra Aged
This extra-aged bourbon is delicious and reasonably priced. Full-bodied and robust, this bourbon is high in quality and won't break the bank whatsoever, leaving both givers and receivers of this gift content. Compared with the OG Jim Beam, this expression is certainly heavier, with smooth vanilla notes and a lingering finish. Bonus: This bottle won the Bourbon Trophy at the International Wine and Spirit Competition this year. We understand why.
Four Roses Single Barrel
Four Roses is one of the only American distilleries to survive the Great Depression, Prohibition, and two World Wars. Its perseverance has certainly paid off; Whisky magazine crowned it "Distillery of the Year" three years in a row, from 2011 to 2013. Four Roses Single Barrel is a premium, 100-proof bourbon, complex in flavor and incredibly smooth. With a higher rye percentage than most bourbon mash bills (clocking in at 35 percent), a pleasant spicy note balances out the sweet, maple-caramel characteristics.
I.W. Harper 15 Year
Newly returned to the market as of last year, this 15-year old-bourbon is a bit of a splurge for your American whiskey lover. The nose presents aromas of cinnamon sugar, carrying over to a palate of spicy vanilla and oak. The palate is medium-bodied and surprisingly tame; at 86 proof, we'd recommend sipping this one on the rocks to appreciate its true flavor profile.
For Irish Whiskey Lovers…
Redbreast 12 Year
Redbreast is one of the only single pot still brands left in the world. While all single malts come from pot stills, single pot still products contain some unmalted barley; in addition, single malts are usually twice distilled, where single pot still products usually undergo three distillations. Redbreast is incredibly balanced, with a rich mouthfeel balanced out by notes of spice — the Jameson lover in your life will certainly thank you.
Knappogue Castle 16 Year Old Twin Wood Single Malt Irish Whiskey

This unique bottle is a special splurge for the Irish whiskey lover in your life. This particular whiskey spends 14 years aging in old bourbon barrels, followed by 21 months in ex-oloroso sherry casks. The result is a whiskey prominent in fruit-forward flavors with nutty undertones, with balanced incorporation of barrel aging. Bonus: Each of these limited release single malts (only 4,500 bottles produced) comes signed and numbered.
For Rye Lovers…
Jack Daniel's Single Barrel Rye
Jack Daniel's Single Barrel Rye is the distillery's first new mash recipe since 1866. With a mash bill of 70 percent rye, 18 percent corn, and 12 percent malted barley, the final product has a clean, distinct mouthfeel that's rich in spice and dried fruit flavors. The rye undergoes the same charcoal-mellowing process that's been used at the distillery for over 150 years. The result is a grain-forward product that is more about the base and less about the barrel, authentic to its natural components.
Cedar Ridge Malted Rye
This unique bottle of rye is produced at Cedar Ridge, Iowa's first craft distillery. The noteworthy characteristic of this rye is that it is one of the only three malted rye whiskeys produced in the world. The rye grains are soaked in water to germinate, then shot with a blast of hot air, a process generally used in barley-based whiskey production. The nose is spicy and grainy, with a rich palate of biscuits and toast — a unique gift for the rye lover in your life.